Born in Oxford, England, Steve Fabes emigrated to the United States in 1969 and has been living in Sausalito for the past 17 years, where his home is filled with hundreds of clocks and timepieces of all ages, shapes and sizes. As one might expect, this avid collector also knows a thing or two about restoring timepieces, having brought many neglected watches and clocks back to life. Here, Fabes talks about the lure of "the tick and the tock" and the many fascinating and unusual pieces in his collection.
Collector
Steve Fabes
Collection
Anything and everything horological. If it ticks or tocks and the price was right, I bought it. Clocks, or more correctly objects that record time, are my weakness. They range from cuckoo to grandfather, kitchen timers to bedside alarm, mantle to metronomes. I have belts with a watch in the buckle, cuff links that tell the time, tie-tacks, clocks that control the periods bank vault doors can be opened, clocks that record pigeon racing, clocks that double as a home savings bank, clocks that just tell time, others the stages of the moon, some strike the hours, some chime the quarters. And yes, some don't work … yet. I'm able to repair and restore most clocks that aren't missing any parts. I'm also very skilled at the restoration of clock cases, wooden or gilt.
I collect books about clocks too, of course. They're mainly technical, but also coffee table books with pictures of amazing watches and clocks — the rare, the highest caliber, and typically in museums or private collections.
Years collecting?
Over 65 years. I bought my first clock when I was 13 years old. I restored it several years later. I still have it. It will be the last clock I own when all the others are sold or passed on to my three children. I've promised them that by the time I'm 80 I'll have no more than 100 clocks. It may be a dozen and it maybe 99, but they'll be the very best of my collection.
How many pieces?
Hard to tell precisely, but I have somewhere around 600. Around the house, I probably have 75 to 80. The rest are boxed and inventoried in storage.
Where do you display them?
I'm shocked to say, everywhere. My wife died with Alzheimer's a few years ago and living alone gives me unbounded freedom to put clocks wherever I want — walls, shelves, mantle, kitchen counter, stairwells, bathrooms. I have a grandfather clock in my bedroom, a wall clock in my closet and even one in the garage.
Why?
I can probably blame my father. He was a man who was forever curious about how things worked, often taking things apart and frequently having bits left over when reassembling. He did that with some success with a few clocks, and I watched him.
Today my reasons are to see and understand the beauty of the movement, almost always hidden from view. Some are incredibly simple; others are a sheer beauty of original engineering. Realize most of the magnificent clocks in collections and museums were made before we had electric power or lighting.
My last reason is that unlike Peter Pan's Captain Hook, I like the constant tik-tock of the clock's escapement. It's all around me, in every room. I notice it, and yet I don't. However, when I come home from a long vacation to a silent house, it's not yet my home until the clocks are wound and the tick-tocks awaken every room.
How do you acquire them?
Sometimes on my doorstep. Joking aside, when people are downsizing, moving to Texas or getting divorced, their clocks are a burden and in need of a good home. Most of the time, they ring the front doorbell. Once, they did not, and the clock's owner to this day remains a mystery. Flea markets are also a great source, as are country antique shops and online auction houses.
Favorite?
That's like asking who my favorite kid is! It's probably an English handmade passing strike skeleton clock circa 1840. In Europe, some 200-plus years ago when there were "trades" — cabinet maker, silversmith, sword maker — there where guilds. Young men were apprenticed to a "master," the term used for a member of a guild. Under the often-harsh eye of the master clockmaker, the young lad would be trained. It took many years, depending on the skill required and the wits of the apprentice. Eventually the lad, now a young man, would be presented and examined by the guild. To gain acceptance to the Clock Makers Guild, you made a clock of your own design by hand (remember no electricity). The skeleton clock has no case, and the plates are cut away to show the moving wheels, arbors and pinions. My skeleton clock was once a young man's presentation to his guild. I wish I knew his name.
Most valuable item?
Monetarily, it's probably my ships' chronometers — they sell today between $4,000 to $5,000 — again handmade circa 1850–1880. Emotionally, it's either my first clock or my father's mother's old kitchen shelf clock.
Most unusual piece?
A night clock, French, circa 1860. The candle illuminates the glass cylinder that has the hours marked on a band. This glass with the candle inside rests on a platform that rotates 360 degrees in 12 hours. The movement lies flat (horizontal), but it has a small vertical pendulum. This clock belonged to my father's mother and is considered to be "the family heirloom."
Fun fact
I'm proud that each of my children has been able to dismantle, clean and oil a clock movement and put it back together with no leftover pieces.
Parting thoughts
Horologists are old and getting fewer. The young today have iPhones and Apple watches. Without a need, things disappear. When was the last time you saw a butter churn? Some will still see the beauty and find a fascination in the tick and the tock. I hope they will look after mine.
---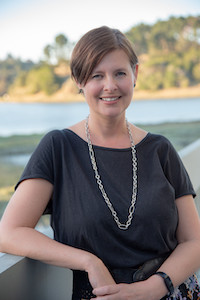 Lotus Abrams has covered everything from beauty to business to tech in her editorial career, but it might be writing about her native Bay Area that inspires her most. She lives with her husband and two daughters in the San Francisco Peninsula, where they enjoy spending time outdoors at the area's many open spaces protected and preserved by her favorite local nonprofit, the Peninsula Open Space Trust.