It might be hard to pinpoint just who the pandemic affected most when it came to education last year — educators, students or parents. It was a challenging year all around, to say the least. But one thing's for sure: Educators deserve our overwhelming gratitude for tackling an insane number of challenges and pivots to ensure our children received the best education possible, given the circumstances. Here, we highlight some of Marin County's most dedicated educators — both teachers and administrators — who rose to the challenge. 
Cindy Evans
In the beginning of the pandemic, special education teacher Cindy Evans found it particularly difficult to work with her special-needs students, many of whom were struggling to relate to the online learning format. "My curriculum is all about independence, functional life skills, communication and socializing skills," Evans explains. "It's very challenging to teach this online. My students are some of the most vulnerable and need to be in the classroom to achieve their goals." A call with a tearful and overwhelmed parent instigated Evans to ask the superintendent of Marin County, Mary Jane Burke, if she could bring her students back into the classroom. The superintendent then put together a task force that allowed a handful of classrooms to open up May 18, 2020. "The parents put their trust in us, and they were extremely grateful for the in-person teaching for their children," says Evans. For her efforts, Evans was recognized as Marin County Teacher of the Year for 2021, and was a finalist for California Teacher of the Year award. 
David Finnane
Determined to offer in-person learning for 180 days during the 2020–2021 school year, Bayside MLK Academy Principal David Finnane and the faculty devised a bell schedule and classroom layout plan that allowed for the school's students to attend in-person every day starting in September 2020. "We were successful in creating classroom cohorts that didn't mix during the school day," says Finnane. "We staggered our students' arrival time so that no two classes were arriving through the same entrance at any given time each day, and we were even fortunate enough to be able to provide each cohort with its own bathroom. With this approach, we were able to not only be able to support our students academically, but also to support their social-emotional needs, something we know is essential for their well-being and was a major challenge for schools that remained closed for the majority of the year."
Itoco Garcia, Ed.D.
While most organizations contracted during the pandemic, the Sausalito Marin City School District expanded, with Superintendent Itoco Garcia, Ed.D., at the helm. "Inspired by our community school model, we created the Marin County Cooperation Team (MCCT), the first accessible community school online and mobile app that brings together 56 different government agencies and nongovernmental organizations in service of students and families," says Garcia. "Our Distance Learning MultiTiered Systems of Support (MTSS) was also a unique partnership with community-based organizations that provided mentors for students struggling with distance learning who made morning and afternoon check-in and check-out calls with students and helped them daily with goal-setting and academic support." The district was also the first in Marin County to get students back on campus at the end of the last school year, with zero in-school Covid-19 transmissions. "Our amazing and courageous staff made the impossible possible, protecting the social-emotional well-being of our students, allowing our parents to work, and making sure that our students were learning at accelerated levels over what they had been prior to the pandemic."
Mike Grant
Collaboration and constant communication among Marin County Office of Education administrators proved critical during the Covid-19 crisis, especially on the newly created Rethinking Schools Team, proposed by Superintendent Mary Jane Burke and headed up by Director Mike Grant. The team consisted of staff members from across the Marin County Office of Education organization who were reassigned in their duties to collaborate with Marin Health and Human Services (HHS) to create safety plans and resources that allowed schools to open. "The development of the 30-point plan (our K–12 schools' public health guidelines), School Site Specific Protection Plans and creation of public health liaisons at each of the 115 schools in Marin County played a critical role in supporting ongoing and open communication channels," says Grant. While the Marin County Office of Education has long had a strong relationship with HHS, their teamwork proved even more valuable during the pandemic. "It was necessary because this was truly a public health crisis, and the best way to navigate the risk that we faced was to do it together," says Grant. "I think our entire community should be proud of our efforts in Marin County, and our "radical collaboration" has been recognized as a model best practice in the US Department of Education COVID-19 Handbook and Roadmap to Reopening Safely and Meeting All Students' Needs."
Brett Geithman, Ed.D. 
Superintendent, Larkspur-Corte Madera School District
Recognizing the limitations of distance learning and the need to get students back into the classroom as soon as feasible and safe, Larkspur-Corte Madera School District Superintendent Brett Geithman, Ed.D., set about working with administrators and teachers to create an actionable plan. "Instead of 'we can't do this,' our mantra was 'how can we do this?'" says Geithman. "With that, our team went above and beyond in creating Covid-19-safe schools. This consisted of things like purchasing plexiglass dividers, recruiting parent volunteers to assist with lunch protocols and facilitating a community testing event. We even bought Tyvek protective suits for any staff member that wanted one." With a plan in place, the district was able to open its doors to all children, kindergarten through eight grade, four business days after Marin County moved into the Red Tier, on October 5, 2020. "Countless families and students shared how lucky they were to be in Larkspur-Corte Madera because they returned to school quickly and were in schools that exceed safety guidelines, and we ended the year with 140 out of 180 days in person," says Geithman. "We showed up for our students and families when they needed us the most and I couldn't be prouder of our learning community." 
Luz Lopez
To ensure the safety of students in one of Davidson Middle School's in-person special education classes during the pandemic, Paraeducator Luz Lopez took extra precautions, sanitizing every surface and the students' belongings when they entered the classroom and when they left. "Keeping a 6-foot distance was very difficult, because our students require physical assistance, but we made sure to give them their necessary care while taking all the proper precautions," says Lopez, who feels that the biggest impact she was able to make was keeping the students and their families safe while also making sure everyone felt comfortable. "It was very beneficial for the staff and students to maintain school in person, for our mental health as well as the students. We saw how happy the students were to be in school and that motivated me every day to go to work." 
---
More from Marin:
---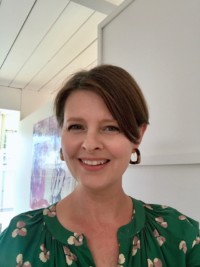 Lotus Abrams has covered everything from beauty to business to tech in her editorial career, but it might be writing about her native Bay Area that inspires her most. She lives with her husband and two daughters in the San Francisco Peninsula, where they enjoy spending time outdoors at the area's many open spaces protected and preserved by her favorite local nonprofit, the Peninsula Open Space Trust.