After a year and a half of upheaval and distancing, the Glide Annual Holiday Jam: Still We Rise returned on November 18, both as an in-person and livestreamed benefit event at The Masonic in San Francisco. This year's celebration was dedicated to Glide co-founder, Holiday Jam creator and crusader for the people Janice Mirikitani, who passed away earlier in 2021.
Bringing together the community is something Glide does well, and this year's Holiday Jam was no exception with an evening filled with music, storytelling and messages about the nonprofit's nearly 60-year-old mission. Headlining the evening was 10-time Grammy award winner and legendary artist Bobby McFerrin, who was joined by local a cappella vocalists from Circlesongs. He was followed by three-time Grammy awardee and NPR Tiny Desk contest winner Fantastic Negrito, who share a personal narrative through his distinctive, edgy songs. The renown and uplifting Glide Ensemble and Change Band, under the direction of Vernon Bush, entertained concertgoers with their spiritual ballads and soulful melodies.
Im So Happy clip from GLIDE on Vimeo.
Mistress of Ceremonies, Renel Brooks-Moon, also known as the voice of the San Francisco Giants, led the evening's festivities, which included inspirational words from San Francisco Mayor London Breed, Glide President and CEO Karen Hanrahan and Glide Minister of Celebration Marvin K. White. Guests feasted on Glide's famous fried chicken and other noshes.
"The evening marked a joyful occasion for our community to safely come together," said Karen Hanrahan, Glide's CEO.  "We celebrated Glide's resiliency, and how — throughout the pandemic — we continued to serve those most in need."
"The event was also very special because it was dedicated to our beloved co-founder Janice Mirikitani, who we lost this year," Hanrahan continued. "Janice was a friend and mentor; the new generation at Glide is inspired by her example and determined to meet today's biggest social justice challenges."
Sponsors for Glide's Holiday Jam:
---
For more on Marin:
---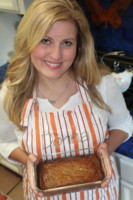 Donna Glass is Marin Magazine's Philanthropy Editor. She's a freelance writer in Marin who writes about family, kids and parenting, and is the mother to one son, one dog and a hamster named Miss Geri. When she's not writing, trekking up steep hills in Marin or driving her kid to sports practice, she and her family spend time in their tiny cabin in Lake Tahoe. She avidly supports the California Academy of Sciences, a world class science museum and research institution, and the Institute on Aging which provides much needed services to Bay Area seniors and disabled adults. Glass is obsessed with baking the perfect loaf of banana bread, something she makes so often she no longer needs to look at a recipe card.