THERE ARE OBVIOUS dishes and drinks that signal the holidays — pecan pie, sweet potato anything, mulled wine, hot apple cider — but you can also celebrate the season in a more subtle way. Looking for inspiration? Glance at Buckeye Roadhouse's menu. The iconic eatery, marked by the distinct neon sign glowing on the side of Highway 101, features quintessential California cuisine served in a warm old-world setting. Known for dishes like Oysters Bingo, the restaurant also boasts an equally impressive drink menu. Here, bartender Jason Sims shares two popular, yet nuanced, holiday cocktails. Those worried about using raw egg are encouraged to try aquafaba, which often replaces egg whites in many sweet and savory recipes; essentially it is the liquid in a can of chickpeas but is also sold on its own. Aquafaba has a wide range of emulsifying, foaming, binding, gelatinizing and thickening properties.
Cheers!
Pearfection
Ingredients
2 ounces pear-infused vodka
¾ ounce St-Germain elderflower liqueur
1 ounce fresh lemon juice
Rosemary sprig
To Prepare
1. Pour the vodka, St-Germain and lemon juice into a cocktail shaker filled with ice.
2. Shake vigorously.
3. Strain into a chilled champagne coupe glass.
4. Serve up, garnished with a rosemary sprig "stirrer."
Aperol–Hendrick's Gin Fizz
Ingredients
1¾ ounces Aperol
¾ ounce Hendrick's Gin
1 ounce fresh lemon juice
½ ounce simple syrup
¾ ounce aquafaba or 1 egg white
Soda water
Strip of grapefruit peel, curled
To Prepare
1. Pour the Aperol, gin, lemon juice, simple syrup, and aquafaba or egg white into a cocktail shaker filled with ice.
2. Shake vigorously, more than usual if using an egg white, to ensure it is mixed thoroughly with the other ingredients.
3. Strain into a chilled highball glass containing ice cubes.
4. Top off with soda water.
5. Garnish with a grapefruit twist.
This article originally appeared in Marin Magazine's print edition with the headline: "Holiday Sprits".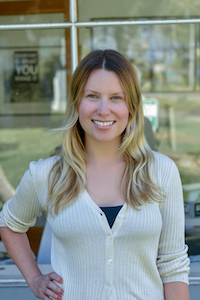 Kasia Pawlowska loves words. A native of Poland, Kasia moved to the States when she was seven. The San Francisco State University creative writing graduate went on to write for publications like the San Francisco Bay Guardian and KQED Arts among others prior to joining the Marin Magazine staff. Topics Kasia has covered include travel, trends, mushroom hunting, an award-winning series on social media addiction and loads of other random things. When she's not busy blogging or researching and writing articles, she's either at home writing postcards and reading or going to shows. Recently, Kasia has been trying to branch out and diversify, ie: use different emojis. Her quest for the perfect chip is never-ending.