On May 23, Neal Family Vineyards held its annual wine depletion dinner and scholarship awards ceremony at its estate atop Howell Mountain overlooking Napa Valley. 70 attendees at the intimate soiree enjoyed culinary creations by Chef Eric Webster and relished in the acoustic sounds of guitarist David Ronconi.
The dinner was a fundraiser for the Neal Family Scholarship, a college scholarship program for students in the St. Helena Future Farmers of America (FFA) Program who have attended four years of agriculture classes at St. Helena High School, maintained a 3.50 GPA and have been accepted to attend a four-year university to study agriculture. This year's scholarship was awarded to Kaylee Moura, who will be studying agricultural business at Cal Poly San Luis Obispo in Fall 2022. She is joining a group of 10 other agricultural college students who are currently receiving scholarships to support their studies.
The dinner's live auction generated $25,000 for the scholarship fund. Popular auction items included several wine lots from Neal Family Vineyards, a stay at a private house in Kauai donated by Bob and Kathy Cueva, and chocolate tour at Kauai's Lydgate Farms courtesy of Will Lydgate.
Since 2014, Neal Family Vineyards has generated $200,000 in scholarship funds for St. Helena Future Farmers of America.
Event sponsors included Neal Family Vineyards, Lydgate Farms and Bob and Kathy Cueva.
---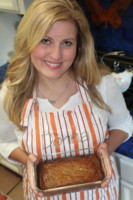 A freelance writer in Marin who writes about family, kids and parenting, Glass is the mother to one son, one dog and a hamster named Miss Geri. When she's not writing, trekking up steep hills in Marin or driving her kid to sports practice, she and her family spend time in their tiny cabin in Lake Tahoe. She avidly supports the California Academy of Sciences, a world class science museum and research institution, and the Institute on Aging which provides much needed services to Bay Area seniors and disabled adults. Glass is obsessed with baking the perfect loaf of banana bread, something she makes so often she no longer needs to look at a recipe card.