Today, Marin County's rolling hills, forests, wetlands and oceans are known both for their scenic beauty and the countless species of birds, mammals, fish and reptiles that are its inhabitants. But in the 1960s, our county's open spaces were under threat, and its wildlife was disappearing. Elephant seals, tule elk and river otters were all on the brink of extinction, threatened by ambitious development projects. It's thanks to that era's passionate environmental movements that we get to enjoy the expansive vistas, thriving woodlands and rocky beaches of our county today, which now has 85% of its land protected from development, a fact that makes Marin an incredible destination for two things: hiking and wildlife viewing.
Marin's preserves and parks hold many opportunities for encounters with California's native wildlife, such as the magnificent tule elk, a Californian subspecies of American elk that was almost obliterated during the Gold Rush days. Another species that has returned is the coho salmon, now found in both Lagunitas and Redwood Creeks. This is in part thanks to work to preserve Redwood Creek at Muir Beach, one of the Nature Conservancy's 25 global biodiversity "hot spots," where endangered species such as red-legged frogs, western pond turtles and river otters have also been reintroduced.
These natural spaces continue to thrive, thanks to the county's devoted environmental organizations, many of which have been fighting to protect our natural wonders since the '60s and '70s. One of those organizations is the Marine Mammal Center (MMC), an education, research and conservation center for marine mammals working since 1975 to protect marine mammals including elephant and harbor seals, sea lions, otters, whales and others. "Over many decades, we've taken action to protect and preserve important habitats for marine life, and it's resulted in not only growing populations of marine mammals, but also in providing fantastic spots for us to view marine mammals responsibly," says Adam Ratner, associate director of conservation education at the center. "Regardless of the time of year, there are always marine mammals to see in Marin. The Marin coast provides them with plentiful food and safe haul-out areas." 
One of the reasons for this is due to our unique ecosystem, Ratner explains. "All along California, we are treated to an amazing array of marine life due to the nutrient rich current that flows along our coast. Coupling our natural resources with strong, evidence-based protections for marine mammals, such as marine protected areas, sustainable fishing, and state parks, have resulted in an ecosystem that is a win-win for marine life and people alike."
Another one of Marin's biggest natural draws is its more than 500 species of birds, including a number of rare species such as the northern spotted owl. "Marin's varied habitats, from the ocean to the top of Mt. Tam and through the forests to the bay, are probably what makes Marin such a great place to watch birds," explains Robert Hinz of the Marin Audubon Society (MAS). The organization has been working to ensure it stays that way, with projects including restoring the Corte Madera Ecological Reserve and multiple marsh restoration programs that help save birds such as the endangered Ridgway's Rail.
Ready to get out there and spot some of Marin's wild wonders? Here's our guide to the best places to hike and view the county's diverse wildlife. Anywhere you venture, you're likely to see animals — just be sure to keep a safe and respectful distance.
Coastal
Tomales Point Trail
Animals to see: Tule elk, pelicans, cormorants, quails, coyote
Hiking level: Easy to moderate
Length: 9.5-mile loop
Amenities: Restrooms at McClures Beach
Parking: Free lot
Dogs: No
This is the best place to view Marin's majestic tule elk population, which can be seen ambling through the rolling grasslands. Along this open and fairly flat trail, you'll be rewarded with beautiful views of Bodega Bay, Tomales Bay and the Pacific as you make your way to the tip of Tomales Bluff.
Point Reyes Lighthouse Visitor Center Trail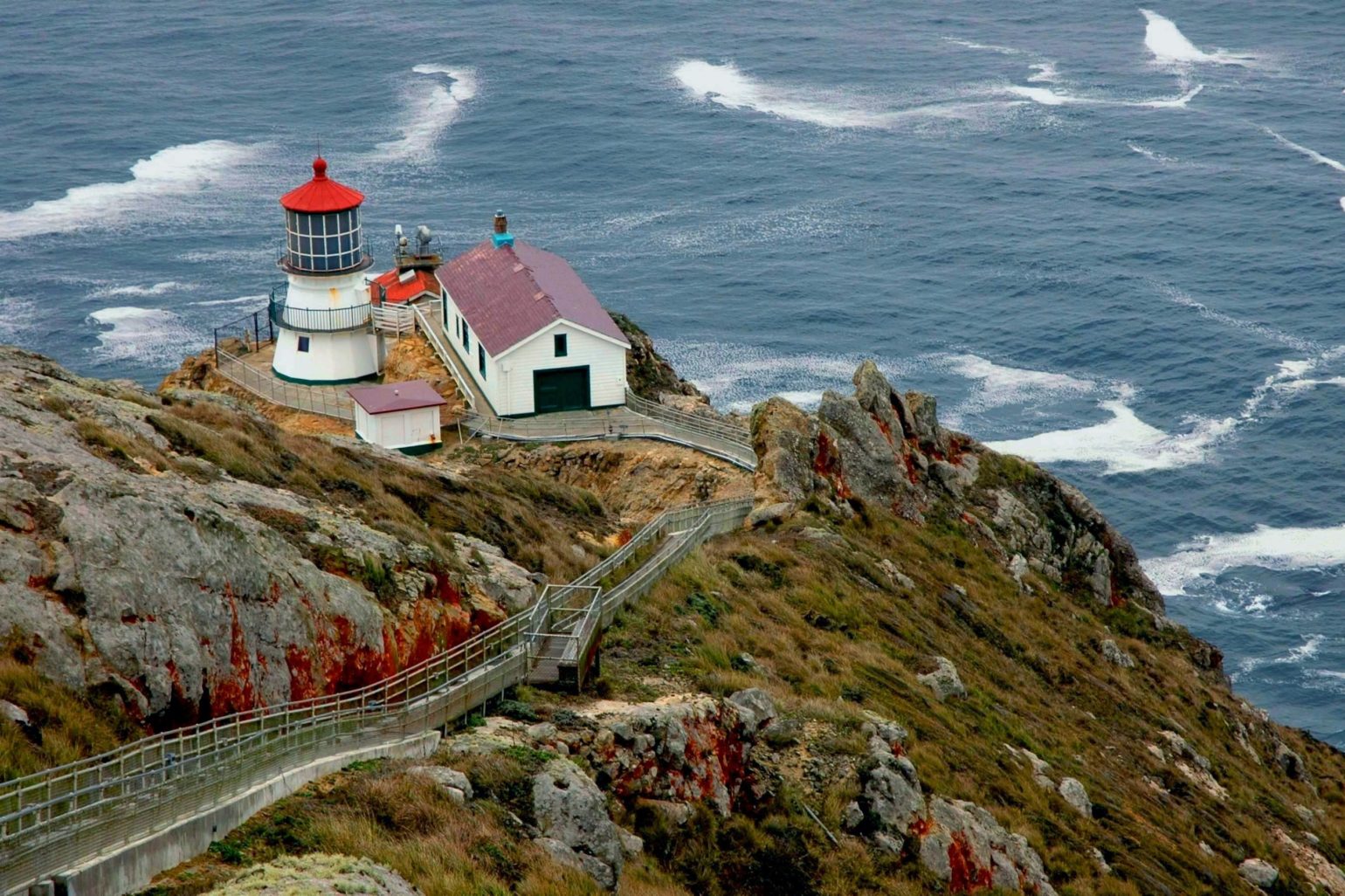 Animals to see: Sea lions, whales
Hiking level: Easy
Length: 1.2 miles
Amenities: Restrooms, gift shop, visitor center
Parking: Free lot
Dogs: No
While this is a heavily trafficked trail, it's one of the best places to spot whales from the shore, plus you'll pass a seal viewing beach from the dramatic cliffs. At the end of the trail, you'll reach the lighthouse, which was built in 1870. Venture down the 308 steps to have a look, or spend some time at the whale viewing platform looking for gray whales.
Abbotts Lagoon Trail
Animals to see: Shorebirds, waterfowl, sparrows, hawks, osprey, blackshouldered hawks, snowy plover, golden eagles, peregrine falcons, river otters, tule elk
Hiking Level: Easy
Length: 3.3 miles
Amenities: Vault toilet, trash and recycling cans
Parking: Park off of Pierce Point Road.
Dogs: No
This is a lovely hike if you want to get up close to Point Reyes' scenic lagoons and the multitude of birds that are attracted to its shores. Spot ducks, raptors, black-shouldered kites, and if you're lucky, the threatened western snowy plover. Just make sure to tread carefully when you reach the beach, as this is their nesting area.
Elephant Seal Overlook and Chimney Rock Trail
Animals to see: Elephant seals, birds
Hiking level: Easy to moderate
Length: .5 mile to the overlook, 2.4 miles to Chimney Rock
Amenities: Restrooms
Parking: Free lot
Dogs: No
This is the ultimate trail for seal lovers. Spot northern elephant seals, harbor seals and sea lions from the Chimney Rock trailhead. This breeding colony is most visible from the months of December to March during the breeding season; if you're lucky you might even see seals giving birth, or at least spot the giant but weirdly cute elephant seal pups rolling around on the beach.
Griffin Loop Trail, Bolinas Lagoon
Animals to see: Herons, egrets, harbor seals, coho salmon
Hiking level: Moderate
Length: 2.5 miles
Amenities: Education center
Parking: On highway 1
Dogs: No
Anyone who has driven to Point Reyes has seen the lagoon winding alongside Highway 1, but probably didn't realize how significant it is. An Audubon Important Bird Area and one of only seven Ramsar Wetlands of International Importance in the western United States, it serves as a stopover for tens of thousands of birds migrating on the Pacific Flyway. It's also a great place to spot the adorably round harbor seals that often rest along the shore. The Bob Stewart Trail on the lagoon's north end is a good place to start, but the Audubon Canyon Ranch's Griffin Loop trail offers an incredible 8 miles of hiking when it's open — check ahead of time.
Dipsea Steep Ravine Trail, Mount Tamalpais
Animals to see: Raccoons, gray foxes, squirrels, bobcats, coyotes, black-tailed deer, mountain lions and many birds.
Hiking level: Moderate
Length: 7.5 miles
Amenities: Restrooms, water
Parking: At Stinson Beach
Dogs: No
Looping into part of the Dipsea trail, this four-hour plus hike offers an opportunity to see both sea and mountainous terrain. There are some difficult points — you'll have to traverse Steep Ravine — but it's a rewarding journey for both scenery and wildlife viewing.
Muir Beach to Point Bonita Trail
Animals to see: Whales, seals
Hiking level: Difficult
Length: 14.3 miles
Amenities: Restrooms at Muir Beach, facilities at Rodeo Beach
Parking: Yes
Dogs: No
While you could drive to the Point Bonita parking lot and walk the half mile to the lighthouse to spot seals and whales, this incredible hike offers a great way to take in some of the Marin Headlands stunning scenery. Leaving from Muir beach and heading south to Rodeo Beach and beyond, you'll get ample time to scan the waves for whales.
Woodlands
Roy's Redwoods Loop Trail
Animals to see: Pileated woodpeckers and back-throated gray warblers, barn owls and great–horned owls, kingsnakes, racers, ring-necked snakes, rattlesnakes
Hiking level: Easy
Length: 2.3-mile loop
Amenities: Horse trough, portable toilets
Parking: Roadside
Dogs: Yes
This trail is home to the largest redwoods in the county, with some reaching 200 feet. It starts in a grove of towering trees before breaking out into rolling hills and meadows. Further along, the trail enters some beautiful groves — this was the setting for George Lucas' The Ewok Adventure. Keep your eyes out for birds, especially the endangered northern spotted owl.
Cross Marin Trail to Barnabe Peak Loop, Samuel P Taylor State Park
Animals to see: Coho salmon
Hiking level: Difficult
Length 6.6 miles
Amenities: Picnic areas
Parking: Park at the staging area off of Sir Francis Drake Blvd.
Dogs: No
To view spawning coho salmon you only need to drive to the Leo T Cronin Fish Viewing Area at Lagunitas Creek between November and February, but if you're looking for a more challenging hike, take this trail. Start at the Devil's Gulch camping area and then follow the creek at the Marin-Cross trail, offering opportunities to spot fish along the way. Then continue onward to the Barnabe Peak Loop, which is challenging, but offers stunning views.
Redwood Creek Trail, Muir Woods
Animals to see: Coho salmon, steelhead trout, owls, ravens
Hiking level: Moderate
Length 10.5 miles
Amenities: Picnic area
Parking: Roadside
Dogs: Yes
This hike has it all, starting at Muir Beach and ending in Muir Woods. Spotting animals amongst the majestic redwoods is hard to do, but spotted owls, common ravens, pileated woodpeckers, foxes, bobcats and raccoons all call the habitats encountered along this trail home.
Volunteer: How to Help Wildlife
Support the valuable conservation work being undertaken by local organizations to keep Marin pristine for its animal residents.
The Marine Mammal Center's world-class volunteer program provides hands-on learning opportunities for community members to take the next step as environmental stewards and caregivers for marine mammals in need — volunteer at the animal hospital, participate in releases and more alongside the center's more than 1,300 volunteers.
The Marin Audubon Society offers many opportunities to support their environmental protection and conservation efforts, from restoration projects to participating in the Christmas bird count. Currently, the organization has three active restoration sites where volunteers help restore fragile habitats.
Wildcare is the animal hospital for Marin's wildlife, caring for everything from owls to bobcats, as well as education and environmental advocacy. Volunteers can work at the animal hospital, help educate the public and more.
The Salmon Protection and Watershed Network (SPAWN) is a program of the The Turtle Island Restoration Network working to preserve coho salmon. They have multiple opportunities available for volunteering, mostly involving habitat restoration.
Working in the Bolinas area, this climate conservation group offers opportunities to help restore habitats for seabirds.
Take a Tour
If you don't feel like searching out wildlife yourself, these local outfits are happy to take you on a Marin-style safari.
Daniel Dietritch is a wildlife photographer and naturalist with an intimate understanding of the park. His safaris can be tailored to photographers, include binoculars and lunch, and are available through Olema House or directly.
Run by environmental educator Sharon Barnett, a former director of the Marin Audubon Society and cofounder of the River Otter ecology project, and Kevin Stockman, a Marin County naturalist who works for the National Oceanic and Atmospheric Administration (NOAA), the company offers tours of Mt. Tam, tidepools and many hiking trails.
Tips for Safe Marine Wildlife Viewing
It's seal pupping season along the California coast. Young seal pups, especially newborn harbor seal and elephant seal pups, are incredibly photogenic and draw attention with their innate charm. But both mom and pup aren't keen on up-close selfies and don't make good playmates with your dog or kids! These young pups are at the most vulnerable stage of their life and can be easily become stressed, separated and/or abandoned by their mothers if humans or dogs get too close.
The public plays an important role in the conservation of marine mammals. You can do your bit by keeping these marine wildlife viewing tips in mind:
Keep a Safe Distance. Whether on the water viewing marine life or walking with your pet on one of Marin County's beautiful local beaches, a great wildlife viewing experience starts with keeping your distance and keeping pets on leash.
Use Your Zoom. It's ok to take photos and admire the animals, but if you're so close that you're not using your zoom or they're reacting to you, then you're too close. No SEAL-FIES please!
Call. If you see a seal or sea lion in distress, call The Marine Mammal Center's rescue hotline at 415-289-SEAL (7325). The center will monitor the animal and, if necessary, send a trained responder to rescue it safely.
---
More from Marin:
---
Jessica Gliddon is the Regional Content Director for Marin Magazine and Better Bay Area for Make It Better Media Group. An international writer and editor, she has worked on publications in the UK, Dubai and Cape Town. She is a graduate of UC Santa Cruz, and is the former editor of Abu Dhabi's airline magazine, Etihad Inflight. When she's not checking out the latest exhibit at SFMOMA or searching out the best places to eat and drink near her home in San Francisco, she volunteers at the Marine Mammal Center in Sausalito.