Poolside parties and summer evening soirees call for festive beverages that celebrate the season. We've got you covered with these new releases and seasonal specials — all by local makers — from session-friendly drinks to a party-ready cocktail.
Marin's First Hard Kombucha
Folksy, a brand-new line of low-sugar, low-alcohol (5% ABV) hard kombucha drinks, could easily become your go-to happy hour beverage this summer. Behind the launch is husband-and-wife team Dylan and Anna Lundstrom, native Marin dwellers who enjoyed drinking nonalcoholic kombucha long before they decided to make their own boozy version. They're not alone in their adoration: Fermented, lightly fizzy kombucha, made from green or black tea, is not only flavorful, it's also packed with probiotics that promote gut health. With the arrival of couple's son, Iver, along with middle-of-the-night wake-ups, Anna soon discovered hard kombucha to be a welcome, lower-alcohol alternative to wine, as well. "I became a hard kombucha super-fan evangelist to friends, family and strangers alike, and then I realized this was something I wanted to make!"
With that, Dylan, an accomplished winemaker, and Anna, who has a background in marketing at Uber and Square, decided to brew their own hard kombucha — crafted from organic fruit juices, natural botanicals and green tea — at a space in Sebastopol. "Dylan was drawn to the fact that he could produce hard kombucha from the initial ferment to can within weeks, compared to wine that can take years from grapes to bottle," says Anna. Folksy's first two flavors, Grapefruit & Ginger and Sage, Rosemary & Mint are currently distributed through retail grocery stores, bars and restaurants throughout the North Bay, with plans to expand within the year. "We don't have a tasting room yet, but maybe someday in the future!" says Anna.
Backyard Brews
East Brother Beer Co.'s limited-release brews are well worth waiting for every season. This summer, the Pre-Prohibition Lager — inspired by pre-prohibition beer-making methods — makes a great day-drinking or session beer, with a low 5.5% ABV and a clean, crisp finish. Also on tap this summer: From the Freighter series, the seasonal double IPA pays homage to West Coast IPAs with tropical aromas; a malt-forward flavor; and a balanced, bitter finish — it's an ideal fire pit companion.
A New Vodka Infusion
The latest limited-edition launch from family-owned Hanson of Sonoma Distillery is one of their most-requested vodka infusions: pink grapefruit. Crafted with organic vodka and hand-peeled organic grapefruits, the infusion is tart and tangy with just a hint of sweetness. Try it in a grapefruit greyhound (recipe below), or opt for the pre-batched to bee or not to bee cocktail — Hanson organic pink grapefruit vodka, fresh-squeezed organic lemon and rosemary-infused orange blossom honey — mixed and ready to shake and serve over ice.
The Grapefruit Greyhound Cocktail
Ingredients
1½ ounces Hanson organic pink grapefruit vodka
2 ounces fresh-squeezed organic grapefruit juice
½ ounce fresh-squeezed organic lemon juice
½ ounce organic agave nectar
Fresh grapefruit twist
Instructions
Combine all ingredients in a cocktail shaker filled with Ice. Shake and strain over fresh ice. Garnish with a grapefruit twist.
Cocktail Hour
If you're feeling too lazy from all the heat to make your own cocktail, you can always check out the Hanson's cocktails being served alongside epic views at the Top of the Mark at the Intercontinental Mark Hopkins in San Francisco, paired with divine cocoa creations from Sonoma chocolatier, Kollar Chocolates.
---
More from Marin:
---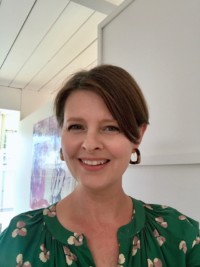 Lotus Abrams has covered everything from beauty to business to tech in her editorial career, but it might be writing about her native Bay Area that inspires her most. She lives with her husband and two daughters in the San Francisco Peninsula, where they enjoy spending time outdoors at the area's many open spaces protected and preserved by her favorite local nonprofit, the Peninsula Open Space Trust.