Overflowing with leafy greens and colorful vegetables, Soul Farmer's burlap-wrapped bouquets are as visually stunning as floral arrangements, yet the curated veggie bundles are meant to inspire much more than aesthetic enjoyment. Accompanied by seasonal recipes, the edible bouquets are intended to foster creativity in the kitchen and meals shared with loved ones and friends.
Soul Farmer was founded in 2020 in the midst of the pandemic by Marin-dweller Kelly Lauber, who personally grows, harvests, designs and even delivers the bouquets around the Bay Area. "As markets, restaurants and farms were closing, I decided to transform our small home gardens in Tiburon and Calistoga into 'backyard farms' to grow our own food," Lauber says. "Come summer of 2020, we were swimming in produce, and I began hand-delivering bouquets to neighbors, friends and family to share the extra goodness from the gardens." Bolstered by the overwhelming gratitude she received, Lauber decided to launch Soul Farmer. Her love of healthy eating started long before that, however.
"My inherent passion and appreciation for growing food and entertaining stems from my childhood, my early working days and a family deeply rooted in gathering around the table together to enjoy a meal," she says. Following her graduation from California State University, Chico, the native of Salinas (known as the "Salad Bowl of the World") worked with some of the largest produce brands (Fresh Express, Taylor Farms and Chiquita Foods) to increase their market share in retail spaces, in the meantime learning the ins and outs of large- and small-scale farming. She then applied her business and marketing acumen to working in the tourism industry and at a nonprofit before deciding to leave the workforce to raise her family.
Several years later in 2019, Lauber met slow food movement icon Alice Waters at an event in Los Angeles, which fueled her desire to merge her personal interests in healthy eating with her professional experience. "We connected over our love of worms, and how important they are for the soil, our food system and growing your own food — and of course, the importance of teaching children about growing healthy, nutritious food," she says. Throughout 2020, Lauber helped coordinate online events and fundraisers to raise awareness for Waters' nonprofit organization, The Edible Schoolyard Project, which is dedicated to public education for children promoting healthy eating. A portion of every Soul Farmer bouquet sold is donated to the organization.
This fall, while she's delivering bouquets stocked with seasonal produce like broccoli, fennel, leeks, peas, spinach and kohlrabi, Lauber is also planning to launch experiences at Soul Farmer. The first event planned is a fundraiser The Edible Schoolyard Project. Also in the works: a garden tour with Waters, followed by lunch and a lesson in making harvest bouquets. Says Lauber, "Through intentional acts of service and sharing, I hope to help make our local communities a truly beautiful place to live."
---
More from Marin:
---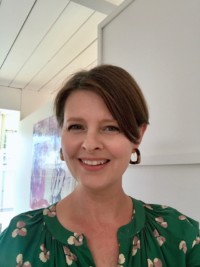 Lotus Abrams has covered everything from beauty to business to tech in her editorial career, but it might be writing about her native Bay Area that inspires her most. She lives with her husband and two daughters in the San Francisco Peninsula, where they enjoy spending time outdoors at the area's many open spaces protected and preserved by her favorite local nonprofit, the Peninsula Open Space Trust.