Summer is almost here at last, and we're ready to toast to life spent enjoying the great outdoors with backyard barbecues, sailing on the bay, picnics at our favorite local beaches and camping trips. Provisioning for any adventure is easy with these canned beverages from local makers. Cheers!
Made with 100% Cascade hops for a hop-forward bitterness with a grapefruit finish, this West Coast IPA is ABV-free, as are all of the beers from new Sausalito-based brewery Best Day Brewing.
Napa Valley Grounded Wine Co. winemaker Josh Phelps recently released Space Age Rosé Spritz, a picnic-friendly wine spritzer with natural Meyer lemon and strawberry flavors that's only 90 calories and just 5.5% alcohol.
St. Helena-based g's, founded by Aussie native Donna Katz, who moved to California in 2013, turns out several zesty dry hard ginger beer flavors that are loaded with local, organic ingredients and a moderate 4.5% ABV. All Day, featured here, is made with organic ginger juice, lemon juice, orange juice and cane sugar.
Super-premium blanco agave tequila, grapefruit and a hint of agave nectar combine in this classic Mexican cocktail in a can from Laughing Glass Cocktails, founded in San Anselmo by Sydney Raimin-Smith and Carey Clahan. Bonus: It's also gluten- and GMO-free, vegan, paleo-friendly and low in calories, too.
Named after the wild and beautiful Salt Point State Park, located two hours north of San Francisco, Marin-based Salt Point has been making canned cocktails since 2013. New this year, the Cape Cod cocktail is a refreshingly tart-sweet and fizzy blend of vodka, lime and cranberry.
Founded in Mill Valley by two friends who met in college with a shared passion for good wine, West Shore Wine Co.'s inaugural offering is a bright, dry, floral and bubbly rosé in a can — perfect for warm-weather excursions.
Marinite Sammy Hagar has been in the spirits biz since he launched Cabo Wabo Tequila in 1996. Last year, the legendary rocker released a line of canned rum cocktails in four festive flavors: jalapeño-spiked Pineapple Splash; Creamsicle-inspired Tangerine Dream; Island Pop, a boozy fruit punch; and Cherry Kola, which is tinged with a hint of spice.
---
More from Marin:
---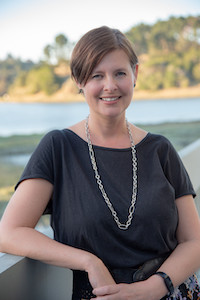 Lotus Abrams has covered everything from beauty to business to tech in her editorial career, but it might be writing about her native Bay Area that inspires her most. She lives with her husband and two daughters in the San Francisco Peninsula, where they enjoy spending time outdoors at the area's many open spaces protected and preserved by her favorite local nonprofit, the Peninsula Open Space Trust.