In 2003, Paige and David Hirschkop moved into their mid-century modern East San Rafael home. "It had great bones, but hadn't been remodeled since the seventies," says Paige. 
Over the years, they worked hard to modernize it. A decade ago, for example, they gutted their dated kitchen and knocked down a wall to optimize their view of San Pablo Bay. Three years ago, the couple tackled the outdoor space. (The transformation was featured in our June 2019 cover story, Sun, Shade and Slopes.) And while those upgrades were, indeed, major improvements, the house still lacked several items on their wish list — most notably, a master suite.
The couple toyed with the idea of moving. But every home they toured had its own set of deficits. "It felt like we'd just be exchanging one set of problems for another," recalls Paige. "Plus, we loved our location and view."
Instead, they agreed to take on one final remodel, which involved tweaking the existing spaces and then adding an additional 700-square-feet of living space. "We wanted four things; a master suite, a laundry room, a mudroom, and an office," says Paige. And while they were at it, they agreed to push the home's footprint out by three feet in order to create a more spacious dining room. "It sounds so minor, but it did make a dramatic difference in how the space felt." Additionally, the couple ripped out the old flooring and replaced it with engineered white oak hardwood floors.
In an effort to further enhance the home's breathtaking water views, they also replaced the home's front window bank with a 15-foot bank of floor to ceiling sliding glass doors. Then, to enjoy their reconfigured space, the couple chose a custom sofa from Bimma Loft, along with a new coffee table fabricated out of a quartz remnant from the bathroom remodel.
The lion's share of the addition is dedicated to a decadent master suite drenched in light and designed with soaring ceilings and a sliding glass door for quick access to the home's resort-like yard. Additionally, a womb chair and ottoman by Knoll positioned next to the slider is the perfect place to sip coffee and enjoy the garden view. Also of note: A new large walk-in closet with high windows, which let in plenty of natural light while preserving privacy, provides ample space for the couple's wardrobe.
The newly constructed master bath is as luxurious as it is functional. Quartz countertops fitted with two undermount sinks float over custom cabinetry by Mark Nardone of Integral Design in San Rafael. Chrome plumbing fixtures by Dornbracht complement the room's minimalist appeal. Ditto for the AKDO glass tile nine-foot high feature wall. But the most innovative aspect of the bathroom is the smart picture window by Innovative Glass that goes from clear to frosted with the flick of a switch.
And while this project was in the works long before Covid-19 turned the world upside down, the couple feel exceptionally fortunate they created a dedicated home office for David, who now runs Dave's Gourmet, a specialty food company best known for its pasta and hot sauces, remotely from his newly remodeled workspace. "He's in that office all day, every day," says Paige.
And while details like expanding a laundry closet into a full-fledged laundry room and carving out space for a proper mudroom isn't necessarily the most glamorous aspect of a remodel, these niceties have made the house exponentially more functional.
All told, the project took 10 months to complete. As for the inconveniences and stress inevitable with any home remodeling project, Paige admits that this third and final project was by far the easiest. "The last two projects I managed on my own," she recalls. "Working with an excellent contractor made all the difference."
THE DETAILS
WHAT THEY OWN Four bedroom, three and a half bath mid-century modern
WHERE THEY OWN Bayside Acres neighborhood of San Rafael
CONTRACTOR Darrel Denny of D2 Construction in Larkspur
ARCHITECT Ricky Mason of Gehricke+Mason in Sausalito
FAVORITE DETAIL "The master suite," says Paige. I love how the clerestory windows and high ceilings make the room feel so serene."
---
How to Help:
There are so many deserving nonprofits that need your help right now. For more organizations to support, check out the nonprofits here or GoFundMe, where they're matching donations on Giving Tuesday Now for select charities.
---
More from Marin:
---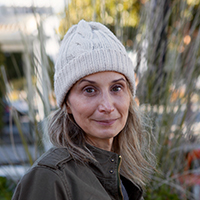 Dawn Margolis Denberg has worked as a professional journalist for 20 years. Her work has appeared in top publications, including Wired, Shape and Parenting. She has also written several books for children including, The Men in Black Agent's Manual The Official Godzilla Movie Fact Book. And, most recently, an episodic audio series for Tales Untold.