Rose and Paul Smith loved almost everything about Oakland's Rockridge neighborhood. The one thing it lacked: Proximity to their tight-knit group of friends. "It seemed like all our best friends were moving to Marin, so when we got serious about buying a place, it just made sense to be there too," says Paul. "Our kids are like cousins to one another and it was important to us that we all be close to one another."  And Rose grew up in Bolinas. Her mom still lives there and her dad's out in Point Reyes. 
Initially, the Smiths considered setting down stakes in Woodacre, a town where two of their nearest and dearest had settled. But, coming from Oakland, the San Geronimo Valley felt a tad too remote. Instead, they zeroed in on Fairfax and quickly identified "the one." 
"It was dated but in excellent condition," says Paul. Of course, the Smiths weren't the only ones to see the home's potential. "There were 11 offers on the place," recalls Paul. Fortunately, their realtor, Stephen Pringle with Zephyr Real Estate, advised them well and they won the bidding war. 
Quickly thereafter, the Smith's relocated to Fairfax so their daughter could enroll in the local school. The opportunity to live in their newly purchased home was still nearly a year away, due to the family's ambitious remodeling plan. To bring their plans to fruition, they teamed up with architect Craig O'Connell, who not at all coincidentally is one of the "best friends" that drew the Smith's to Marin in the first place. "We'd had no experience with remodeling, but trusted Craig implicitly to help us through the process," says Rose.  
The project entailed a near down-to-the-studs renovation, although the focus was on improving the flow between the home's public spaces. "The existing space was very compartmentalized," says Paul. Highlights of their new design include a clean, bright kitchen with bleached walnut cabinets custom crafted by HopeBuilt in Petaluma. "We designed the kitchen with an oversized island to create a communal gathering spot," says Paul. "We wanted lots of counter space for those rare but important holidays when there are lots of cooks in the kitchen."   
The home's new dining area flows effortlessly into the backyard vis-a-vis a wall of glass doors that disappear into the walls, allowing for an effortless transition to the home's new tiled patio. All three of the home's bathrooms also got a makeover. "My favorite is the upstairs guest bathroom," says Rose. "I chose the flamingo wallpaper because it was my one chance to be quirky, as the rest of the house is pretty minimalist." 
The remodel which wrapped in April 2019 has brought the family tremendous joy, particularly since March when the Smith's and the rest of the world began spending an inordinate amount of time at home. The dining room table has become a workspace for the on-duty parent, while the off-duty parent offices upstairs in the multipurpose room. "We call it the rumpus room because it serves many purposes, guest suite, exercise room, media room, and now a quiet workspace," says Rose. "And the kids just love the yard. It's not huge, but it's amazing how many little hiding spaces it has. We feel really lucky to be sheltering in this space." 
---
How to Help During COVID-19
There are so many deserving nonprofits that need your help right now. For more organizations to support, check out the nonprofits here or GoFundMe, where they're matching donations on Giving Tuesday Now for select charities.
---
More from Marin:
---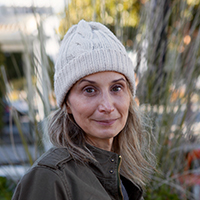 Dawn Margolis Denberg has worked as a professional journalist for 20 years. Her work has appeared in top publications, including Wired, Shape and Parenting. She has also written several books for children including, The Men in Black Agent's Manual The Official Godzilla Movie Fact Book. And, most recently, an episodic audio series for Tales Untold.