As an interior designer, Shirley Parks spent a decade helping clients turn ho-hum homes into architectural gems. But when her children hit middle school, she decided she needed to take a beat and focus on family. But that didn't mean giving up her passion for interior design. Instead, she shifted into renovating her own homes with the intention of flipping them for profit. "We're currently on our fourth project house," says Shirley, who has since re-launched her interior design business. "Now that my kids are older, I'm less stretched for time. Plus, I feel like I've earned the equivalent of a master's degree through my four renovations and I'm excited to pass on what I've learned to my clients." 
Her most recent transformation: A five bedroom, three and a half bath home in Mill Valley. "The house was built in the late eighties and every detail in it was original," says Shirley. And unlike vintage details from the fifties, sixties, and even seventies, décor from the eighties has yet to make a comeback. So, this remodel — done in phases as the family lived in the home throughout the process — ended up being a near down-to-the-studs project. 
Priority one was opening up the space and optimizing views of nearby Horse Hill. The house was large, but choppy. Shirley recognized that if they could open up the space it would completely change the entire aesthetic. This entailed razing nearly every wall in the public areas. "We also pulled the Juliet's balconies and replaced them with decks from which we can enjoy views of Horse Hill," says Shirley. 
The new kitchen features custom cabinets by Spatial Design in San Anselmo, and a metallic glazed subway tile backsplash along with Neolith engineered stone for the countertops. "I wanted an impervious surface," says Shirley. Brass accents, including cabinet pulls, plumbing fixtures, and bar stool legs lend an air of sophistication to a kitchen designed for both form and function. 
Shirley also put considerable thought into updating the home's lighting. "It's a relatively inexpensive way to add personality to a home," she explains. "But because our floor plan is so open, I had to be careful to choose fixtures that were all different but also complementary."  
For the master bathroom, Shirley chose a wet room, a design trend where the shower is set directly into the floor with no steps, trays, or raised portion — a great option when a bathroom space is tight. 
And while the bulk of the renovations wrapped in 2017, Shirley, ever the designer, continues to adjust and tweak. All the while, the family has been savoring their reimagined space, knowing the next project home is somewhere on the horizon. "I think we'll wait until my daughter leaves for college," says Shirley. "After that, it will be time to move again." 
THE DETAILS
WHAT THEY OWN Five bedroom, three and a half bath Contemporary 
WHERE THEY OWN Scott Valley neighborhood of Mill Valley
DESIGNER Shirley Parks of Shirley Parks Design in Mill Valley
FAVORITE DETAIL "The views from our new deck," says Shirley. "We get so much pleasure from watching the wildlife — coyotes, rabbit, deer — it's all just breathtaking." 
---
How to Help:
There are so many deserving nonprofits that need your help right now. For more organizations to support, check out the nonprofits here or GoFundMe, where they're matching donations on Giving Tuesday Now for select charities.
---
More from Marin:
---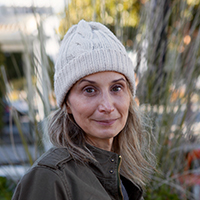 Dawn Margolis Denberg has worked as a professional journalist for 20 years. Her work has appeared in top publications, including Wired, Shape and Parenting. She has also written several books for children including, The Men in Black Agent's Manual The Official Godzilla Movie Fact Book. And, most recently, an episodic audio series for Tales Untold.