COW, GOAT, SOY, nut, rice, even hemp. In today's world, it seems like milk can come from just about anywhere — and now there's yet another option in the dairy aisle. Made with yellow peas, Ripple has eight times the protein of almond milk and half the sugar of conventional dairy milk. Unlike many other alternatives, it's smooth and creamy, not watery.
PHILOSOPHY
One hundred percent natural and vegan, Ripple is free of soy, lactose, dairy, gluten, GMOs, and thickeners like carrageenans. Currently available in original, unsweetened original, vanilla and chocolate milk varieties, it has eight grams of protein and contains more calcium and 40 percent fewer calories than whole dairy milk.
THE SCOOP
Mill Valley resident Adam Lowry, co-founder of Method cleaning products, co-founded Ripple Foods with biotech innovator Neil Renninger to help bring about a healthier, more sustainable food and agriculture industry. "What motivates me is how to use business to promote social causes and make a positive environmental impact," Lowry says. The peas are blended with water and sunflower oil and (in all but the unsweetened variety) lightly sweetened with organic cane sugar. Vitamin D and other nutrients are added following homogenization and sterilization. The production of Ripple has a smaller carbon footprint than traditional milk, and the product is packaged in 100 percent post-consumer recycled plastic containers, which have a 75–80 percent lower carbon footprint than that of standard milk cartons.
BEYOND MARIN
Ripple is available at Target, Whole Foods, and Sprouts stores nationwide.
WHAT THEY SAY
"After 16 years with Method I started to get an itch to build another business and thought about my passions," Lowry says. "I realized that food was the answer — it was a lot more personal than other products and the potential ripple effect and power of working with food was huge."
This article originally appeared in Marin Magazine's print edition with the headline: "Ripple".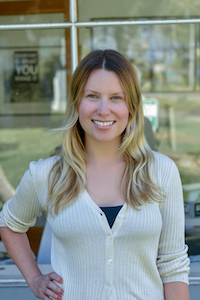 Kasia Pawlowska loves words. A native of Poland, Kasia moved to the States when she was seven. The San Francisco State University creative writing graduate went on to write for publications like the San Francisco Bay Guardian and KQED Arts among others prior to joining the Marin Magazine staff. Topics Kasia has covered include travel, trends, mushroom hunting, an award-winning series on social media addiction and loads of other random things. When she's not busy blogging or researching and writing articles, she's either at home writing postcards and reading or going to shows. Recently, Kasia has been trying to branch out and diversify, ie: use different emojis. Her quest for the perfect chip is never-ending.