Cinco de Mayo Cocktail Recipe
You're stuck at home, the beer and wine have run out and the next shopping trip is days away. Before panic sets in you turn your eyes toward your liquor cabinet. Is a delicious cocktail hiding in there somewhere? Bartender, Marin IJ "Barfly" columnist and author of Twenty Years Behind Bars, Jeff Burkhart, thinks so. "I have done a couple of cocktail webinars since this all started with more coming up," says Burkhart. Burkhart has also posted some how-to videos online. Here's his recipe for an herbal hermitage mojito that's just a shake away. Pro tip: if you want to put a Cinco de Mayo spin on it, swap rum for tequila.
Herbal Hermitage Mojito
2 ounces white rum or vodka (flavored ones work well, too)
1 ounce lemon or lime juice
1 ounce simple syrup
1 ounce fresh herb (mint, cilantro, basil, thyme, rosemary)
1 lemon or lime wheel
1 reserved sprig of the herb used
Gently tear herbs into shreds and place in the bottom of a mixing glass. Add ice and the three liquid ingredients. Shake gently to combine (one to two hard shakes, or more if using gentle shakes). Strain into a cocktail glass and float the wheel, placing a sprig of fresh herb on top. Alternately, pour entire mixture into 12-ounce glass and top with soda.
*Mojito means little softening sauce in Spanish. Whether that refers to the herbs or the imbiber is open to interpretation.
As much as food lovers might like to, it just isn't practical to dine out all the time. Here, some top Bay Area chefs weigh in with favorite shortcuts that can make eating at home a five-star experience.
Even on a good day, it can be tough for busy parents to find a moment for themselves. Now, in the time of COVID, it can feel impossible — and yet it's more important than ever. Pour yourself a glass of wine and join Better and Marin Magazine for a Zoom conversation with author Rachel Bertsche, moderated by our National Content Director, Brooke Geiger McDonald. Rachel will answer questions and share tips that help parents find what she calls "pockets of indulgence" in the midst of the chaos of parenting, homeschooling, and working from home.
Spending all our time indoors can be overwhelming and make us feel blue. Luckily, adding some green can boost indoor air quality and your overall outlook. Here are the top, and easiest (you won't need a horticulture degree to keep them alive), houseplants to chase away air pollutants. Take a deep, fresh breath and read on.
Today we get to honor a new holiday that will impact millions around the globe: Giving Tuesday Now. From the group that brought us Giving Tuesday, this new day of global giving and unity is an emergency response to the unprecedented need caused by COVID-19. Of course, one of the most impactful ways you can help a nonprofit is with a donation. But with many of us finding ourselves in difficult monetary situations right now due to job loss and shutdowns, Giving Tuesday Now has listed other ways to lift others up on this day, because every act of kindness makes a difference.
---
How to Help
There are so many deserving nonprofits that need your help right now. For more organizations to support, check out the nonprofits here or GoFundMe, where they're matching donations on Giving Tuesday Now for select charities.
---
For more on Marin: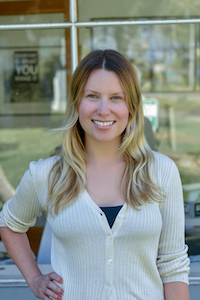 Kasia Pawlowska loves words. A native of Poland, Kasia moved to the States when she was seven. The San Francisco State University creative writing graduate went on to write for publications like the San Francisco Bay Guardian and KQED Arts among others prior to joining the Marin Magazine staff. Topics Kasia has covered include travel, trends, mushroom hunting, an award-winning series on social media addiction and loads of other random things. When she's not busy blogging or researching and writing articles, she's either at home writing postcards and reading or going to shows. Recently, Kasia has been trying to branch out and diversify, ie: use different emojis. Her quest for the perfect chip is never-ending.