Here's a silver lining in the era of Covid-19: Traveling with your dog is exponentially easier. How so? Road trips are preferable to plane travel. And because outdoor activities are safer than indoor adventures, there's simply no reason that dog-o can't join you for some rest and relaxation. And, as it turns out, March is the perfect time of year to visit dog- friendly Phoenix, Arizona. So, gas up the family roadster, or plug in the Tesla stops, because you're just a day's drive away from the Valley of the Sun. 
Where to Stay
If you (or your pup) fancies mid-century modern architecture, you'll find your happy place at the iconic Hotel Valley Ho, which opened its doors in 1956 and quickly become the stomping grounds of Hollywood A-listers. In 2008, the original two-story motel underwent at 80-million- dollar restoration and expansion, including the addition of a seven-story tower tricked out with period perfect furnishings and large private balconies. (Tower suites come with full kitchens if dining out during the pandemic feels too risky.) The first-floor rooms in the now-renovated original building overlook the pool deck or a lush lawn — a great options for pup who require easy access to the outdoors when nature calls.  
For travelers who prefer a self-contained getaway at a mega-resort, book a room at the Scottsdale Princess where you'll have access to six pools, five restaurants, and a golf course that's not affiliated with the resort, but can be accessed via the back of the hotel. Thru March 21, you can take advantage of winter at the princes with activities including, ice skating, axe throwing, and a children's carnival. Call housekeeping once you arrive and they'll even deliver   a comfy dog bed, special toy and treats for your furry friend. 
Now, for pure luxury, it's hard to do better than the Andaz. The highly manicured 30-acre desert landscape is dotted with sleek, modern bungalows, each with well-appointed bathrooms opening onto a private back patio. The entire grounds are a dog's paradise. They'll even bring Fido water bowl while you're sipping cocktails at the pool.
Where to Eat
View this post on Instagram

There's no shortage of restaurants that welcome dogs in the Valley of the Sun. Some like New York Bagels N Bialy, a classic Jewish Delicatessen, even offer a special dog menu with options including Kibble N Hash, corned beef hash and beef served with brown rice kibble and topped with gravy. For bipeds, the matzah ball soup is top notch as is the classic pastrami sandwich on rye bread and pickle on the side. 
For a more upscale dining experience, the expansive patio at The Henry is a great place to unwind. Double paws up for short rib pot stickers, spicy tuna & crispy rice as well as the Korean prime skirt steak. A beautiful spot for amazing food and cocktails. Their oversized, single ice cubes are crystal clear, making their craft cocktails even craftier. 
Of course, no visit to Phoenix is complete without sampling cuisine of the American Southwest. And Chelsea's Kitchen dishes out food locals consistently rave about. Their tortilla soup, for example, packs just the right amount of kick and the slow roasted organic chicken bathed in a spicy rub will melt in your mouth. The desert gets cold at night, but if you want to stay toasty warm, request a table next to the roaring outdoor fireplace. 
Where to Play
View this post on Instagram

Leash up your pup and head to Papago Park where you can trek around a series of Instagram-worthy red butte formations. Alternatively — and despite its foreboding name — the Lost Dog Wash Trail is a great option even for the directionally challenged. The 4.4 mile loop is well-marked and suitable for both skilled and unskilled hikers with beautiful Sonoran desert views. 
Of course, if retail therapy is how you recharge your batteries, Scottsdale Quarter, with over 80 stores — both chains and independents—offers dozens of ways to slim down your wallet. Plus, your kids, be they four-legged or two, will be thrilled to run through pop-jet interactive fountains. For a more eclectic mix of retail options, including, clothing boutiques, Native American jewelry shops and local art galleries, plus dozens of outdoor cafes, head to Old Town Scottsdale. 
---
How to Help
For more ways to support local businesses, go here.
---
For more on Marin:
---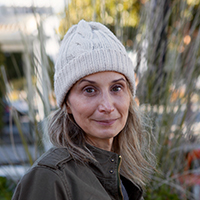 Dawn Margolis Denberg has worked as a professional journalist for 20 years. Her work has appeared in top publications, including Wired, Shape and Parenting. She has also written several books for children including, The Men in Black Agent's Manual The Official Godzilla Movie Fact Book. And, most recently, an episodic audio series for Tales Untold.