If you haven't yet booked a camping trip for the remaining few weeks of summer, I have to be honest. It's not easy as pickings can be slim-to-none this time of the year—and the state and national parks have been booked for months. Take heart, I have a few tricks to help you achieve your dream of campfires and starry skies. For those of you who absolutely refuse to do anything that involves sleeping in a tent or forgoing a shower for more than a day, I have a few tips too.
Set Up Camp on Someone Else's Property  
Thanks largely to the popularity of Airbnb, many private property owners have opened up their lands to campers. Some have set up specific camping areas and turned it into a bona fide side business, which is good news for those hoping to plan a spontaneous getaway. The best website for finding private camping options is Hipcamp, which offers hundreds of private sites throughout California and has an appealing search interface. Here you can find everything from basic tent camping to cabins, such as the Flying Pig B'n'B in San Martin and Creekside Camp near Bodega Bay. "Camping on private land — such as farms, ranches, and vineyards — is a great way to explore new places and enjoy unique experiences, such as farm-fresh food or goat yoga," says Hipcamp Founder and CEO Alyssa Ravasio. Read our interview with Alyssa here.
Book a Private Campground
One of my favorite private campgrounds in Marin is the Olema Campground, which offers 187 spots for tent campers and RV owners and is pet-friendly. It costs a bit more than a state campground site, but often has free sites, especially during the week. The location is ideal—close to Point Reyes Station and beaches. Bring bikes to ride the paths to the beach. If you're willing to travel a bit further South, check out Ventana Campground near Big Sur, which offers tent camping amongst majestic redwood trees, as well as locally curated barbecue when you want to take a break from campfire cooking.
Go Glamping in Style
When you want stress-free camping that doesn't involve feeling dirty 24/7 and overloading your car with too much stuff, glamping is your answer. North of San Francisco, Mendocino Grove is a newer spot that makes me want to pack my belongings and go now. Safari West near Santa Rosa offers the best of both worlds—glamping tents with en-suite bathrooms imported from Botswana, with the added bonus of a safari excursion. But my heart belongs to Costanoa along Highway 1 near Pescadero, which offers everything from rustic platform tents and RV hookups to a luxurious lodge that has an on-site spa, and a full-service restaurant that serves all-organic, seasonal fare. Even the tents are pretty upscale, with many offering queen size beds and down bedding. There's plenty of ocean front hiking accessible from Costanoa, where you might spot a breeching whale or a pod of porpoises if you're lucky. If you need some more ideas, check out our article on the best places to go glamping in California.

Beat the State Camping Reservation System
California State Park campsites are booked about six months in advance, so getting a site can be tricky at best. But here's a tip: there are cancellations all the time, and if you know how to work the system you may be able to score a great site during the prime summer season.
Granted this method is a little riskier, but it has worked beautifully for me—twice. I have scored sites at prime campgrounds on Labor Day weekend and Fourth of July weekend, which is almost unheard of.
Here's how to do it:
Go to the California State Parks reservation site. If you don't already have one, create an account. This is key.
Research the campsites that you would like to reserve. Make a list of five or six sites that appeal to you. Do you like beach camping? Camping in wooded areas? Are you open to either? Doing a little advance research is essential.
Have a few dates in mind for your camping trip. Mid-week can be easier to book, but I like I said, I have scored last minute reservations on prime weekends as well.
Now here is the important part. All the reservations that have opened up are posted at exactly 8 a.m. PT each day. To be ready to snag one, make sure you are on the reservation site and logged in to your account at least 10 minutes before 8 a.m. and have your credit card handy. Have your list of preferred sites in front of you, too. Once 8 a.m. hits, search for your dates and campsites. If you see something you like, grab it immediately. You only have about 10 to 15 minutes to complete your booking.
That's it! If you don't see something the first day, keeping trying each day. Good luck!
---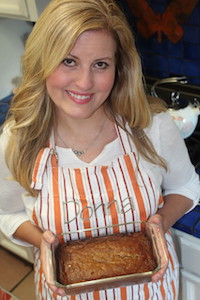 A freelance writer in Marin who writes about family, kids and parenting, Glass is the mother to one son, one dog and a hamster named Miss Geri. When she's not writing, trekking up steep hills in Marin or driving her kid to sports practice, she and her family spend time in their tiny cabin in Lake Tahoe. She avidly supports the California Academy of Sciences, a world class science museum and research institution, and the Institute on Aging which provides much needed services to Bay Area seniors and disabled adults. Glass is obsessed with baking the perfect loaf of banana bread, something she makes so often she no longer needs to look at a recipe card.