Flowers power the night this summer as the Conservatory of Flowers in Golden Gate Park becomes the canvas for a spectacular light art installation to honor San Francisco's city-wide celebration of the 50th Anniversary of the Summer of Love. Developed in partnership with San Francisco Recreation and Parks by Illuminate, the nonprofit arts group behind the famed Bay Lights, and Obscura Digital, a world-renowned creative studio specializing in large scale light-based art, the installation uses gobo projectors to transform the all-white landmark with a series of exquisitely illuminated scenes inspired by the rare tropical flowers within and the legacy of San Francisco's flower children. The outside of the Conservatory of Flowers will be illuminated at dusk, and continue to run starting at the top of each hour and 30 minute mark. The best viewing areas are on JFK Drive and in Conservatory Valley and parking is available along JFK Drive.
If You Go:
When: Sunday, November 26 sundown to 11:45 p.m.
Where: Golden Gate Park
100 John F. Kennedy Drive
San Francisco, CA 94118
Cost: Free
More event information available here.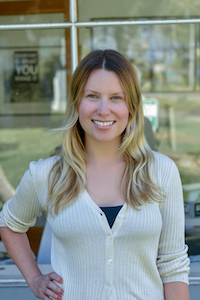 Kasia Pawlowska loves words. A native of Poland, Kasia moved to the States when she was seven. The San Francisco State University creative writing graduate went on to write for publications like the San Francisco Bay Guardian and KQED Arts among others prior to joining the Marin Magazine staff. Topics Kasia has covered include travel, trends, mushroom hunting, an award-winning series on social media addiction and loads of other random things. When she's not busy blogging or researching and writing articles, she's either at home writing postcards and reading or going to shows. Recently, Kasia has been trying to branch out and diversify, ie: use different emojis. Her quest for the perfect chip is never-ending.