Wednesday, January 20 will be a historic day. Not only will President-elect Joe Biden and Vice President-elect Kamala Harris be sworn in to office, but the virtual and limited in-person ceremonies will be nothing we have seen before.
Having to break from tradition, the entire National Mall, which has been packed with hundreds of thousands of spectators on previous Inauguration Days (the largest being 1.8M for President Obama's 2018 inauguration), will be closed. And, due to terror threats after the Jan. 6 Capitol riots, about 20,000 National Guard members were sent to protect the Capitol building complex. These threats are also being felt in capitol cities across the U.S., and even in San Francisco. Unclear about some words you're hearing? AP Style is here to help. 
With key events taking place across several days, we gathered all of the important information you need to know. Here's what will happen during Wednesday's "American United" ceremony, including the live-streamed celebrations, plus a list of local food and cocktail options you can order in.
 

 

View this post on Instagram

 
Early Celebrations
Saturday, January 15 America United: An Inauguration Welcome Event Celebrating America's Changemakers
The Biden inaugural committee hosted a 90-minute celebration on Saturday, that featured appearances and performances from Whoopi Goldberg, Nik Dodani, Darren Criss, Black Pumas, and Cristela Alonzo, as well as Representative Grace Meng, Mayor Keisha Lance Bottoms, and the Resistance Revival Choir.
How to watch: Watch the recap of the event on YouTube.
Monday, January 18 United We Serve: A Celebration of the National MLK Day of Service
In celebration of Martin Luther King Jr. Day, the committee is calling on volunteers across the country to celebrate by taking part in a National Day of Service, and a one-hour event featuring Aloe Blacc, Reverend Dr. Bernice King, Martin Luther King III, Chesca, Representative Sharice Davids, Rosario Dawson, Andra Day, Yo-Yo Ma, Reverend Al Sharpton, and more.
How to watch: Stream from 8-9p.m. on bideninaugural.org and on the Presidential Inaugural Committee's social media accounts.
Tuesday, January 19 Memorial and Nationwide Tribute to Remember and Honor the Lives Lost to Covid-19
 

 

 

View this post on Instagram

 

             
Inviting cities across the U.S. to join, the committee is holding a ceremony in D.C. at 5:30 p.m., featuring a lighting around the Lincoln Memorial Reflecting Pool in honor of those lost to the Covid-19 pandemic.
How to watch: Stream at 5:30p.m. on bideninaugural.org and on the Presidential Inaugural Committee's social media accounts.
Inauguration Day
 

 

 

View this post on Instagram

 

                   
Wednesday, January 20 The 59th Inauguration Ceremony
President-elect Biden is scheduled to be sworn in around noon EST, with Vice President-elect Kamala Harris following shortly after the new POTUS' inaugural address. Lady Gaga is set to sing the national anthem and Jennifer Lopez will perform as well.
President Trump, who has stated he will not attend the ceremony, will give his outgoing remarks at the Joint Base Andrews before taking Air Force One to Mar-a-Lago.
How to watch: The ceremony will be on every major news network, including ABC, PBS, CBS, NBC, Fox, PBS, CNN, and MSNBC, and you can stream online at bideninaugural.org.
Virtual Parade
With terror threats and the Covid-19 pandemic still raging, there won't be an in-person parade down Pennsylvania Avenue. The virtual parade will take place shortly after the ceremony, around 2 or 3pm EST, and continue for a few hours. According to the committee, "The parade will celebrate America's heroes, highlight Americans from all walks of life in different states and regions, and reflect on the diversity, heritage, and resilience of the country as we begin a new American era."
How to watch: The parade will most likely be aired on all major networks, including  ABC, PBS, CBS, NBC, Fox, PBS, CNN, and MSNBC, and you can stream online at bideninaugural.org.
Celebrating America Special
Celebrating America, an inauguration special hosted by Tom Hanks, will air the night of January 20th and feature performances from Jon Bon Jovi, Demi Lovato, and more https://t.co/FXQvmPaLWe

— VANITY FAIR (@VanityFair) January 14, 2021
Hosted by Tom Hanks, the "Celebrating America" TV special will feature performances from John Legend, the Foo Fighters, Bruce Springsteen, Jon Bon Jovi, Demi Lovato, Justin Timberlake, and Ant Clemons. Eva Longoria and Kerry Washington will introduce segments during the special broadcast.
How to watch: All of the major networks are expected to air the special, and it will also be streamed live on YouTube, Facebook, Twitter, Twitch, and Amazon Prime Video.
Local Food & Drink Specials
 

 

View this post on Instagram

 
Che Fico is offering special Inauguration 2021 preorder menu available now. They are offering a killer pizza special, accompanied by some choice brews by either @fortpointbeer or @temescalbeer, as well as some other items like a cheese and meat board and chopped salad. Cheers to a brighter future.
 

 

View this post on Instagram

 
Zuni will be transitioning its "Chicken for Democracy" fundraising chicken, to a "Chicken for the Community" with $10 of each order donated to Ms. Releford's organization @urblessings. Please participate in addressing the injustice and inhumanity of food insecurity.
 

 

View this post on Instagram

 
Smitten has created a special ice cream flavor to honor this momentous occasion in #herstory. Introducing, MVP, in honor of Madam Vice President. This delicious combination of Malted salted Vanilla ice cream laced with chewy pecan Pralines is served in a custom pint container with illustrations by a local female artist. Pick up a scoop of MVP at any of our Bay Area shops or ship an MVP pint package anywhere in the continental U.S. for Inauguration Day or thereafter. To help women in need, a portion of MVP pint sales will be donated to @fivekeysschoolsandprograms.
 

 

View this post on Instagram

 
Horsefeather will be running two cocktails specials for the week starting this Sunday 1/17 with "Adios, Pendejo" — peaflower infused illegal mezcal • rum • banana • ancho chili liqueur • curaçao • lime — and "Georgia on my Mind" — maker's mark rc6 • cinnamon • caramelized peach compote • maple• smoked salt• lemon. They will also be giving away t-shirts with purchase of featured cocktails while supplies last.
---
More:
---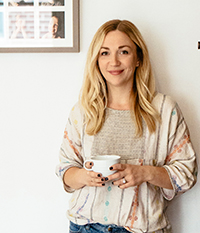 Macaire Douglas lives in the Chicago suburbs with her husband and two sons. She proudly supports Save Abandoned Babies Foundation, a Chicago-based nonprofit organization that works tirelessly to prevent the illegal abandonment of newborns nationwide. Since its inception in 2000, more than 3,600 newborns have been safely surrendered and adopted into loving homes.