Let's get a couple things straight: Outside Lands is not Coachella, nor is it BottleRock. Expect sudden, ribcage-rattling bursts of wind and a thick blanket of fog that consumes the polo fields steadily throughout the day. Comfort rules here so dress for the weather, unfortunately that means prepare for the unexpected (2009 was a scorcher). Nevertheless, there are a few good rules of thumb. Save your heels for the club and opt for flat or low-heeled ankle booties. The ground is uneven and you don't want to be benched because of a twisted ankle that was helped along by your Wine Lands visit in between sets. Speaking of Wine Lands, red wine… lots of dust and grass and dirt = veer toward darker colors. Bring layers and wear pants. Bring a hat. If you plan well, you can find a hat that will protect you from the sun and shield you from the cold. Plus, hats are great accessories in photos –– amiright? If you can't bear to not be somewhat bare, bring an anorak or some other good layering jacket to top your wispy blouse. Bring a backpack to carry all your things because nothing is worse than really feeling a song and being weighed down by an unwieldy purse. Plus, you're in luck – backpacks are in fashion.
Anorak from Everlane, available online – $98
Frye Jillian booties, online and Nordstrom – $159
KIN/K Birkin hat, available online and 7 on Locust in Mill Valley – $180
Frame skinny jeans from Intermix – $215
Free People Cami at Viva Diva in San Rafael – $58
Primula Cocoon Cardigan by Moth from Anthropologie in Corte Madera – $98
Nylon Packable Day Pack from Westerlind at Marin Country Mart – $120
Cylinder cord necklace at Madewell in Corte Madera – $34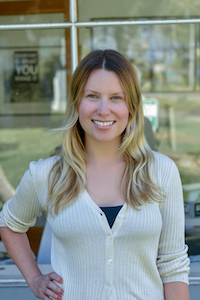 Kasia Pawlowska loves words. A native of Poland, Kasia moved to the States when she was seven. The San Francisco State University creative writing graduate went on to write for publications like the San Francisco Bay Guardian and KQED Arts among others prior to joining the Marin Magazine staff. Topics Kasia has covered include travel, trends, mushroom hunting, an award-winning series on social media addiction and loads of other random things. When she's not busy blogging or researching and writing articles, she's either at home writing postcards and reading or going to shows. Recently, Kasia has been trying to branch out and diversify, ie: use different emojis. Her quest for the perfect chip is never-ending.