In the Bay Area and beyond cherry blossoms are synonymous with spring time, but what exactly makes these little pink blossoms so important? In Japan, the cherry blossom tree symbolizes the beauty and fragility of life, as it is at once beautiful and unfortunately short. But also notable is how commercialized the cherry blossom has become in its home country. Every year the sakura (cherry blossom in Japanese) reigns as the official seasonal beverage flavor of Japanese Starbucks, basically making it the equivalent of our infamous autumnal pumpkin spice latte.
Here in the States the Cherry Blossom Festival began in 1912 when Tokyo Mayor Yukio Ozaki gave the gift of 3,000 cherry trees to Washington D.C. Ever since then the annual event has spread beyond the capitol and continued to serve as a celebration of the friendship between the two countries. San Francisco's Cherry Blossom festival is second in size only to the National fest — attracting over 200,000 spectators and participants — and boasts an abundance of activities and ceremonies. There will be food booths, cultural performances, martial arts, live bands, the annual Queen Program, and more. The Grand Parade will be held on the second Sunday of the festival, beginning at City Hall and concluding in Japantown.
If You Go:
When: Saturday, April 21 to Sunday, April 22 from 10 a.m. to 5 p.m.
Where: Japan Center, 1610 Geary Blvd., San Francisco, CA 94115
Cost: Free
sfcherryblossom.org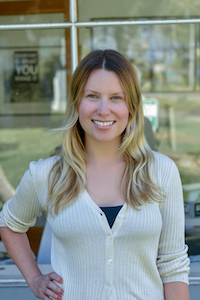 Kasia Pawlowska loves words. A native of Poland, Kasia moved to the States when she was seven. The San Francisco State University creative writing graduate went on to write for publications like the San Francisco Bay Guardian and KQED Arts among others prior to joining the Marin Magazine staff. Topics Kasia has covered include travel, trends, mushroom hunting, an award-winning series on social media addiction and loads of other random things. When she's not busy blogging or researching and writing articles, she's either at home writing postcards and reading or going to shows. Recently, Kasia has been trying to branch out and diversify, ie: use different emojis. Her quest for the perfect chip is never-ending.