If the pilgrims were to descend on Marin today, they would be amazed at the cornucopia of foodstuffs that can be found growing and grazing across our county. Using high-quality, natural ingredients from local farms will keep your Thanksgiving feast healthier, tastier, and fresher, while also supporting local businesses. You couldn't ask for a better place to create a wonderful artisan, organic and locally grown feast for your family.
Here are some ideas to give your holiday dinner the perfect touch with locally-produced meats, fruits, vegetables and more.
Free Range Organic Turkeys

Like the idea of a gobbler who was humanely raised on a farm?  Willie Bird Turkeys in Santa Rosa has been raising free-range turkeys since 1963 on its extensive property. The birds are allowed to roam freely and are fed a nutrient-rich diet. In addition to the traditional fresh bird, Willie Bird is known for its smoked meats including turkey, chicken, duck, Cornish game hen, quail and pheasant. You can order online or visit the retail location in Santa Rosa. Willie Bird Turkeys is also the Thanksgiving bird of choice for San Francisco-based Williams Sonoma. 
Makings for the All-American Apple Pie
Pick-your-own season officially ended in October, but several Sebastopol farms such as Apple-a-Day Ranch and Hale's Apple Farm still carry fresh apples, including Romes, Fujis and Granny Smiths, well into November, perfect for making your own pie. You can also find fresh-pressed apple cider, apple juice, pumpkins and edible squash at many of the local farms in the area.
Veggies Galore  
The Agricultural Institute of Marin produces farmer's markets all over the Bay Area, with the most popular and largest one in Marin held on Thursdays and Sundays at the San Rafael Civic Center. Here you will find nearly everything you need for all those wonderful side dishes for your dinner table.
Pre-Dinner Noshes
Is there anything more decadent that a wheel of brie (or any kind of cheese, really) served with freshly baked bread? While the turkey and trimmings are being prepared, keep your hungry ones happy with a platter loaded with cheeses made right here in Marin. Try the ones from Marin French Cheese in Petaluma, which has been making cheese locally since the Civil War era, or Cowgirl Creamery in Point Reyes (many local grocery stores carry cheese varieties from both brands). Where to get the baguette? Rustic Bakery, of course (the Pope's favorite!) Or if you are lucky to get there before everything sells out, try the bread "speakeasy" Ponsford's Place in San Rafael.
Turkey Alternatives
For the turkey-averse or those simply wanting something different this holiday, Marin Sun Farms in Point Reyes is a business that prides itself on deep values around raising and butchering meat, including beef, pork, lamb and goat. It supports family farms throughout Marin, is Animal Welfare Approved and is a USDA certified organic processing plant. Visit its butcher shop in Point Reyes or its second shop in Oakland.
*2020 update: Please check the above businesses for opening hours and current Covid-19 restrictions.
---
How to help:
Consider supporting one of these local nonprofits that urgently need support during the pandemic.
---
More from Marin:
---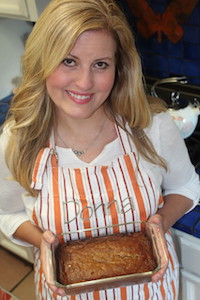 A freelance writer in Marin who writes about family, kids and parenting, Glass is the mother to one son, one dog and a hamster named Miss Geri. When she's not writing, trekking up steep hills in Marin or driving her kid to sports practice, she and her family spend time in their tiny cabin in Lake Tahoe. She avidly supports the California Academy of Sciences, a world class science museum and research institution, and the Institute on Aging which provides much needed services to Bay Area seniors and disabled adults. Glass is obsessed with baking the perfect loaf of banana bread, something she makes so often she no longer needs to look at a recipe card.