During these difficult times, giving back is more important than ever. Here are three charities and groups in the community working hard to keep everyone taken care of during the coronavirus pandemic.
11th Annual GLIDE Legacy Gala Raises Over $70,000
Providing essential services to people in San Francisco's Tenderloin neighborhood.
GLIDE is San Francisco's premier social service provider and boasts a nearly-60 year legacy of challenging injustice and standing with the poor, people of color, LGBTQAI+ persons, and others facing oppression, isolation and stigma. During this unprecedented public health emergency, GLIDE has continued to provide essential services to unhoused and low-income Tenderloin neighbors, serving approximately 15,000 meals a week, safely delivering health and harm reduction services, behavioral counseling, spiritual community and support and more. On August 15th, they hosted their first virtual edition of the GLIDE Legacy Gala, an event honoring social service changemakers — this year, musician/activist Michael Franti and National Youth Poet Laureate Amanda Gorman. With an online awards ceremony, panel discussion, Q&A and digital DJ dance party, GLIDE raised over $70,000 to support their ongoing efforts.
Samaritan House Main Event Gala Raises $280,000 for Fund A Need Program
Amplifying services during COVID-19 to battle poverty in San Mateo.
Samaritan House has been battling poverty in San Mateo County for over 45 years. They provide food, shelter, housing, healthcare, personalized case management and much more to more than 14,000 San Mateo County residents, including families, seniors, veterans, homeless adults and individuals living with a disability. Their virtual fundraising gala, created in response to the growing demand for their Fund A Need program, was a great success. The presenting sponsor, Carole Middelton, started the night off with an opening donation of $25,000, followed by matching donations by Gilead Sciences and Sutter Health. Auctioned items, including a weekend getaway in Palm Springs, a congressional experience with Jackie Speier and a vacation in paradise in Kihei, Maui, each went for almost $5,000. Then the Bohannon Foundation came through with the night's largest donation of the night, $100,000, which helped Samaritan House reach their goal of $280,000.
Walt Disney Family Museum's Evening with Alan Menken & Lin Manuel-Miranda Raises Over $160k for Educational Initiative
Supporting under-resourced youth with their At-Promise Youth Animation Academy.
On August 6th, the Walt Disney Family Museum hosted over 20,000 virtual guests in their musical and storytelling experience with multiple award-winning composer and songwriter Alan Menken and special guest Lin Manuel-Miranda. Event proceeds supported the museum's education programs, which provide arts and animation instruction to the next generation of creative talent. Their newest initiative, the At-Promise Youth Animation Academy, is an intensive animation-focused training program for high school students experiencing economic and social displacement. In addition to helping dismantle the school-to-prison pipeline, disproportionately experienced by young people of color and those in underserved communities, the Academy will strive to diversify the employee ranks in the animation and film industries. In total, over $160,000 was raised during this event with the help of an anonymous donor who matched dollar-for-dollar up to $25,000. 
---
How to Help
For more ways to support local businesses, go here.
---
For more on Marin:
---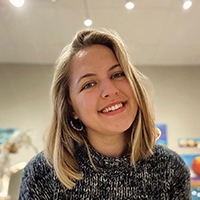 Sabrina Tuton-Filson is the Assistant Editor at Marin Magazine and a graduate of Elon University where she studied Professional Writing and Fine Art. Born and raised in San Francisco/Marin, she loves traveling just as much as coming home to the Bay Area. She has curated a sophisticated palate for food, travel and culture and uses her travels as an outlet to develop her photography portfolio and hone her writing craft.