During these difficult times, giving back is more important than ever. Here are four charities and groups in the community working hard to keep everyone taken care of during the coronavirus pandemic.
SF Gay Men's Chorus Raises Over $55,000 from Crescendo: Voices Rising Benefit
To sustain SFGMC and their youth outreach programs.
In their first virtual rendition of their annual benefit, Crescendo: Voices Rising, the San Francisco Gay Men's Chorus (SFGCM) raised over $55,000, surpassing the original goal of $50,000. The musical benefit honored two special guests: Billy Porter, the multi award-winning actor and singer, with the Trailblazer Award; and Ariadne Getty, activist and philanthropist, with the Vanguard Award. Over 700 virtual attendees enjoyed a night of song, community, and special performances from Billy Porter, Inaya Day, Shea Diamond, Alex Newell and the Oakland Interfaith Gospel Choir, with appearances from S.F. Mayor Breed, Kristen Chenoweth, Wilson Cruz and Tyler Glenn.
Ruby-Encrusted Jeroboam Bottle Auction Raises $300,000 At Virtual V Wine Celebration
Benefitting V Foundation for Cancer Research.
On August 8, V Foundation took their annual Wine Celebration benefit digital to raise critical funds for cancer research. The auction included unique items, namely the collaborative project by Silicon Valley jeweler Stephen Silver Fine Jewelry and Napa Valley vintner Gemstone Vineyard: a total of four ruby-encrusted Jeroboam Cabernet Sauvignon bottles — with the additional option to remove and reset the rubies in a custom piece created by the Silver's team once the wine was consumed. A small, socially-distanced gathering was held in Napa to celebrate the successful collaboration and first-ever digital event. The four bottles sold for $75,000 each, contributing $300,000 to the auction's over $3.6 million total.
AIISF Virtual Gala & Immigrant Heritage Awards 2020 Earns $170,000 Toward Goal
Preserving the Angel Island Immigration Station and uplifting its histories.
Angel Island Immigrant Station Foundation held their annual gala digitally this year on August 19. The gala celebrated individuals who exemplify the exceptional contributions of immigrants, including Asian immigrants. Skyler Chin's rap-rock musical Illegal, inspired by Angel Island and his family's experiences, accompanied the 2020 Immigrant Heritage Awards ceremony, where three awards were presented in the following categories: Lifetime Achievement, Philanthropy and Community Leadership. And this year, an additional Spirit of Angel Island award. At time of print, their event raised over $170,000 toward their $210,000 goal.
J'Amy Tarr Gives 100 Jackets to 100 Covid-19 Heroes
Recognizing and showing appreciation for strong women working on the front lines.
Back when Covid-19 started to change our lives, J'Amy Tarr knew she wanted to give back. A small business owner in Marin, J'Amy figured out a way she could thank those helping their communities — nurses, doctors, mail delivery people, grocery store clerks and police, among others. She decided to announce a program where Marinites and beyond could nominate an essential worker, a hero on the front line of Covid-19, and give the winners a jacket of their choice from her collection. The program was originally called 50 Jackets for 50 Strong Women. However, after opening up the nominations, 50 grew to over 100. Along with these 100 jackets, J'Amy sent personalized thank you notes to each hero to remind them they were appreciated for all they are doing for their communities.
---
How to Help
For more ways to support local businesses, go here.
---
For more on Marin:
---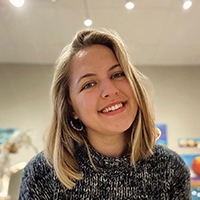 Sabrina Tuton-Filson is the Assistant Editor at Marin Magazine and a graduate of Elon University where she studied Professional Writing and Fine Art. Born and raised in San Francisco/Marin, she loves traveling just as much as coming home to the Bay Area. She has curated a sophisticated palate for food, travel and culture and uses her travels as an outlet to develop her photography portfolio and hone her writing craft.