For our February Tastemakers of Marin article, I reached out to a dozen or so chefs in Marin, to ask them about their favorite places to eat in Marin. Not surprisingly, Christian's West Marin hot spot, Osteria Stellina pretty much topped the "Farm to Table" category from the other chefs. When it came time to design the article, the chef's interesting and fun long answers were edited to dishes only ;(. However we resurrected them for this blog. Side note: after reading about Marin foodies favorite gut bombs for a week, Calin, here in the office had to try the carnitas buritto at Taqueria San Jose, as recommended below – she loved it and is now hooked. Here are some more Marin-centered culinary gems from Christian Caiazzo.
Favorite appetizer: Devils on Horseback at El Paseo.
Most creative salad: Not exactly the most "creative" but my favorite salad is the grilled Caesar at Nick's Cove. And Cowgirl Creamery always has a great rotating selection of salads at their take-out counter—the potato with blue cheese, onions and bacon is a favorite.
Go to takeout: Fish in Sausalito. Always the crab roll.
Farm to table entrée: Marin Sun Farms has started doing a lunch and weekend dinner service. You can pick local, grass fed [meat] of your choice from the butcher counter and they grill it up and serve with local potatoes fried in duck fat—the most farm to table steak frites you'll ever find.
Best signature cocktail: I'm really into Moscow mules right now and my favorite is the one at Nick's Cove—they serve it over crushed ice in a beautiful copper cup that keeps it icy cold.
Best gut bomb: Carnitas burrito with everything at Taqueria San Jose under the 101 in San Rafael
Bringing out-of-towners: The Marshall Store or Hog Island Oysters.
Romantic meal: 123 Bolinas, the charcuterie and cheese board.
Favorite bar dining: Terrapin Crossroads — fairly typical menu of sliders, olives and baked goat cheese but executed far better than most…then you can scoot over to the park next door and play tetherball!
Celebratory dessert: Any of the classics you can get at Left Bank in Larkspur, crème brûlée or chocolate mousse.
Osteria's local sea bass with Tomales heirloom cauliflower, shallot sauce and golden raisins
More About Christian
Christian Caiazzo started his career in the restaurant biz at 14 as a grill cook and busboy in his native Connecticut. Caiazzo counts Jacques Pepin (La Technique was the first cookbook he read cover to cover), Alice Waters and Roland Passot as his culinary heroes, and enjoys simple pleasures with his loved ones when he's free—soccer with his son Gianni, word puzzles with his daughter Hopi and the NY Times crossword with his girlfriend Katrina.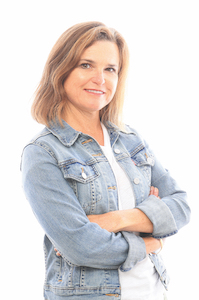 Mimi Towle has been the editor of Marin Magazine for over a decade. She lived with her family in Sycamore Park and Strawberry and thoroughly enjoyed raising two daughters in the mayhem of Marin's youth sports; soccer, swim, volleyball, ballet, hip hop, gymnastics and many many hours spent at Miwok Stables. Her community involvements include volunteering at her daughter's schools, coaching soccer and volleyball (glorified snack mom), being on the board of both Richardson Bay Audubon Center. Currently residing on a floating home in Sausalito, she enjoys all water activity, including learning how to steer a 6-person canoe for the Tamalpais Outrigger Canoe Club. Born and raised in Hawaii, her fondness for the islands has on occasion made its way into the pages of the magazine.