THROCKMORTON AVENUE'S NEWEST restaurant is striking for a number of reasons. Playa's modern indoor-outdoor space features both a colossal mural by Zio Ziegler and, from the kitchen, a blend of technique, ingredients, and presentation that highlight the malleability of Mexican cuisine. At the helm is chef Omar Huerta. A native of Jalisco, Mexico, Huerta was inspired watching his parents create recipes in their kitchen and then offer them on the menu at their restaurant, Los Compadres. He also credits veteran chefs Chris Fernandez (Oliveto, Poggio, Stars) and Chris Whaley (Picco, Zero-Zero) as mentors who helped him develop skills and techniques in Italian and California-Mediterranean cuisine. His prior training has included work at top Bay Area restaurants including Comal, Terrapin Crossroads, Zero-Zero, Picco and Marzano; most recently he's served as chef de cuisine at Presidio Social Club and Credo in San Francisco.
Here, Huerta shares his take on the Caesar salad, a dish reportedly created in 1924 by Tijuana restaurateur Caesar Cardini when a Fourth of July rush depleted the kitchen's supplies. "What's great about being a part of the team at Playa is having the opportunity to work with successful restaurateurs and the freedom to create a menu that I've always dreamed of," Huerta says. playamv.com
This article originally appeared in Marin Magazine's print edition with the headline: "Clever Caesar".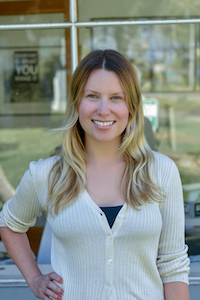 Kasia Pawlowska loves words. A native of Poland, Kasia moved to the States when she was seven. The San Francisco State University creative writing graduate went on to write for publications like the San Francisco Bay Guardian and KQED Arts among others prior to joining the Marin Magazine staff. Topics Kasia has covered include travel, trends, mushroom hunting, an award-winning series on social media addiction and loads of other random things. When she's not busy blogging or researching and writing articles, she's either at home writing postcards and reading or going to shows. Recently, Kasia has been trying to branch out and diversify, ie: use different emojis. Her quest for the perfect chip is never-ending.