When you think about it, every business is a people business. And it's not just clients and customers; there are important personalities driving the success of every endeavor. The people who make these businesses live and grow are also the ones you'll see behind the counter, at a desk or on your doorstep. So take a moment to come face to face with these important Marin personalities.
A New Experience in Fine Jewelry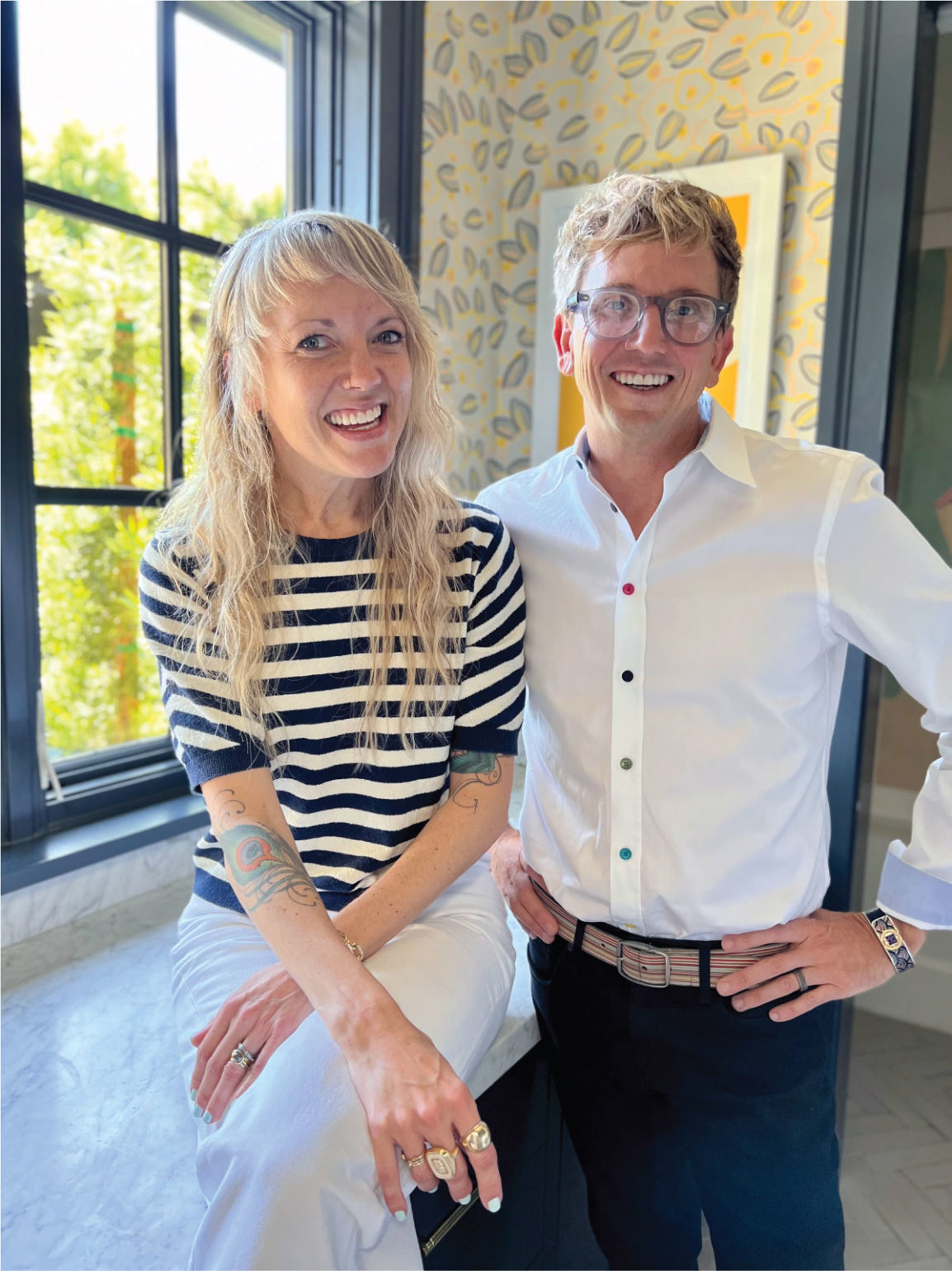 Rachel Skelly, Co-Founder/ Chief Creative and Eric Ryan, Co-Founder/CEO of Cast
Cast Co-Founders, Rachel Skelly and Eric Ryan are San Francisco and Marin- based entrepreneurs changing the way it feels to shop for fine jewelry. Instead of it being intimidating and hard to navigate, the long-time colleagues are on a mission to make shopping for fine jewelry as delightful as wearing it.
With the vibrancy and joy they've brought to other categories with Method, OLLY, Welly, and Plum Organics, they created Cast — a fine jewelry brand bringing warmth and wonder to retail.
Cast takes you on a journey that inspires curiosity and encourages play. It's a place to discover exclusive collections created with some of the world's most inventive designers. Focusing on sustainability, every piece is made using 100% recycled gold and silver and ethically sourced gems. Each is chic, unexpected, and timeless, making a beautiful statement alone or layered together.
Cast is excited to announce the opening of its first store this September in Marin.
The Village at Corte Madera 888.969.4795
Faces of a Leading Legacy
Lifehouse Has Been the Prem for innovative and quality support services in the Bay Area for almost 70 years. Their passion is centered on building an inclusive community that champions people with intellectual and developmental disabilities to lead full lives. This starts with the outstanding leadership that is comprised of veterans Nancy Dow Moody, President and CEO, Viola Morris, Chief Financial Officer, Ann Elias, Chief Development Officer, and two Directors of Programs & Operations, Kate O'Connor and Lisa Ann Carbone.
This group is now enriched by the recent additions of Timothy Evans, Vice President and Chief Operations Officer and Katie Petcavich, Vice President of Human Resources. The Lifehouse mission is always front and center as they guide the important work of the organization, taking an approach that considers the strengths in the differences of the people they employ, and successfully pulling together what is so deeply needed by this traditionally unseen community to lead healthy, full and safe lives.
18 Professional Center Parkway, San Rafael CA 415.526.5300
Best Builders in Marin
President Larry Hadley with his nephew Executive Vice President, General Manager Jeff Hadley
Hadley general contractors, inc. Was voted marin magazine's best builder in marin, 2022.
"Over the years our name has come to signify a quality of construction that is second to none and client-oriented customer service that creates lasting relationships. Our focus on our client's best interests, unchanged for 70 years, is the reason we are the premier homebuilder in Marin County. We will always stand by our work and take on any project, big or small. And we will always give back to the place that has given so much to us." ~ Jeff Hadley
85 Beach Road, Belvedere, CA l Lic#702420 415.383.0583
Faces of Fitness and Wellness
Warren Gendel and Scott K Raymond, Club Evexia
A luxury fitness, wellness, and social club in southern marin. That was the dream Warren and Scott had when they first discovered the absolutely magical setting that was to become Club Evexia. Perched on the water overlooking Richardson Bay in Mill Valley, this 20,000 sf of breathtaking space provided the perfect setting for Warren and Scott to combine their skill sets and design a fitness and wellness destination like no other.
Warren used his experience in the fitness industry to construct a state-of-the-art fitness center with top-of-the-line equipment offering a variety of group fitness and yoga classes taught by some of the best instructors in the area. Scott used his experience as a real estate investor and remodeler to curate and design a space that is both inspiring and therapeutic for its members. In addition, with infrared saunas, a coworking lounge, a complimentary coffee bar, and five-star appointed showers and locker rooms, Club Evexia is truly about changing lives and building community among its members.
100 Shoreline Hwy, Bldg A-100, Mill Valley CA 415.729.0046
Faces of Luxury Kitchens and Baths
"Redefining home…one customer at a time" is a standard we live by. When Sean Kelly, owner of Lamperti Contracting and Design founded the company in 2005, the opportunity to elevate the design/ build experience in Marin County came into clear focus. The family-owned operation places their client's needs first and quality without compromise paves the way to a superior client experience.
With a full-service design team, we will help you envision creative and functional ideas to incorporate into your dream home. Lamperti Contracting and Design takes pride in knowing each project reflects our standards of excellence.
We invite you to visit our all-inclusive kitchen and bath showroom featuring the finest custom cabinetry, and our new Sub-Zero, Wolf and Cove appliance salon – showcasing the latest innovations and trends in cabinetry, appliances, and home renovations.
1241 Andersen Drive, San Rafael, CA 415.454.1623
Faces of Luxury Marin Real Estate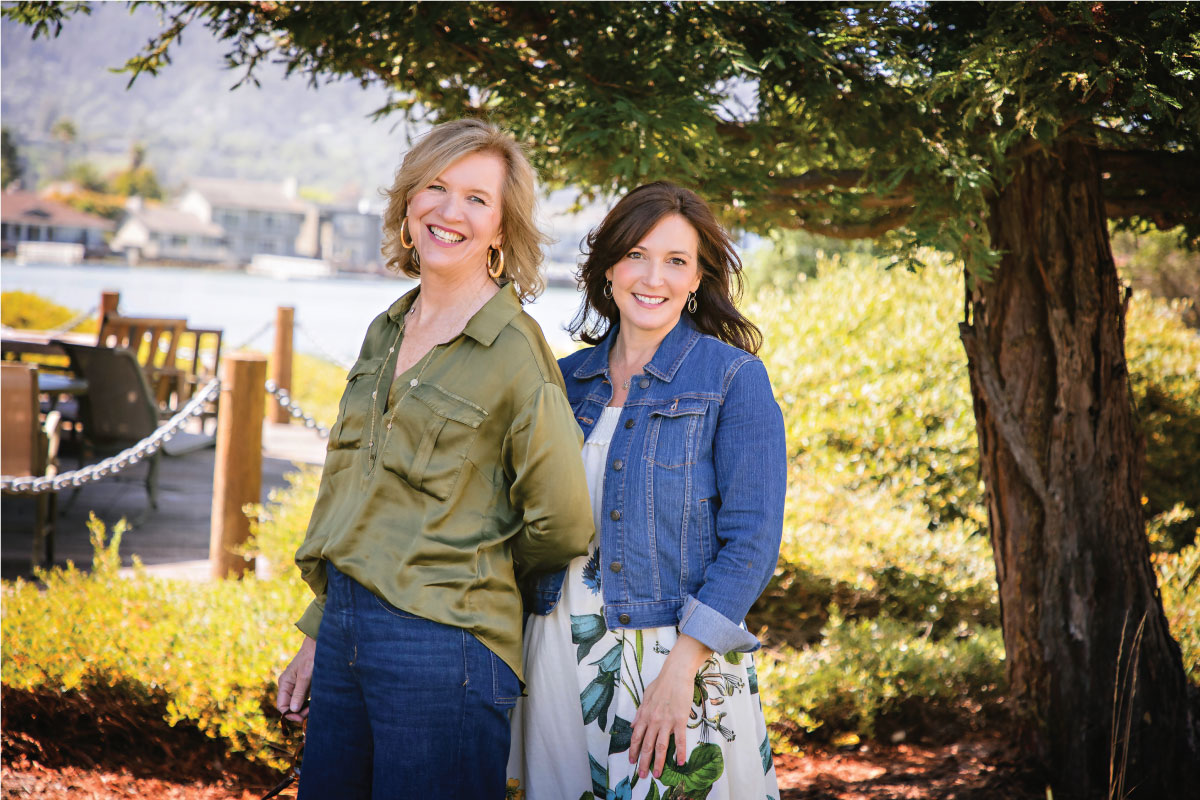 With over 3 decades of real estate experience between them, Traci and Beth bring their unique blend of intelligence, intuition, and playfulness to the real estate process. Matching real estate expertise with a fine aesthetic eye for detail and an understanding of our client's needs, we focus on making your real estate experience as seamless as possible.
Consistently ranked as top agents in Marin and honored to be included in "America's Best" by Real Trends top 1% of teams in the US, this conscientious, authentic and straightforward team will easily become your trusted real estate advisors.
500 Drakes Landing Road, Greenbrae, CA
Traci: 415.793.0111 | [email protected] | tracithiercof.com Beth: 415.990.7186 | [email protected]
Faces of 100 Years Building in Marin
Roy (Dominic's Grandpa, Founder Dotto Glass), Keith (Dominic's Uncle, Owner Dotto Glass) and Dominic (Owner Dotto Construction)
Uprooting to marin county in 1915, the dotto family began its legacy.
With the establishment of Dotto Glass in 1964, "Dotto" became a well-known household name. Dominic Dotto established Dotto Construction Company in 2016 becoming the third generation of Dotto's to provide exceptional service to the Marin community.
Dotto Construction holds a high standard towards quality of work and commitment to excellence. We want to push the envelope in modern construction but remain grounded with a humble and approachable demeanor.
To us it's about those ideals of perfection that we deliver to you, to create your dream home. As a bespoke construction firm, we want to elevate the experience of home building to a new level and bring more awareness and innovation to sustainable building practices and promote a greener Marin.
68 Mitchell Blvd., Suite 105, San Rafael, CA 415.785.8703
Faces of a Successful Lighting Family Legacy
Merlin Johnson died in May and the inspirational impact on his sons' lives has been profound. He was a Master Mason, AF veteran, master machinist, mechanical/electrical genius, talented lighting designer and founder of Artistic Lighting & Electric. He loved his wife Peggy Jean and encouraged his sons in the art of illumination. Duane Johnson took over Artistic to become one of the Bay Area's most experienced and trusted electrical contractors, offering lighting design, lighting control and innovative electrical contracting capabilities. Glenn Johnson, CEO of Adaptive Design Group, in Utah, provides lighting design for the finest residences and art collections worldwide, wrote The Art of Illumination, and manufactures The Merlin Light, a museum-quality Art Lighting System. Eric Johnson, principal of EJA Lighting Design, is a nationally award-winning lighting designer, collaborates with world-renown architects and designers, manages projects in the Bay Area, across the U.S and abroad, and has advised many lighting manufacturers and lighting technology companies. The brothers will forever honor their dad, Merlin Johnson.
Artistic Lighting & Electric: artisticlightingcorp.com, Adaptive Design Group: adaptivedg.com, EJA Lighting Design
Face of Financial Security
Helen Abe, Senior Vice President Financial Advisor
Helen Abe was born and raised in San Francisco. Her immigrant parents worked hard and sacrificed to raise a large family. They taught their children the importance of living within your means.
"My mother literally saved pennies and proved that it's not what you earn, but what you save that matters". Helen said.
With strong values, Helen set out to achieve her financial objectives while helping others to achieve their financial dreams. She makes it a point to listen and to acknowledge each person's concerns and circumstances. Her approach is to keep it simple, understandable and tailored to each individual.
Some people are comfortable working with a woman; although less than 20% of financial advisors are women. Many widows, needing help understanding their own finances; have engaged Helen for help after their husbands had passed away.
Helen believes in helping others to live a life that makes them happy. She believes that we should focus on what we want out of life instead of being fearful.
RBC Wealth Management
300B Drakes Landing Road, Ste 155, Greenbrae, CA
415.445.8468
A division of RBC Capital Markets, LLC, Member NYSE/FINRA/SIPC. All rights reserved.
Faces of PSS: Plastic Surgery Center & Med Spa
Trent D. Douglas, M.D., Stanley G. Poulos, M.D., Yngvar Hvistendahl, M.D., Plastic Surgery Specialists
The breadth of what we do is unparalleled in the SF bay area; our team of board-certified plastic surgeons have over 50 years of combined experience specializing in breast, body contouring, mommy make-overs, and other complex surgical procedures. At PSS we take pride in our state-of-the-art surgical center and our highly trained supportive staff offering patients a comfortable and safe surgical experience.
In addition to our surgery center, we have recently expanded our PSS Medspa offering patients a large portfolio of non-surgical treatments and procedures with our highly skilled and compassionate nursing staff. Our nurses have earned the trust of many loyal patients due to their meticulous care and beautiful results.
If you have an aesthetic need in the Bay area, whether it is a simple Botox appointment, or a neck lift and body contouring procedure, PSS can fulfill it. We are always staying ahead of the curve in the aesthetic world and hope to share with you our experience and knowledge.
350 Bon Air Road, Ste 300, Greenbrae, CA 415.925.2880
Faces of Compassion
No other cemetery in marin county that can compare to Valley Memorial Park. along with our caring funeral home staff, we are blessed to have this team of hard-working gentlemen. They are an important part of Valley Memorial Park. Our Grounds Manager Jesus Santana, guides his team to ensure that the grounds are beautiful so that when loved ones come to visit, they feel a sense of serenity and peace. Not only are they our grounds keepers, they are also the caring staff that helps to facilitate on-site cremations, burials and inurnments for your loved ones.
They care for and respect each family that comes to our facility. Our beautiful grounds stay green year-round as we use 100% recycled water. Valley Memorial Park is a full-service facility. We are prepared to handle all your needs in one location. Funeral, Cremations, Burial and Reception Center.
650 Bugeia Lane, Novato CA
COA377, CR206, FD2295 l 415.897.9609
Faces of Tile and Stone Fabrication and Installation
Design Team: Merci, Alexxus, Gina, Caity and Martha, North Coast Tile & Stone
North Coast Tile & Stone family owned and operated for over 30 years, is your reliable, trusted, and dependable company for all of your tile and stone needs. We have navigated thru the devastating fires, Covid and all of the complications that have and still are occurring. We have been and continue to be mindful and sensitive to all of the situations that our clients are experiencing.
Martha leads her highly competent team in working with designers, contractors, architects and homeowners with a confident, thoughtful, professional attitude and skills.
NCT has the largest and best selection of quartzite, marble, granite, and quartz slab selections in the North Bay. We have a beautiful design showroom with curated tile lines in stone, porcelain, and mosaic for any taste. One client says, "Being in Martha's showroom is like being in her living room. The care that was taken with our selection, design, and installation of our slabs and tile made us feel like family".
We have 6 designers on staff. Walk-ins always welcome. For larger scope projects appointments are recommended but not required.
3854 Santa Rosa Avenue, Santa Rosa, CA 707.586.2064
Face of Empowering Women To Sparkle
Along with being a successful entrepreneur and dedicated mother and wife, I've been serving single mothers since 2003 as a young woman wanting to make a difference. At Sparkle Foundation, we provide single mothers with goods, enrichment scholarships and resources to help them get back on track. The team at Sparkle is all volunteer-based which allows us to proudly say that 100% of donations go directly to women and children, in whatever way best meets their specific needs, with dignity and purpose. Our all-women team members are all driven to make a positive impact, and we each have different skill sets, so we inspire each other daily.
Last year, we launched SparkleBiz Loans, a support system for female business owners who are working hard to establish themselves. This year, we've been able to mentor and guide our first recipient, and in the year ahead, we hope to fund three to five women-owned businesses. We want to create a world where all women and children have a sparkle in their eyes.
An organization truly powered by passion and funded by our community.
Novato, CA
Faces of Strong Girl Voices
In its 35th year, Marin girls chorus offers high-quality programming and singing opportunities for girls of all levels and abilities grades K-12. Being a member of the Girls Chorus promotes confidence, friendship, leadership, and inclusivity. While no prior experience is necessary to join the chorus at any age, we also offer an advanced ensemble for those who are ready for a more rigorous program.
While our younger division sings concerts all over Marin, our upper division girls also get the opportunity to perform on a summer tour. This summer, under the direction of our two-time Grammy Award-winning Upper Division Musical Director, Cole Thomas-Redus, our upper division girls got the opportunity to sing at Carnegie Hall in New York City. We are currently planning our tour and concert schedule for 2022-2023 which will include singing the National Anthem at Chase Stadium at a Golden State Warriors game!
With classes and concerts held all over Marin, there is truly something for everyone.
Post Office Box 150985, San Rafael, CA 415.827.7335
Face of Business Education
At the University of Redlands School of Business & Society, we teach, mentor, and empower agile agents of change to positively impact business and society. We provide an integrated approach to business education that considers critical concepts and skills within the societal context in which businesses operate. Our curriculum focuses on seven pillars that guide us in delivering an integrated business education:
1. Purposeful Leadership & Inclusive Management
2. EthicalDecision-Making
3. Socially Responsible Practices
4. Environmental Sustainability
5. Business Analytics
6. Innovation & Technology
7. Global & Cross-Cultural Perspective
Located in San Anselmo, our Marin Campus offers distinctive business degree and certificate programs online and on ground, including:
• Master of Business Administration (MBA)
• M.S. in Organizational Leadership
• M.S. in Business Analytics
• B.S. in Business Completion Program
• Online Business Location Analytics
Certificate
• Online Organizational Leadership
Certificate
Gain the 21st-century business skills you need to thrive and make a difference.
University of Redlands School of Business & Society – Marin Campus
105 Seminary Road, San Anselmo, CA
415.451.2832
Face of Youth Services in Marin and Beyond
At Side by Side, we walk with young people impacted by adversity on their journeys to heal from trauma, restore resilience, and embrace their potential. We provide comprehensive essential services that honor our clients' unique needs and strengths to prevent the escalation of dangerous conditions and behaviors and set them on a positive path. And as our world opens back up again, our behavioral and mental health services are needed now more than ever to support youth and families still reeling from the effects of the pandemic.
From special education and early intervention in school to counseling services, LGBTQIA+ support and transitional housing for foster youth, Side by Side provides the safe space most have missed in their lives. When they feel seen for who they are today, we believe the young people we serve can move with confidence toward a future with meaning and connection.
For over 125 years, Side by Side has been at the forefront of best practices in child welfare. Today, Side by Side operates in four counties – Marin, Alameda, Sonoma, and Napa – each year reaching nearly 2,000 young people ages 5-26 and family members.
300 Sunny Hills Drive, Bldg. #5, San Anselmo, CA 415.457.3200
Face of Excellence in Construction
Mountain Top Construction is owned by zack namer who is also the responsible managing officer/RMO. By being not only the owner of the company but also its RMO insures that the mission statement is being delivered on each project.
In 2004 Mr. Namer was accepted to Tel-Aviv University and began his journey in the construction industry by studying to be an architect. It was during his studies that he understood the optimization of living spaces and the importance of professional project management. For several years Mr. Namer implemented his studies by working in the construction industry as a journeyman and then as a project manager for Residential, Commercial and Government construction projects.
In 2019, after years of providing services to large construction companies, Mr. Namer decided to share his knowledge and vast experience in the construction industry directly with private clientele by establishing Mountain Top Construction. With a large, professional, specialized, and well-coordinated team, Mountain Top is an exceptional choice for Bay Area clients contracting work across commercial and residential projects. Mountain Top strives on delivering quality work in a professional environment that emphasizes excellent customer service.
1407 Gough Street, Suite 12, San Francisco 930 Irwin Street, Suite 215, San Rafael 800.988.3778
Faces of Women Supporting Women
Dr. Marisha Chilcott with the Morpheus Team
Morpheus Medical Aesthetics is a woman-owned and operated medspa with locations in Larkspur and Santa Rosa. We are a group of women who aren't afraid to try new things, learn, and advocate for what we want and believe in. Nothing is more unstoppable than a confident woman who knows her power. That could mean going back to Medical School later in life because it's what's in your heart, actively fundraising for animal protection, supporting local politicians, and trying to impact positive change or supporting programs like Planned Parenthood that actively support women.
Every modern woman is a rebel in her own right. We are all about women taking the bull by the horns, and feeling amazing about herself is only one tool in her arsenal. You are beautiful and powerful just as you are, but if there is anything we can do to help you feel more ready to take on the world, give us a call, we are here to help.
5 Bon Air Rd. Ste. 107, Larkspur, CA 415.924.1330
Face of Luxury Lifestyle in Marin County
Sourced from artisans and designers around the world, The Perfect Provenance, is an award-winning curated luxury lifestyle store. From men's and women's designer fashion and accessories; fine jewelry and fragrance; to exquisite home decor and perfect gifts that each pay homage to craftsmanship, creativity and fun.
"Luxury to me is not about price but quality, provenance and that special feeling you have when you find something unique, says founder Lisa Lori. It is what I call that vacation feeling where when you put on that special sweater or piece of jewelry, and it brings you a lot of joy. We want our clients to feel like that every time they shop."
The Perfect Provenance also features designs from their Circle of Life Fine Jewelry and Smile Collections. The Smile Collection benefits international children's charity, Operation Smile. Lisa Lori, a native of Northern California, is thrilled to be part of this beautiful community and to share her store with locals and visitors. "I feel truly blessed."
30 Main Street Tiburon, CA @theperfectprovenance
415.797.6054