Sure, Costco has that easy "ready-made" kit, but Susan Sarich of SusieCakes in Greenbrae has a homemade way to make a gingerbread house from scratch. Just in time for the holidays, she's agreed to share her recipe. (Don't have the time? SusieCakes will custom-build one on request).
When did you decide to make baking your business? About eight years ago, I noticed that baked goods in grocery stores were being made with primarily artificial ingredients, trans fats and preservatives. I saw there was a real need to bring scratch-made desserts to the marketplace so families could enjoy their sweets in a more healthful manner, and I decided to resurrect several of my two grandmothers' classic recipes.
How long has SusieCakes been around? The first SusieCakes Bakery opened four years ago in the Brentwood neighborhood of Los Angeles. Earlier this year, we opened SusieCakes Greenbrae in Marin County and SusieCakes Marina on Chestnut Street in San Francisco. There are now six SusieCakes locations throughout California, offering an array of sentimental dessert favorites, including cakes, cookies, whoopie pies and more.
Was SusieCakes a nickname? Both of my grandmothers called me Susie when I was a little girl and substituted "Susie" for "patty" in the patty-cake nursery rhyme. Given that the bakery is a tribute to both of them, it was only fitting to call it SusieCakes.
What can go wrong when you're making gingerbread? The biggest mistake people make is not letting gingerbread cookies cool completely, which makes them difficult to decorate. Also, most people don't allow the royal icing to completely dry on the structure of the gingerbread house before beginning to decorate, which causes the house to collapse.
There are also simple mistakes such as picking up pieces of cut dough and transferring them to the baking tray without using parchment, which can warp the gingerbread, and overworking the dough by adding too much flour, which can cause the edges to curl when baked.
What are some secrets that could help novices? I would recommend chilling the dough in the refrigerator for at least three hours before rolling it out. Also, rolling the dough between pieces of parchment paper can make the dough easier to work with. At SusieCakes, we dust cookie cutters with flour to prevent them from sticking to the dough and use a pizza cutter for cutting larger pieces for houses. I'd also recommend keeping the royal icing covered with a damp paper towel to keep it from drying out when you're not using it. And always remember that the decorations can cover up any flaws!
Favorite gingerbread house-making memories as a kid? It was absolutely going to the Woolworth's five-and-dime in Chicago to buy candy decorations. My grandmother would give my cousin and me two dollars each. We'd walk to the store and pick out as much fun candy as we could (and always managed to eat a fair amount on the way home!).
Gingerbread House
Yield: approximately two houses
Mixing
2 cups shortening
3 3/4 cups granulated sugar
2 1/4 cups brown sugar
3/4 cup molasses
10 whole eggs
14 cups all purpose flour (AP and cake combined or 7 of each)
1T salt
2T baking soda
3T cinnamon
3T ground ginger
1. Using a mixer on low speed, cream together shortening, granulated sugar, brown sugar and molasses for 3 minutes.
2. Meanwhile, sift together salt, baking soda, ginger, cinnamon, and flour in a large bowl. Set aside.
3. On low speed, slowly add eggs to creamed shortening. Beat until thoroughly incorporated.
4. On low speed, add flour mixture to creamed mixture base in three parts, scraping down the sides between each addition.
5. Blend until incorporated.
6. Wrap the ball of dough completely in plastic wrap (not in the bowl) refrigerate overnight before use.
Baking
1. Preheat oven to 300° F.
2. Roll out dough between pieces of parchment paper to be 1/8 inch thick and cut out house-shaped pieces.
3. Store pieces on a parchment-lined baking sheet. Chill for 30 minutes before baking.
4. Bake approximately 25 to 30 minutes at 300° F.
5. Remove from oven and cool on sheet pan.
Royal Icing
3 oz. pasteurized-egg whites
1 teaspoon water
4 cups confectioner's sugar
1. Combine egg whites with water.
2. Put in mixing bowl and gradually add in the powdered sugar.
3. Mix on low until glossy. Then mix on high until stiff peaks form (5 to 7 minutes).
4. Use immediately or store in airtight container.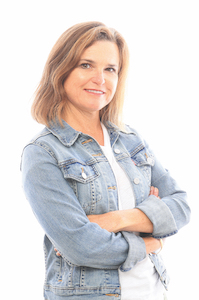 Mimi Towle has been the editor of Marin Magazine for over a decade. She lived with her family in Sycamore Park and Strawberry and thoroughly enjoyed raising two daughters in the mayhem of Marin's youth sports; soccer, swim, volleyball, ballet, hip hop, gymnastics and many many hours spent at Miwok Stables. Her community involvements include volunteering at her daughter's schools, coaching soccer and volleyball (glorified snack mom), being on the board of both Richardson Bay Audubon Center. Currently residing on a floating home in Sausalito, she enjoys all water activity, including learning how to steer a 6-person canoe for the Tamalpais Outrigger Canoe Club. Born and raised in Hawaii, her fondness for the islands has on occasion made its way into the pages of the magazine.