In his 20-year career as a San Francisco-based musician, Sean Hayes has won acclaim from fans and critics alike. He's duetted with Aimee Mann, toured with Ani DiFranco and the Cold War Kids, been covered by The Be Good Tanyas and re-mixed by DJ Mark Farina, and had his music featured in a variety of television shows, films, and commercials. Raised in North Carolina and honed as an artist in Northern California, Hayes crafts music that, as SF Weekly puts it, "succeeds on the tension between warm, resonant soul and dirt-road folk, all laced with a wandering troubadour's coo." Low Light, his eighth album, captures his distinctive sound at its most intimate. 
ER: I've loved your music for many, many years – you probably don't remember, but I even had the chance to sing harmony with you on "Rattlesnake Charm" in my living room once! What are you most excited about with your new album, Low Light?
SH: I do remember singing with you. You have a great voice and I remember how close you sang to Jolie Holland's original vocals. Not an easy task. As far as excitement, I am most excited about writing new songs and learning new things. The artist disease is when it's done you keep moving.
ER: Is there a way to describe how moving from the city to Sonoma, in part to raise two children, has changed you, your inspiration, and/ or the way you write music?
SH: Time, time, time. I feel like I create best when I have the illusion of endless time stretched out before me and I can just be bored. That does not exist with kids so I am adapting! Love living up here in Petaluma. After 20 years in San Francisco it is a nice change.
ER: I was amazed to see in how many TV shows and movies your music has been featured! How does that kind of exposure change or shape your career?
SH: I am completely independent. No machine behind me except my hand to yours. So if I get a placement it can be huge for finding the folks who might like to listen. 
ER: It says "Tour," on your website, but it looks like we just have these two shows for now to enjoy?
SH: Not touring right now, just enjoying sporadic shows here and there. It's hard to leave the little ones for too long!
ER: Last question, and a selfish one – can you tell me what it's like touring with Ani DiFranco?
SH: Ani is gracious and kind. She is the real deal. It was an honor to do some shows with her. Just do not pronounce her name wrong – she will let you know!
Sean Hayes will be performing at The Chapel in San Francisco this Friday, November 9th and The Catalyst in Santa Cruz Saturday, November 10th. Tickets are available here.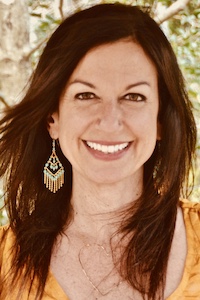 Emilie Rohrbach has taught music and theater to grades pre-school through 8th in San Francisco and Marin counties for the last 20 years. She has been a freelance writer for Divine Caroline for five years, and her writing has appeared in Narratively, Hippocampus, Common Ground, Travelers' Tales, and Marin Magazine, among others. She is passionate about Room to Read, Shanti Bhavan, and Destiny Arts and serves on the board of Knighthorse Theatre Company.