While Peter is not officially in the kitchen these days, he started his illustrious career in hospitality as a cooking apprentice when he was 17 at the Dolder Grand Hotel in his native city Zurich, Switzerland. These days he is best know as the general manager of both Buckeye Roadhouse and Bungalow 44, both in Mill Valley. When I asked Robert Price (executive chef of both spots) for his top picks, he deferred to his longtime friend and business partner Peter.
Favorite appetizer: Avocado bruschetta at Picco and gorgonzola gnocchi at Bungalow 44.
Most creative salad: Brussels sprout salad at Pizza Antica—they started the trend.
Go to takeout: Tommy's Wok—the lightest Chinese food and of course Sol Food, the Maduros are awesome.
Farm to table entrée: Heriloom tomatoes with Point Reyes cheese at March aux Fluers and Market Salad at Sweetwater.
Best signature cocktail: Can't beat the bartender at Bungalow 44
Best gut bomb: Avatars' Punjabi burrito with lamb and mango chutney, ask for them spicy!
Bringing out-of-towners: Sol Food—so different. The chicken plate and Tostones con Queso with pelnty of hot sauce, and Farley Bar for the upscale Marin experience.
Romantic meal: Don Antonio in Tiburon, they always make you feel like you're back at your favorite restaurant in Tuscany.
Favorite bar dining: Buckeye's bar is hands down the best bar dining. It's so clubby, so hard to land a table and the food is perfect for it. Try the oyster bingo, chicken wings and a secret order—the bbq rib appetizer.
Celebratory dessert: Sure, if 31 Flavors was still around, it would have to be the Jamoca Almond Fudge.
Grilled ahi tuna sandwich with pickled ginger, wasabi and hand-cut chips at Buckeye Roadhouse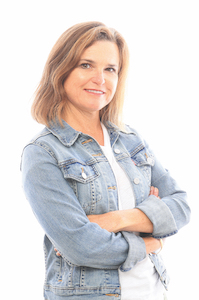 Mimi Towle has been the editor of Marin Magazine for over a decade. She lived with her family in Sycamore Park and Strawberry and thoroughly enjoyed raising two daughters in the mayhem of Marin's youth sports; soccer, swim, volleyball, ballet, hip hop, gymnastics and many many hours spent at Miwok Stables. Her community involvements include volunteering at her daughter's schools, coaching soccer and volleyball (glorified snack mom), being on the board of both Richardson Bay Audubon Center. Currently residing on a floating home in Sausalito, she enjoys all water activity, including learning how to steer a 6-person canoe for the Tamalpais Outrigger Canoe Club. Born and raised in Hawaii, her fondness for the islands has on occasion made its way into the pages of the magazine.