This year, instead of saying "I love you" with gorgeous roses tainted by traces of methyl bromide, chloropicrin and dazomet, consider an Organic Bouquet. Thanks to Gerald Prolman of San Rafael, you can send a variety of fragrant, luscious flowers—including red roses—that have earned a "Veriflora certified sustainable" label. Prolman initiated this international floral eco-certification standard, which is quickly becoming the new "green" standard for florists and being adopted by some of the world's largest flower growers.
"Sustainable production is a key to preserving our natural resources," Prolman observes. "Increasingly, consumers want to know who produced their products, how the environment is affected and how the employees or farmworkers are treated. Over time, I expect that the entire U.S. floral market will shift to flowers obtained from farms using sustainable practices. The change will occur as supplies and awareness increase."
Changing multibillion-dollar industries is nothing new to Prolman, who back in the early '90s founded and then sold (to Dole Foods) his organic produce line, Made in Nature. He also created a document, "Guidelines for the Development National Standards for Organic Production," which he sent out to prime ministers and secretaries of agriculture in more than 120 nations around the world in an early effort to regulate organic farming. "My intent was to initiate a business that would generate positive social and environmental change," he says. "I was always curious as to why organic flowers were not available as organic fruits and vegetables were. It was apparent that horticulture, a critical area of farm production, had been overlooked. The need was clear and the opportunity was obvious." To find out more or to order that special someone a pesticide-free bouquet of love, go to
organicbouquet.com.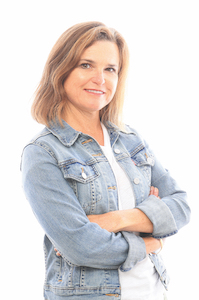 Mimi Towle has been the editor of Marin Magazine for over a decade. She lived with her family in Sycamore Park and Strawberry and thoroughly enjoyed raising two daughters in the mayhem of Marin's youth sports; soccer, swim, volleyball, ballet, hip hop, gymnastics and many many hours spent at Miwok Stables. Her community involvements include volunteering at her daughter's schools, coaching soccer and volleyball (glorified snack mom), being on the board of both Richardson Bay Audubon Center. Currently residing on a floating home in Sausalito, she enjoys all water activity, including learning how to steer a 6-person canoe for the Tamalpais Outrigger Canoe Club. Born and raised in Hawaii, her fondness for the islands has on occasion made its way into the pages of the magazine.