Bri Lindemulder + Luke Bohanan
Swiss Hotel, Sonoma, June 20, 2015
LOVE AT FIRST sight is a controversial concept. Often what feels like love is actually lust, but for these Marin natives it was the real deal. "The first day I met Bri I went home and couldn't get her off my mind," says Luke. "I remember telling my roommate at the time that she was the kind of girl you always wanted but could never have. Thankfully, I was very wrong." The bride shared his sentiments, though it would be four years before the couple got engaged. "I'll admit it, I wanted to marry Luke the minute we first started dating," Bri says, though she understood the delay. "We both take marriage very seriously and knew we wanted to be on the same page with our relationship before we took it to the next step." And their next step was quite a big one. Luke popped the question to Bri on top of Half Dome on Labor Day during the 2013 Rim Fire, a tearjerker proposal followed by a very long but uplifting eight-mile hike back down. For a wedding venue, they considered a spot in Mill Valley but were having doubts: "It just didn't seem to fit our casual lifestyle," Bri says. Instead they picked the Swiss Hotel in Sonoma, recommended by Bri's dad, her boss, and one of her best friends who'd worked there for years, and it proved the ideal fit. At the party, they departed from tradition a bit: "We didn't do a first dance and had a closing one instead," Bri says. "We felt that a solo first dance was not our style, and we loved the idea of a group dance where all our friends and family danced along with us." That sense of community keeps this couple living in Marin, where Bri has been styling ladies at Viva Diva for the past eight years. Luke commutes weekly to El Dorado Hills, where he works as a firefighter and paramedic, but as a married couple they both feel "it's hard to picture us living anywhere else."
VENUE Swiss Hotel, Sonoma,
EVENT PLANNING AND DESIGN Elise Events,
PHOTOGRAPHY Sasha Gulish,
FLORAL Lizzie Garneau Flowers,
RENTALS La Tavola; Pieces by Violet; Classic Party Rental,
SIGNAGE Pigment and Parchment,
DRESS Lea Couture,
GROOM'S SUIT Alfani,
BRIDESMAID DRESS Ann Ferriday,
MUSIC DJ Sef Diggy [email protected]; Biambu Garrett [email protected]
HAIR Eliza Vosburg Dougherty [email protected]
MAKEUP Raina Rombeiro,
INVITATIONS Minted,
Leigh Walker + Max Weinberg
San Geronimo Golf Course, San Geronimo, October 11, 2015
IT MAKES SENSE that our very own digital content editor would be an early adopter when it comes to online dating — even if it happened unwittingly. "Max and I met through our mutual friend Chris, but via AOL instant messenger," the bride admits. "Chris had moved up to Marin from Santa Cruz, got my screen name and passed it along to Max when we were 13." Fast-forward to when Max graduates from college and moves north, and the childhood crush becomes a relationship — this time off screen. Within half a year of moving in together, the couple was engaged and looking for a place to wed. "We toured quite a few wedding venues around Marin before landing at San Geronimo Golf Course. It just seemed to fit perfectly into our garden theme," says Leigh. Max adds, "The venue was very flexible and responsive to our needs and provided us with a sense of comfort and completeness. It didn't feel like a golf course." Actually, several unions took place at their wedding — theirs, and their sensibilities' and backgrounds'. "The wedding was a sort of modern and only somewhat traditional Jewish ceremony," says Max. "For Max, the use of technology really was evident," Leigh adds. "His vows were on his phone." They both used their skills and talents to enhance the day: "I designed all the signs for the wedding and created an I Spy game for every table," Leigh says. "Max, who designs and develops video games, created a coloring book for the little kids who attended." It was a day of abundance in many respects, from guests and speeches to food and feelings. "I was a nervous wreck until the ketubah (contract) signing," Leigh recalls. "Once I saw Max, all my worries vanished, as did the knot in my stomach." With all the elements and planning that go into a wedding, it's easy to forget what matters, but she strove not to: "I tried my best to take it all in, and I feel like I accomplished that."
VENUE/CATERING San Geronimo Golf Course, San Geronimo,
PHOTOGRAPHER Vinh Nguyen Photography,
VIDEOGRAPHER Major Diamond Productions, San Francisco,
FLOWERS Vanda Floral, Petaluma,
CHUPPAH Miracle Chuppahs, San Francisco,
DRESS Essence of Australia, Wine Country Bride, Santa Rosa,
MAKEUP Marcela of Fresh Face Makeup, San Francisco,
HAIR Alba Alvarado of Alba Salon, San Rafael,
GROOM/GROOMSMEN SUITS Pronto Uomo, Men's Wearhouse,
BRIDESMAIDS' DRESSES David's Bridal,
INVITATIONS Wedding Paper Divas,
WEBSITE maxandleigh.com
Katherine Walker + Bryan Vercler
The Lyford House, Tiburon, August 8, 2015
IT'S SAID THAT clothes make the man, but in this couple's case, they helped make a man into a groom. Katherine and Bryan met during their last year of college in Chicago while working at neighboring restaurants. Bryan was a maître d', and personality aside, something else caught Katherine's attention: "He was the only 21-year-old I knew who wore a suit each night, and that worked for me." After becoming engaged, they planned on marrying in a downtown Chicago loft, but then Katherine was offered a design opportunity in San Francisco at Google's Brand Studio. They packed their bags, headed west and fell in love with the Golden State — particularly Marin: exploring one weekend, they knew this was where they wanted friends and family to watch them wed. An unplanned detour led them to the Lyford House, which left them breathless. "We instantly knew it was the venue for us," Katherine says. "It felt comfortable, but also gorgeous — very much California. Truly viewtiful." Another appealing element: "We also liked the fact that our money would go to supporting the Richardson Bay Audubon Center and Sanctuary," she says. For the party, their music reflected the traditional "something old, something new, something borrowed and something blue": "Being from Chicago, we had a heavy bluesinspired (blue) song list, most notably the Blues Brothers' "Sweet Home Chicago" (old home) and Otis Redding's "Sittin' On the Dock of the Bay" (new home)," Katherine says. "Our band, the Speakeasies, brought a soulful sound." They further celebrated the "new" with the food: "Everything on the menu was sourced from California. Oysters from Tomales Bay, wine from Sonoma, charcuterie and cheeses from Petaluma, and handmade pies from the Mission District." After the ceremony, they surprised guests with 50 In-N-Out cheeseburgers on the shuttle back into S.F. "We knew we'd want them, so we got them for everyone," Katherine says.
VENUE The Lyford House, Tiburon,
CATERING Delicious Catering, San Rafael,
OYSTERS The Oyster Girls, Tomales Bay,
DESSERTS Mission Pie, San Francisco,
PHOTOGRAPHER Roger Ellsworth,
MUSIC The Speakeasies,
FLOWERS Violetta Flowers, San Francisco,
DRESS Jill Stuart for BHLDN
GROOM'S SUIT Indochino deep indigo cotton suit,
BRIDESMAID DRESSES Eliza J beaded print chiffon maxi dress,
BRIDE'S MAN OF HONOR Ralph Lauren suit,
WEBSITE katherineandbryan.com
Breena Sawitzky + Matt Nolan
Olowalu Plantation House, Hawaii, October 4, 2014
MANY COUPLES LOSE sleep over uncertain weather when they tie the knot; after all, rain at your wedding is no one's ideal. But this Novato couple embraced the big weather on their big day. "It started to sprinkle; then came thunder and lightning. I love thunder and lightning and we don't get enough of it in Marin," says the bride. That they welcomed unpredictability from the day they met may have helped them embrace the storm. Set up through a mutual friend, Breena and Matt went on a blind dinner date, and his behavior soon told Breena it was meant to be. "I knew when he spent all day cheering for me during a 50-mile run," she says. "He hadn't met any of my friends yet but was open to hanging out with them for 11 hours as they went to each rest stop." Soon, after a day of dining and gallivanting around the Bay Area, he proposed to her at home. For the ceremony, they both wanted something intimate — a small destination wedding, with family and friends. As luck would have it, Matt's mom lives in Hawaii. With the help of Jacqueline from White Orchid Wedding, they picked the Olowalu Plantation House on Maui for a venue; the Lahaina beachfront location was convenient, with ample parking and a large catering kitchen. When it came time for their vows, those who were and were not there made the moment special. "Matt recently lost his dad and sister and my grandma was not with us; we reserved seats for them during the ceremony with leis," Breena says; also, "I can't recommend Ernest Puaa, the guitarist, and Adam Gomez, the officiant, enough." Photographer Tad Craig was on hand to capture it all —including a "trash the dress" session the next day, when the couple went into the ocean in their wedding clothes. Nobody had predicted that.
VENUE Olowalu Plantation House,
CATERING Hawaiian Beach BBQ, Maui
BAR Stacey, Maui Bars Are Us,
PHOTOGRAPHER Tad Craig Photography,
MUSIC Maui DJ Services,
GUITARIST Ernest Puaa,
FLOWERS Teresa Sena,
DRESS David's Bridal,
BRIDE'S HAIR AND MAKEUP Regina,
INVITATIONS Wedding Paper Divas,
WEBSITE theknot.com
Tricia Kanne + Jim Cegielnik
Mountain Home Inn, Mill Valley, October 3, 2015
PICKING A VENUE for your big day that meets all specifications (size, cost, availability, appearance) can be a stressful ordeal, but for this quintessential Marin couple, the Mountain Home Inn was a no-brainer. "The views from the outdoor deck down into Marin and the bay are unreal," says the groom. The newlyweds, who went to Neil Cummings Elementary and then Hall Middle School together, also shared fond childhood memories of their wedding site. Tricia recalls driving along the Panoramic Highway past the inn, listening to Pearl Jam with her dad, and hiking down into Muir Woods; Jim passed it every weekend on the way to Stinson Beach, where he would spend time with his grandfather and where he first learned how to surf at age 11. Surfing actually helped bring the two together in their adult life: four years before they tied the knot, Jim was racing out to Rodeo Beach to surf after work and spotted Tricia walking her dog. On their first date they went to the Sand Dollar in Stinson Beach, surfed in Bolinas and admitted to having had crushes on each other in junior high. Jim proposed to Tricia at the Sand Dollar after a day of surfing, and the two started wedding planning soon after. Their similar sensibilities show when they reflect on the day's highlights. "In my sister's speech," Tricia says, "she spoke of how Jim has miraculously won the affection of her overly hesitant dog, Reef, and that Jim is now 'in the inner circle.' " Jim adds, "I'd say two big highlights (besides seeing my beautiful bride) were listening to Tricia's father and sister's speeches at dinner. They were both so genuine and sweet — their words of welcoming me into their family were truly touching." To create a casual atmosphere for the occasion, Tricia made most of the decorations by hand and the couple's friends contributed their skills as photographer, DJ, officiant and cake maker. Anything they would have done differently? "We wouldn't have sweated the small stuff," Jim says. "And would have given ourselves a little more time to plan."
VENUE/CATERING Mountain Home Inn,
CAKE Woodbine Bakery, 415.453.1811
PHOTOGRAPHER Sarah Peet,
MUSIC DJ Adam Twelve, [email protected]
FLOWERS Mill Valley Flower Shop,
DRESS Julie Ireland,
INVITATIONS minted.com
WEBSITE triciaandjimsayido.weddingwoo.com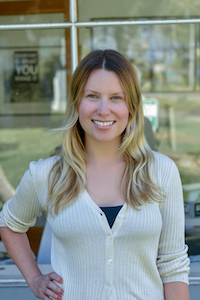 Kasia Pawlowska loves words. A native of Poland, Kasia moved to the States when she was seven. The San Francisco State University creative writing graduate went on to write for publications like the San Francisco Bay Guardian and KQED Arts among others prior to joining the Marin Magazine staff. Topics Kasia has covered include travel, trends, mushroom hunting, an award-winning series on social media addiction and loads of other random things. When she's not busy blogging or researching and writing articles, she's either at home writing postcards and reading or going to shows. Recently, Kasia has been trying to branch out and diversify, ie: use different emojis. Her quest for the perfect chip is never-ending.