FEELING WEIGHTLESS, SOARING over places foreign and familiar, taking in all the sights from a bird's-eye view with the wind blowing through your hair and the sun on your face — it's no wonder most kids wish they could fly. The closest most of us ever get to that sensation is on a plane or in a dream, or maybe through a virtual reality simulator. But a small group of people in Marin experience the real deal, running off the west side of Mount Tamalpais with their hang gliders and soaring high over the coast before eventually landing on the sands of Stinson Beach.
Who enjoys hang gliding?
Mill Valley resident David Beerman, president of the Marin County Hang Gliding Association (MCHGA), drives up to the launch site three to four times a week. A 1970s Popular Mechanics article on the activity caught Beerman's attention and inspired him to build a glider from instructions published in the magazine. A few other club members started out like that, too. MCHGA treasurer Phil Ray is another frequent flyer up on Tam; his wife, Judy Cunningham, doesn't go gliding anymore but is a world record holder in the sport — the first woman to hang glide a hundred miles. "It took about five hours," she says. "I started to get bored up there." In 2017 MCHGA had 135 hang gliders and 61 paragliders on the roster. "Every year there's usually a turnover of about 20 people dropping out and 20 new people joining," Beerman says. Most but not all members are men and middle-aged, although one glider is 17 and another is 80.
Despite the inherent danger of launching off a steep surface into the air virtually unprotected, the gliders of Mount Tam don't exude adrenaline junkie vibes. "There's plenty of days where the conditions aren't right, and I don't fly," says Ernie Camacho, a member of the Sonoma Wings club. Camacho, who's been gliding since the 1970s, drove up to the launch site with his dog to watch friends fly and help bring their gliders up from the beach when they landed: "I don't have a case of the 'just go for its' anymore." Time has also tempered other members' zeal. Beerman and Ray both recall launching several times a day when they first got into the sport but nowadays are satisfied with a single flight.
When is the best time to go hang gliding?
From Mount Tam, the optimal seasons are winter and spring, as the air instability from storms is good for soaring. Even though as a site the mountain is ranked intermediate in difficulty, at times conditions can become extreme. "Once, we had a funnel cloud develop rapidly after what seemed to be good flying conditions," says Beerman. "When hang gliding or paragliding anywhere, it is important to check the wind direction/velocity, the visibility —
including clouds and fog — and the stability of the local air mass, which depends on pressure fronts and the lapse rate." For beach landing, gliders should first check how much land is available, which depends on tides, sand volume and how crowded it may be. And since Tam is in a state park, find out whether the National Weather Service has declared a red flag fire warning, because the park will be closed when that happens.
Where do people go hang gliding?
Locally, MCHGA launches from Mount Tamalpais. Fellow Feathers on the Peninsula has a launch site at Fort Funston; the East Bay club Wings of Rogallo flies from Mount Diablo, Mission Ridge and Ed Levin County Park; and up north the Sonoma Wings club glides from Goat Rock State Park, Mount St. Helena, Elk Mountain, Hull Mountain, and Mount St. John in Stonyford. But hang gliders fly all over the globe — from Yosemite to New Zealand.
Why should you give it a try?
"Statistically, scuba diving is more dangerous than hang gliding," Beerman says. In fact, since the club's inception in 1976, only two injuries and two fatalities have been reported by members. The perks of gliding from Mount Tam are obvious, given that it's one of the most picturesque peaks in the state, with panoramic views of San Francisco, the Pacific, the Delta and the bay. "Hang gliding has always been a serene feeling of absolute freedom for me," Beerman says. "But as I've aged, I find that just hanging out with my friends who fly is more important to me." As a bonus, hang gliders sometimes might glimpse a "glory," a unique optical phenomenon resembling a circular rainbow, created by sunlight interacting with tiny droplets in mist or clouds.
How do you get started?
The MCHGA website has many useful links, and instruction is available Bay Area–wide from schools like California Hang Gliding in Pacifica, Bay Area Hang Gliding in Fremont, and Merlin Flight School, which operates from various sites. mchga.org, californiahg.com, bayareahanggliding.com, merlinflightschool.com
This article originally appeared in Marin Magazine's print edition under the headline: "Up, Up and Away."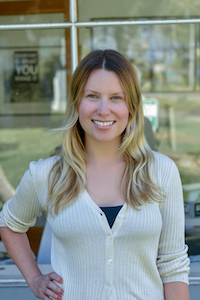 Kasia Pawlowska loves words. A native of Poland, Kasia moved to the States when she was seven. The San Francisco State University creative writing graduate went on to write for publications like the San Francisco Bay Guardian and KQED Arts among others prior to joining the Marin Magazine staff. Topics Kasia has covered include travel, trends, mushroom hunting, an award-winning series on social media addiction and loads of other random things. When she's not busy blogging or researching and writing articles, she's either at home writing postcards and reading or going to shows. Recently, Kasia has been trying to branch out and diversify, ie: use different emojis. Her quest for the perfect chip is never-ending.