When five-time Olympic gold medalist Nathan Adrian was 30 years old in 2018, just married and training for the 2020 Olympics in Tokyo, the competitive swimmer was diagnosed with testicular cancer. Although he was deemed cancer-free after two surgeries, Adrian didn't compete in the Olympics. (He made it to the finals for the 50-meter freestyle event during trials, but got third place, thereby missing out on qualifying for the team by just one spot.) Still, his journey has led him down a path he's long hoped to pursue.
In 2019, Adrian purchased the Ann Curtis School of Swimming in San Rafael with fellow UC Berkeley swimmer and alum Will Copeland. Founded by another Olympian and Cal swimmer, Ann Curtis (Cuneo) in 1959, the school has helped more than 40,000 local children learn to swim — a legacy that Adrian is committed to honoring in the facility's new era as the AC Swim Club. (Conveniently, "A" stands for Adrian and "C" stands for Copeland, as well as for Ann Curtis.)
Adrian recently moved to Tiburon from Oakland with his wife, Hallie, and daughter, Parker. Here he talks about family life in Marin, the Olympics, the many hats he wears running AC Swim Club and how he gives back.
Marin Magazine (MM): How are you enjoying living in Marin so far?
Nathan Adrian (NA): "It's absolutely wonderful! We moved a few weeks ago. I've been running the AC Swim Club since 2019, so I knew what I was getting into. Along with that, one of my good friends from Cal grew up in Belvedere, so I had been to Belvedere many times and knew I wanted to live in the area eventually. Now I live 15 minutes away from the pool.
"We're still discovering our favorite places to hang out in Marin. The past week we've gotten in the habit of going to Blackie's Pasture and the playground after breakfast. Once Parker gets a little older we might do more hiking, but for now, playgrounds are our go-to!"
MM: What motivated you and your partner, Will Copeland, to buy the Ann Curtis School of Swimming?
NA: "Owning a swim school had long been on my radar as something I wanted to do post competitive swimming. While I was going through my treatment for cancer, Will called me and told me there was an opportunity to buy an existing pool instead of us having to build a pool. The Cuneo family had initially put it on the market as a real estate transaction and developers were looking at the land, so it could have turned into any number of different things. To be able to preserve this pool is really special because of its history and what Ann and her family created here.
"I don't think people truly understand how broad-reaching the school's impact has been. It's the genesis of some of the major swim school franchises in the United States. And locally, we've had many grandparents bring their grandchildren in and tell us they learned to swim from Ann. It's a special place, and we take that reputation very seriously."
MM: What is your approach to running the AC Swim Club, and has it been challenging operating during the pandemic?
NA: "It's been challenging, but my dad is a small business owner, so I saw what it took from the outside looking in, and how many
different hats you need to wear, especially at the beginning. One day I'm the risk-management insurance broker and the next day I'm figuring out the CalSavers program we're implementing. Then I'm figuring out if our solar panels are making energy, and halfway through that a teacher calls out sick, so I put on a swimsuit and jump in the water to teach.
"It's crazy, but it's also fun, and when you're doing it with one of your best friends it makes it all that much more fun. We always have each other's back. A lot of that comes from our experience with swimming. It's largely considered an individual sport, but when you're on a team, you really have to trust someone else to do their job and do it well."
MM: Speaking of your swimming career, what's it like to train for the Olympics?
NA: "When you train for the Olympics, you're full throttle for anywhere from two to five hours a day, and then you're purposely coasting. I was prescribed meditation, and I was supposed to take a nap and do everything I could to let my body and nervous system recover and let my cortisol levels come down between bouts of going full throttle."
MM: You've had so many amazing Olympic moments. What is one accomplishment that you're particularly proud of?
NA: "I would say it was being elected co-captain of the 2016 U.S. Olympic Team. It's an honor because you're elected by your peers."
MM: How did being diagnosed with testicular cancer impact your life?
NA: "I was 30, and there was a lot going on in my life at that time. I had just gotten married and moved from the city to Oakland to train for the 2020 Olympics. I was going all out, day in and day out. I took it very seriously, so it was a punch to the gut to say the least.
"That being said, my competitive career taught me that there are some things you can't control. I just got the short end of the stick on that one and had to deal with it, so that's what we did. It's a strange thing to say, but if there's a place to get sick, the Bay Area might be one of the good ones, because we have such amazing teaching facilities and hospitals in the area."
MM: Do you plan to train to compete in the Olympics again?
NA: "I actually don't know, to be honest. I still swim five days a week and work out in the weight room, so I keep in pretty good shape — I think that's something I'll continue to do regardless of whether or not I'm competing internationally. If I get the itch again it would be pretty easy to jump back into the training routine, so I'm keeping that option open."
MM: Are there any organizations or causes you're passionate about?
NA: "Drowning prevention has been something I've been involved with since I turned professional in 2011. We partnered with USA Swimming to work with them on the Make a Splash tour. Formalized swim lessons are shown to reduce the risk of drowning by up to 88%, which is pretty phenomenal in terms of a behavioral intervention that can prevent a truly tragic outcome.
"I also do quite a bit to raise awareness about men's health and cancer. And if any local organization reaches out, I'm happy to donate a swim lesson to their auction or fundraising effort — I love to help if it brings in money that goes to a good cause."
---
More from Marin: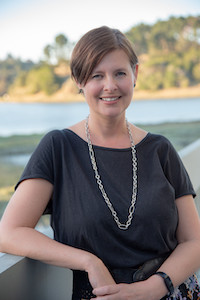 Lotus Abrams has covered everything from beauty to business to tech in her editorial career, but it might be writing about her native Bay Area that inspires her most. She lives with her husband and two daughters in the San Francisco Peninsula, where they enjoy spending time outdoors at the area's many open spaces protected and preserved by her favorite local nonprofit, the Peninsula Open Space Trust.