Salad is often green, and why not? Most of us in California equate cool, leafy greens with salad. And yet there is a world of salad out there, beckoning us to look beyond the leaf to beans, noodles, chicken and, well, anything you can think of. Think outside the bowl.
There is something of a battle royale in Marin for the best Asian chicken salad, but our office is all-in on the savory-spicy-sweet version from the team at Kitti's. Marinated chicken, romaine lettuce and rice noodles seem humdrum until they meet up with crispy rice noodles and almonds and an addictive sweet chili dressing.
3001 Broadway, Sausalito; 415.331.0390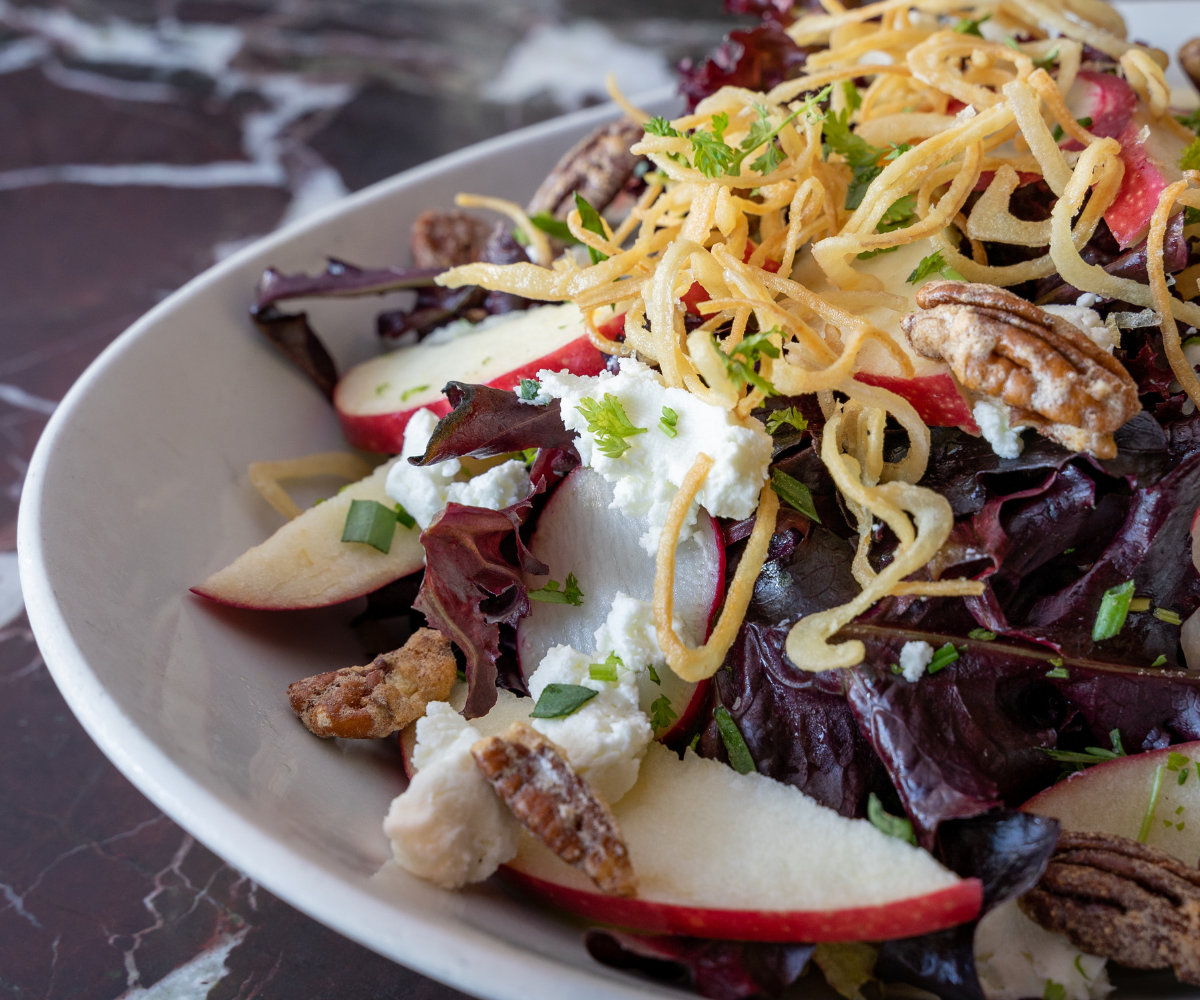 Even though we've eaten this salad a thousand times, the mela — Italian for "apple" — is a go-to for the interplay of sweet fruit, candied pecans and tangy goat cheese. A topper of fried onion unifies the experience.
777 Bridgeway, Sausalito; 415.332.7771
Salad does not have to have lettuce or be chilled, so we are adding the flash-fried fish-topped heap of avocado, refried black beans and Manzanita slaw as an entrant to the category because it is fronting oh-so sneakily as a salad.
382 Miller, Mill Valley; 415.383.8164
Though the arugula salad dressed with olive oil, lemon juice, and Calabrian chili paste is only available as a pizza topping (standard on the Rocket Man pizza), the stand-alone Italian Chopped, loaded with little gems, chicories, provolone cheese, pepperoncini, and chickpeas, is surely what Popeye ate when he got tired of spinach.
226 Shoreline Hwy, Mill Valley; 415.888.3544
Mixt, Falaf Salad
More, as they say, is more and it works to great effect for some salads. In this case, the house made falafel crumbs, roasted cauliflower, avocado, cucumbers and chickpeas are tossed with fresh herbs before a swirl of lemon tahini dressing transforms the humble ingredients into something more than the sum of its parts.
590 E. Blithedale, Mill Valley
The savory breakfast salad is like a (carbs optional) deconstructed quiche, studded with lardons, poached eggs and trumpet mushrooms, and full of textural surprises that add up to bite after bite of salty, fatty, delicious morsels. Take that, quiche!
101 San Anselmo Ave, San Anselmo; 415.755.4575
Valenti & Co., Radicchio and Bartlett Pear Salad
Shredded radicchio is piled atop thin slices of pear onto goat cheese orbs are carefully added. It is a beautiful presentation but the whole grain mustard vinaigrette inspires feelings of elation.
337 San Anselmo Ave, San Anselmo; 415.454.7800
Yeah, we know that the "master cleanse vinaigrette" doesn't sound so great, but there is something special about the açai and lemon dressing that turns a dino kale and quinoa salad tossed with apple, veggies and a "super seed-flax mix" into something impossible to stop eating.
819 Grant Ave, Novato; 415.895.6577
Clusters of crispy rice noodles and peanuts add quiet notes amidst hits of salty-sweetness tempered by lemongrass, onion, fresh ginger and minced chicken before the lime dressing crashes over your palate and you realize you could eat this salad every day and not get tired of it.
1230 Fourth St, San Rafael; 415.456.4455
Banh Mi Zon, Vermicelli Bowl Salad
Choose all greens or add some rice noodles, then top it with pork belly, crazy mushrooms or even sardines slow-cooked in tomato sauce. No matter what toppings or base you choose, you still get the pickled daikon, garlic sweet and sour sauce and those toasty-crispy onions.
76 San Pablo Ave, San Rafael; 415.521.5289
Named for a town on France's Mediterranean coast, the Niçoise has survived the test of time, its simple yet satisfying arrangement of haricot vert, hardboiled eggs, salad, tomatoes, olives, potatoes and anchovy-topped tuna enough to keep eaters engaged and hunger at bay. Chef Passot's oregano-thyme dressing adds a signature touch.
1696 Tiburon Blvd, Tiburon; 415.910.1010
Point Reyes blue cheese is the showgirl of this salad, playing peekaboo amidst a forest of Little Germs with candied walnut "dust" and slivered onions. But you won't miss its tangy bite because no showgirl can stay off the stage.
625 San Geronimo Valley Dr, San Geronimo; 415.488.0105
Mas Masa, Three Sisters Salad
Whether or not you get the butternut squash, corn hominy and kale salad topped with turkey mole (and you should), the salad is a show-stopper for its artful use of Christmas lima beans and amaranth and fruit-spicy jamaica vinaigrette.
31 Bolinas Rd, Fairfax; 415.295.7443
---
Christina Mueller is a long-time Bay Area food writer. She hails from the East Coast and has spent way too much time in South America and Europe. She discovered her talent as a wordsmith in college and her love of all things epicurean in grad school. She has written for Condé Nast Contract Publishing, Sunset, and the Marin Independent Journal, among others. She volunteers with California State Parks and at her childrens' schools, and supports the Marin Audubon Society, PEN America, and Planned Parenthood. When she is not drinking wine by a fire, she is known to spend time with her extended family.