It is often called the most important meal of the day and there are plenty of restaurants on Novato's Grant Avenue that serve it, each with a special flair. There's a bonus, too: every place has ample outdoor seating.
Marvin's Breakfast Club
Novelty signs on the walls, baskets of candy on the wraparound counter, a bustling crowd: it's a lively scene at Marvin's. A cult classic for about half a century, the restaurant is currently owned by Chuck and Nichole Drefs, whom you can find pictured in the menu as characters from Conan the Barbarian. 415.892.4482
More than merely a breakfast spot, Grazie is open for business all day, every day, for every meal. "Even on all the holidays," owner Abe Hamami says. There's also a weekend brunch menu that changes about once a month. For wine lovers, choices include DeLoach, Trek and other local labels.
This spot, opened four years ago by owner Tien Lam, lives up to its name and then some. You'll find bacon throughout the menu in Benedicts and frittatas, on salads and burgers and so on. Be sure to check out the special Honey Bee Bacon: slabs are coated with brown sugar, chile flakes and cayenne plus a little bit of honey added during baking. Fans of "millionaire's bacon" won't be disappointed. A new honey-lavender bacon is also in the works, Lam says. Plus, the restaurant serves and sells three types of house-made jams.
Dr. Insomniac's has been holding down a lively corner of Grant Avenue since 1993. The expansive menu fea- tures everything from breakfast burritos to an assortment of shakes and smoothies and cof- fee drinks (there's a house brand of coffee beans) to the famous scruffins. A scone and muffin combo, this treat is baked fresh every day in versions that include blueberry and cream cheese, strawberry and blueberry, blackberry and almonds, chocolate chip and more.
Photo by Debra Tarrant.
For more dining options in Novato, check out our listings here.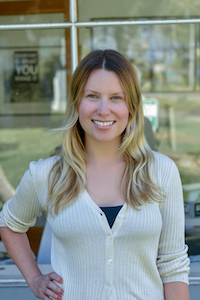 Kasia Pawlowska loves words. A native of Poland, Kasia moved to the States when she was seven. The San Francisco State University creative writing graduate went on to write for publications like the San Francisco Bay Guardian and KQED Arts among others prior to joining the Marin Magazine staff. Topics Kasia has covered include travel, trends, mushroom hunting, an award-winning series on social media addiction and loads of other random things. When she's not busy blogging or researching and writing articles, she's either at home writing postcards and reading or going to shows. Recently, Kasia has been trying to branch out and diversify, ie: use different emojis. Her quest for the perfect chip is never-ending.