CHILDHOOD EXPERIENCES INFORM our adult lives in unknown ways. Yet Neka Pasquale knows it was her two grandmothers' love of all things food-related that sparked her interest in cooking and well-being. Pasquale, a licensed acupuncturist, herbalist and certified Chinese nutritionist, created Urban Remedy from the concept that a healthy diet translates to a vibrant, healthy person — and that food has the ability to heal. So in 2009 she experimented, making live, raw foods, salad dressings and juices her company's foundational product line. From the beginning, all of Urban Remedy's ready-to-eat meals, snacks and cold-pressed juices have been certified organic, non-GMO, gluten free and low glycemic. Pasquale opened the first brick-and-mortar Urban Remedy in San Rafael in 2011; stores in Mill Valley, Larkspur, San Francisco and the East Bay followed. She plans to expand from seven to 15 Bay Area locations by the end of 2017. Here the founder shares one of her signature salad and dressing recipes. "This beautiful blend of colorful cabbage and kale is great for your digestion and for keeping your GI tract healthy," says Pasquale. "I have used a hefty measure of sesame seeds and oil, which are rich in minerals like copper and magnesium and benefit the yin (fluids of the body) to help reduce dryness. The seeds are also believed to ease the symptoms of arthritis."
Tricolor Slaw
MAKES 1 SERVING
Dressing
2 tablespoons soy-free miso
2 tablespoons cold-pressed sesame oil
2 tablespoons cider vinegar
1 tablespoon cold-pressed flax oil
1 tablespoon coconut palm sugar or maple syrup
1 teaspoon finely chopped peeled fresh ginger
½ clove garlic, minced
Slaw
¼ head purple cabbage, finely shredded
2 carrots, coarsely grated
¼ head Napa cabbage, finely shredded
½ bunch lacinato kale, finely chopped
¼ bunch fresh cilantro, chopped
1 large piece of toasted seaweed
1 tablespoon raw black sesame seeds
1 tablespoon raw white sesame seeds
2 radishes, halved, for garnish
A bunch of microgreens, for garnish
To Prepare
1 Whisk the dressing ingredients in a small bowl to blend.
2 Prepare the slaw: in a small bowl, combine the purple cabbage with a drizzle of dressing and mix well.
3 In a separate bowl, combine the carrots with another drizzle of dressing and mix well.
4 In a large salad bowl, combine the Napa cabbage, kale and cilantro and toss well.
5 Mound the purple cabbage to one side of the salad and mound the carrots on the other side.
6 Tear the seaweed into pieces and arrange on top of the salad.
7 Sprinkle the black sesame seeds over the carrots, and sprinkle the white sesame seeds over the purple cabbage.
8 Garnish with the radishes and microgreens.
9 Drizzle the remaining dressing over the salad and serve immediately.
This article originally appeared in Marin Magazine's print edition under the headline: "Eat the Rainbow".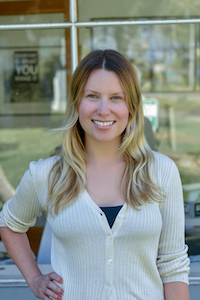 Kasia Pawlowska loves words. A native of Poland, Kasia moved to the States when she was seven. The San Francisco State University creative writing graduate went on to write for publications like the San Francisco Bay Guardian and KQED Arts among others prior to joining the Marin Magazine staff. Topics Kasia has covered include travel, trends, mushroom hunting, an award-winning series on social media addiction and loads of other random things. When she's not busy blogging or researching and writing articles, she's either at home writing postcards and reading or going to shows. Recently, Kasia has been trying to branch out and diversify, ie: use different emojis. Her quest for the perfect chip is never-ending.