OLIVIER CRIADO AND Alexandre de Jesus worked together at San Anselmo's L'Appart Resto for more than three years before purchasing it in January 2015, but their journey to ownership was many years in the making. De Jesus was raised by Portuguese parents in Paris, where he was exposed to cooking that fused both cultures. After stints in kitchens both in Paris and on Reunion Island, he made his way to Portugal and became chef at the world-class resort Villa Vita Parc in Armação de Pêra. He came to the Bay Area in 2005, eventually finding his way to L'Appart. Co-owner and general manager Olivier Criado also has French roots: he grew up in La Celle Saint-Cloud, a town of 22,000 residents located between Paris and Versailles. His love of cooking led him to culinary school at l'Ecole Hôtelière de Paris CFA Médéric and later to a number of restaurants in Paris, including L'Auberge Dab. La Maison d'Aurore in Gargenville was the first restaurant Criado owned and managed, and like L'Appart, it featured fresh, house-made fare and a refined wine list. In 2010 Criado came to the U.S. to open L'Appart Resto, which became famous for a salad whose recipe the owners share here. The dish has (almost) always been on the menu, Criado says: "It is a really flavorful salad, perfect for a warm day on the patio with a glass of rosé or Sancerre. We took it off the menu once and people were mad. They asked us to bring it back, so we did." Fresh lobster tail from Maine is used, since its quality and taste do not vary much throughout the year. The tarragon dressing adds freshness, and fruits (yellow peaches in midsummer, Granny Smith apples the rest of the year ) bring crispness and sweetness to the fan-favorite dish. lappartresto.com
---
Lobster Salad with Tarragon Dressing
Serves 2
Ingredients
1 yellow onion, sliced
1 bay leaf
2 raw whole lobster tails still in the shell
2 heads butter lettuce
2 Granny Smith apples
½ cup whole-kernel corn
½ cup cherry tomatoes, sliced in half
1 teaspoon honey
½ teaspoon lemon juice
½ cup olive oil
1 teaspoon champagne vinegar
2 tablespoons fresh tarragon, chopped
Salt and pepper, to taste
To Prepare
For lobster
To a large pot add 6 cups water, raw onions, bay leaf and a pinch of salt.
Bring to a boil.
Place the lobster tails inside the pot, cover and steam in the shells for 8 minutes.
Transfer with tongs to bowl to cool.
When tails are cool, remove the meat from the tails and slice into bite-size pieces.
For salad
Separate the lettuce leaves, wash, rinse and dry.
Cut the apple in half and chop into ¼-inch-thick slices.
In a large bowl, mix the butter lettuce and apples with corn and cherry tomatoes.
For dressing
In a medium bowl, whisk together the honey, lemon juice, olive oil, champagne vinegar and tarragon.
Add salt and pepper to taste.
To serve
Lay the slices of lobster tail on top of the plated salad.
Add the tarragon dressing just before serving.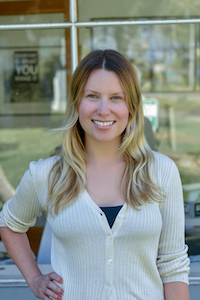 Kasia Pawlowska loves words. A native of Poland, Kasia moved to the States when she was seven. The San Francisco State University creative writing graduate went on to write for publications like the San Francisco Bay Guardian and KQED Arts among others prior to joining the Marin Magazine staff. Topics Kasia has covered include travel, trends, mushroom hunting, an award-winning series on social media addiction and loads of other random things. When she's not busy blogging or researching and writing articles, she's either at home writing postcards and reading or going to shows. Recently, Kasia has been trying to branch out and diversify, ie: use different emojis. Her quest for the perfect chip is never-ending.