"This is a real fire festival!" screams self-proclaimed Big Gay Andrew as he takes the stage to claim his prize. The crowd around the pool erupts in cheers and applause. It's Sunday evening and he's just scored an Xbox, three of four in total that are handed out in a bastardized game of bingo called Tacos. Big Gay Andrew, my friend Natalie, about 100 Taco Bell acolytes — or Bellheads as I like to think of them — and I, are surrounding a pool in Palm Springs on the last night of operation at the Bell: A Taco Bell Hotel and Resort.
The May 2019 announcement of the hotel was startling — a hotel? Really? — and the item was picked up by seemingly every news outlet. CBS, Los Angeles Times, USA Today, Fox — you name it, it was there. Renderings showed a colorful graphic backdrop featuring desert staples like palm trees and chaparral mixed in with taco shells, slushy cups and Taco Bell logos behind a pool filled with hot sauce packet floating mattresses. The theme carried into the guest rooms. Wall art? Packets. Wall paper? Packets. Bed pillow? Natch.
According to the statement, The Bell was going to be a "destination inspired by tacos and fueled by fans" and promised that "everything from guest rooms to breakfast and poolside cocktails will be infused with a Taco Bell twist, making this the flavor-filled getaway of 2019." Prospective guests could sign up for an email list to receive more info about reservations to the limited-time only "tacoasis." Later it was announced that the hotel would only be open for four nights.
A marketing novice by no means, Taco Bell has pulled various publicity stunts throughout the years. In 1996 it claimed to buy the Liberty Bell, and it 2001 it dropped a 40' x 40' target out into the South Pacific, saying that if a piece of the Mir space station struck it, every person in the United States could get free Taco Bell taco. No piece hit the target.
Fearing the hotel could go the way of the Fyre Festival, I tracked the event's official hashtag (#tacobellhotel) leading up to the launch, hoping to get a sneak peek, looking out for snags. But as the first posts began to appear on check-in day there were no sad sandwiches or FEMA tents in sight — the feed was full of sauce packet room keys and branded bikes, all adorned with a cache of Taco Bell Hotel Instagram Stories GIFs.
It shouldn't have been a surprise. Taco Bell is rooted in superlatives, its slogan is Live Mas. It's home of the Doritos Locos Taco, the Quesarito, Fourthmeal. Items here are stuft, supreme, XXL. And at the Bell, excess is ubiquitous, subtlety nonexistent.
I didn't come to the Bell as an official member of the media. Like the other Bellheads lucky enough to snag one of the 70 rooms available, I sat at my computer refreshing the browser incessantly in the minutes before reservations opened. And I had a plan. Feeling that most people would jump for the first day available (Thursday), or the obvious Friday and Saturday, I'd opt for Sunday night.
Clicking on the reservation button as soon as it appeared led to a screen with a message saying "I knew we were popular, but this is a bit much" that urged users to keep their "crossed fingers on that refresh button". They'd planned for this too. Hitting refresh after this seemed futile and my hopes sank with every click. But then the pay screen popped up. Card in front of me I selected Sunday, populated my info and submitted. I GOT IT! Yelling, arms in the air, I stood up from my desk and started to pace around, maniacally. The majority of the office didn't understand or take part in my elation so I did the best thing I could think of — I tweeted.
"Today will forever be known as the day I got a room at the @tacobell hotel" along with a screenshot of my reservation. The response I was looking for began rolling in in the form of likes within seconds. Comments continued throughout the day — "Lucky!", "Literal bullshit!" — as well offers to buy me out in my DMs and retweets, including one from the woman behind it all, Taco Bell's former Global Chief Brand Officer, Marisa Thalberg. "Congratulations! #tacobellhotel #goldenticket".
She was right, that's exactly what it felt like. The rooms started at $169 and sold out in less than two minutes. Again the story appeared everywhere along with screenshots of Bell hotel dreams shattered.
"I see it! There!" I shriek as the hotel sign comes into sight. We drove here from Natalie's home in Orange County, hypothesizing on the way what was in store for us.
"Do you think it's going to be the same hotel staff?" she asks.
But I had already seen things: the hot sauce packet cutting ceremony, the silent disco, the nail salon.
"No way," I reply. "They're going to want full control of their image."
As we pull past the Bell sign and into the valet area a man asks if we were checking in. We say yes and give him my last name. Without a clipboard in hand he waves us along. Maybe he had an earpiece? Or did he just know? The lobby door swings open as we exit the car and walk inside under an awning of multicolor streamers.
"Welcome to the Bell hotel! Let's get you checked in," says the man behind the front desk.
Execution is precise. Within minutes of checking in gift bags are doled out and festival-style woven wristbands affixed — one for the night you're staying, one allowing you to drink, both branded with the Bell graphic scheme. The welcome drink, a watermelon popsicle submerged in Baja Blast, is served next to the front desk in a plastic wine tumbler. There are around 15 other people inside, every one of them wide-eyed and giggling. The guest to staff ratio remains consistently about 3:1.
"Can you take a photo of us?" I ask the pretty girl making our drinks.
She happily obliges before twisting the cups in our hands to fully reveal the hotel logo and proceeds to take several photos and a Boomerang I didn't ask for.
"Have you been here the whole time?" I ask.
She affirms.
"Do you work for Taco Bell? Has it been fun?" I continue to prod.
She says she works for an event company and that it's been really exciting. "Nothing like this has ever happened before and even if it happens again, this was the first time." Versions of this sentiment are echoed during the course of our stay.
On the other side of the lobby is the concierge desk where we walk over to book nail appointments.
"They're full, but we do have a few braiding appointments left," she says from behind the podium.
We book a couple at $20 a person and head toward our room.
The Bell hotel immersion starts before your sauce packet key cards are given to you. The wifi network? The Bell. Password? Tacos4ever. The room number outside the door, toiletries, robes, mugs, even phone plate are all Bell branded. A Dyson air conditioner is plugged in, quietly humming on a credenza in front of the TV, clearly a new addition as well. A magnet on the fridge announces that "this is not a mirage" and that all the food items in the room are free. Inside the gift bag — which is an oversized tote — is an oversized sauce packet beach towel, cooling towel, sunscreen and welcome guide with a hotel map, menus, event schedule and more. Tonight there'll be a game night at 6 p.m. (with prizes!) and a dive-in screening of Demolition Man at night.
"Everyone's going to freak out," I tell Natalie.
"Why?"
I try to sum up the plot and it's not an easy task. I explain how in the movie only Taco Bell exists and how it's talked about at length, but it's not normal Taco Bell. I don't feel very convincing.
A few pages back in the guide shows the other dive-in movie listing, Mean Girls, has a quote next to it. "'You wanna do something fun? You wanna go to Taco Bell?' Strong words from Karen in this coming-of-age classic. Other stuff happens too, but we know you're watching for the Taco Bell reference."
The 70 converted rooms all seem to be around the pool, where the majority of the activities take place. A DJ plays disco-tinged house music from a second floor balcony and the vibe is mellow, with most people drinking under shaded loungers. Coolers filled with various beverages sprinkle the area, as do the servers, who in their khaki bottoms and fitted white T's are easily the best-looking group present.
One of them, a TV show-ready type who couldn't be over 25, comes to take our order. He returns from the bar minutes later — camera-friendly smile, camera-friendly biceps bulging, serving us camera-friendly drinks. I ask to take a photo of him with our drinks.
We lay by the pool, which just like our room is thoroughly cooled. Mister fans surround the space and guests rest under umbrella shade or hang out in the water. The temperature reaches 105 degrees and I never feel miserable. In spite of needing key cards to enter the pool area, security guards stand at every gate and you'd be hard pressed to open a door on your own. Everyone appears happy, but in a mild way. People sneak furtive smiles as if we're all in on a secret, but there's little exuberance. Someone in the pool gets off a sauce packet float and no one claims it.
"Did people buy these or can we use them?" I ask a girl sipping a drink.
"No, they were all here. Go for it!" she responds cheerily.
Natalie and I flop onto the float in an attempt to share it. It doesn't work but we're trying to Live Mas. I crawl on and she takes a few photos of me.
Out of the pool and a few drinks later we start chatting up our server and one of the staffers. They're both from in Los Angeles — one works for an event company and our server was cast for the part — and tell us the hotel has been in the works for a year and a half.
"What's the mood been like the past few days?" I ask.
"Honestly, like this," says the staffer looking out at the docile scene. "It's not like Vegas or anything. There were a couple guys who got kinda drunk, but nothing too crazy."
I tell them I wish people got more crazy and they agree.
Moments later we witness the wildest it gets the Bell, when the eponymous "Bell" goes off, reverberating through the speakers, and servers file out with trays of new products. Menu items are indicated on a movie theater-like Taco Bell board next to the bar that changes throughout the day. Like Pavlov's dogs, guests dash toward the staff, snatching free trays of Strawberry Shortcake Twists and Nacho Fries with multiple dipping sauces. (Expect to see these in stores in upcoming months.) There was little reason to chase these items, however, as servers kept emerging with trayfulls. All said and done we had three servings of the twists.
Sufficiently buzzed, we walk into the salon located on the other side of the pool and sit in front of brightly lit vanities. The mirrors are lightly frosted with a Taco Bell logo making them look like a strip-mall salon circa 1988. I keep imagining Patrick Nagel art on the wall. The braiding goes quickly and I opt for the additional hot sauce packet flower cause Live Mas.
Hair braided, we return to our loungers, ready to try some of the not-free offerings on the menu and wait for game night to commence. Natalie orders the Palm Canyon Melt and I get the Toasted Cheddar Club, both arrive with a side of nacho fries. We have a new server now who gives more details about the Bell.
"The first night was the influencer night. I've never seen more people filming, with film crews walking behind them," she says, eyes wide incredulous. "Later they just sat around the pool staring at their phones, it was creepy." I could see the glow in their eyes, reveling in the deluge of likes, though admittedly I'd experienced something similar after posting my hot sauce packet pool picture.
She was from Los Angeles and cast for the part as well. "They were looking for a diverse group of people with serving experience," she said. White, black, Asian, Hispanic — all demographics are represented here. No one is overweight, everyone is conventionally attractive. "There's way too many of us here, two servers could cover this pool."
"One guy called me out yesterday," she said. "He was like, 'all of you aren't just servers! All of you are good looking!' And I'm like, 'What did you think? Thanks for saying I'm good looking, I guess?'"
Paid-for food and several more drinks later it was time for the game. Everyone receives a Tacos game card and beans for pieces while a relentlessly energetic MC hypes the crowd. Balls keep slipping out of the cage but no one seems to care. Out of beans, Natalie and I use fries for game pieces. Live Mas.
The bell of the Bell goes off again and pandemonium ensues. More servers wearing clear fanny packs stuffed with sauce packets come around, trays brimming with food. This time we're handed Toasted Cheddar Chalupas (also coming to locations soon) and I'm so full I can barely get half of it down. I start turning away free food.
After six hours at the pool we duck into our room to rinse off before movie night. I feel very uncomfortable.
"Let's just wear our robes," says Natalie.
"That's so smart," I reply.
We shower and don our Bell hotel robes.
"Where are our beds?" says Natalie as we walk out back to the pool area.
We plop down on the loungers and the menu board changes. In front of us, a man appears to be passing out in the corner of the spa, where dozens of bugs drawn the light struggle, drowning. The servers, looking concerned, start to approach him but he shakes awake right before one of them nudges him.
Soon after some of the people around us come out wearing robes. Then more servers with trays. Two different kinds of popcorn, nachos. The crowd, predictably, cheers during the Taco Bell mentions in Demolition Man.
I turn to Natalie, "Wanna go back to our room?"
She's passing out, popcorn covers our robes.
We waddle back the twenty or so yards to our room, groaning along the way. Inside, a turndown service has taken place, and a taco shaped cookie rests on either side of the bed.
I take a bite, set it on my nightstand and try to find a comfortable position for laying — it's impossible.
We wake up foggy, bloated, with more free food at the door.
Pancake delights and a build-your-own taco bar are delivered. The pancake delights are Gusher-like donut holes filled with maple syrup, a mix of sweet and warm and slightly savory so perfectly engineered that in spite of feeling gorged we finish them. We finish all the food.
A quick stop at the gift store and we leave the Bell. On the drive back before going to the airport I grab a pack of Skittles and an Almond Joy for lunch, milking my last bit of Live Mas lifestyle before my flight, work and normal life resume.
I've been eating Taco Bell since I moved to this country when I was seven. Taco Bell headquarters are minutes from my parents' Southern California home. I remember the co-branded Gordita/Godzilla launch. My mom would take me there as a treat sometimes after elementary school back when they had kids meals on the menu. In high school a friend of mine collected the hot sauce packets when Taco Bell began printing messages on them. My favorite one said, "When I grow up I want to be a waterbed." I went to the Pacifica location in recent years on my birthday and made it a point to go to the Tokyo one when I was in Japan — they don't have beans there. I have a long-term emotional connection to the brand, and am clearly not alone.
Taco Bell has created a stronger image than any other fast food company. More than most brands, actually. If Taco Bell was a car it'd be a Baja Blast-branded ATV with Quesarito exhausts spewing hot sauce packets that the vehicle is somehow powered by. It's extreme, but also wholesomely extreme if that's a thing. This isn't a Monster energy drink. You'd let your daughter go to prom with Taco Bell — sure, you'd prefer the Cheesecake Factory — but at least it's not Jack in the Box.
The hotel is a magnum opus for the brand. Part social experiment, part brand activation, 100% a statement. The whole event was recorded and tracked. Taco Bell knows who paid for these fades and drinks, who posted using the hashtag. We all had to sign waivers acknowledging our image could end up being used in promotional material. While other fast food brands buckled under pressure and began offering healthy options Taco Bell kept escalating — putting items like the Cheesy Gordita Crunch on the menu — and its sales escalated accordingly. Being ridiculous has paid Taco Bell very handsomely because they're in on the joke. Taco Bell is more than a company, more than hotel — it's a lifestyle. It's YOLO. It's FOMO. It's IDGAF. It's floating on a hot sauce packet, eating a chalupa, drinking a drink with a popsicle inside of it. It's Living Mas. And people really want to do that — or at least they think they do.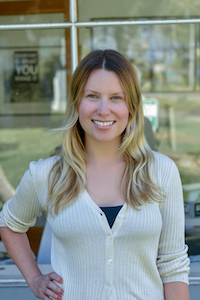 Kasia Pawlowska loves words. A native of Poland, Kasia moved to the States when she was seven. The San Francisco State University creative writing graduate went on to write for publications like the San Francisco Bay Guardian and KQED Arts among others prior to joining the Marin Magazine staff. Topics Kasia has covered include travel, trends, mushroom hunting, an award-winning series on social media addiction and loads of other random things. When she's not busy blogging or researching and writing articles, she's either at home writing postcards and reading or going to shows. Recently, Kasia has been trying to branch out and diversify, ie: use different emojis. Her quest for the perfect chip is never-ending.