HEADING UP A restaurant with as much history as Balboa Cafe is no small feat, but six months into his tenure at the PlumpJack-owned Mill Valley outpost, chef Howard Ko has managed a delicate balancing act of respecting past traditions while infusing the famed eatery with his own, along with interpretations of modern Californian cuisine. "The original Balboa Cafe in San Francisco has been around for over 100 years; changing that menu isn't simple. This location has only been around for eight — there's more freedom," says Ko, who is only changing the menu at the Mill Valley location. Ko grew up in Los Angeles' Koreatown and gravitated to cooking at an early age. After mastering the arts of pastry making and baking, he attended the Culinary Institute of America in New York City, where for kitchen experience he helped out on weekends at Daniel (Daniel Boulud's famed restaurant), doing everything from peeling potatoes to cleaning mushrooms. He left the East Coast to settle in Napa, working with Christopher Kostow at three-Michelin-starred Meadowood in St. Helena and at the French Laundry with Thomas Keller. A chef who is truly involved in the entire process, he can often be spotted in the hills of Sonoma foraging for wild onions or chickweed. Here he shares a recipe for Japanese hamachi with grapefruit, black sesame puree, pickled radish and avocado.
---
Japanese Hamachi
Serves 2
Ingredients
1 grapefruit
2 red radishes
2 cups water
1 cup rice wine vinegar
2 cups sugar
½ cup soy sauce
½ cup lime juice
1 cup toasted black sesame seeds
1 avocado
2 limes
1 tablespoon crème fraîche
2½ ounces Japanese hamachi (about 10 slices)
Lemon oil to coat
Smoked sea salt to taste
Several sprigs micro shiso
To Prepare
Cut grapefruit into ¼-inch uniform cubes, excluding seeds.
Cut radishes in wedges.
In a pot boil 1 cup of water, the rice wine vinegar and 1 cup of sugar.
Place radishes in a container and pour the mixture over.
Cover and place in fridge.
For sesame puree
In pot place the soy sauce, 1 cup of water, 1 cup of sugar, the lime juice, and the toasted black sesame seeds.
Simmer, covered, until reduced by half.
Place in a blender and blend for 2 minutes until smooth.
Adjust desired consistency with water and place mixture in a bowl.
For avocado puree
Cut avocado in half and take out pit.
Peel the skin off and place flesh in a blender with zest and juice of 2 limes.
Add the crème fraîche and blend until smooth.
Season with salt.
To serve
Swipe ½ teaspoon of black sesame puree on the side of each plate.
In the middle of the plate place 5 slices of hamachi seasoned with lemon oil and smoked sea salt.
Place a couple small dollops of avocado puree on the plate.
Arrange pickled radish and grapefruit.
Place a couple sprigs of micro shiso on the plate.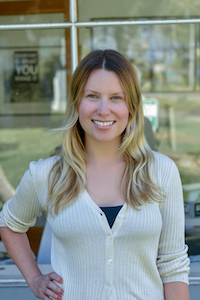 Kasia Pawlowska loves words. A native of Poland, Kasia moved to the States when she was seven. The San Francisco State University creative writing graduate went on to write for publications like the San Francisco Bay Guardian and KQED Arts among others prior to joining the Marin Magazine staff. Topics Kasia has covered include travel, trends, mushroom hunting, an award-winning series on social media addiction and loads of other random things. When she's not busy blogging or researching and writing articles, she's either at home writing postcards and reading or going to shows. Recently, Kasia has been trying to branch out and diversify, ie: use different emojis. Her quest for the perfect chip is never-ending.