ALFREDO AND TERA Ancona play key roles in two restaurants located down the street from each other in Sausalito. Alfredo, a graduate of Hyde Park's Culinary Institute of America, pulls double duty as the executive chef at his family's restaurant, Angelino on Bridgeway, and at Cibo cafe a few blocks north. Not to be outdone, Tera is also a CIA grad (the two met in school) and has been head pastry chef at Angelino for more than 15 years. The couple started with Angelino and, in 2009, furthered their creative culinary endeavors when they opened Cibo. Their shared passion for seasonal farm-to-table ingredients influences the Cibo menu, as does the desire to support the local and sustainably produced products of Marin and the surrounding counties. "Cibo sources most of its produce from farmers at the Marin farmers' market on Thursdays," Tera says. "You can find all the ingredients needed there to share this lovely spring salad with friends and family." Earthy roasted beets and sweet citrus complement one another when combined with the spicy bite of the radishes and gentle bitter flavor of the spring greens. At Cibo, the salad is paired with the cafe's signature smoked salmon panini.
Early Spring Cibo Salad
Serves 4
Ingredients
4 roasted red beets, peeled and sliced
Extra-virgin olive oil
¾ cup lemon juice
1 lemon, zested
2–3 garlic cloves, peeled
5 anchovy fillets
1 tablespoon capers
Salt and pepper, to taste
8 cups mixed spring greens, washed and dried
4 small blood oranges, peeled and sliced
6 watermelon radishes, washed and sliced
To Prepare
For Roasting Beets
Preheat oven to 375°F.
Arrange the beets in a roasting pan that is just large enough to accommodate them. Drizzle the beets with a small amount of olive oil and turn to coat. Cover the pan with foil.
Roast the beets in the oven until tender when pierced with a thin, sharp knife, about 1 hour. Cool.
Remove the skins, which should come off easily once cooled, and slice the beets into ½-inch-thick pieces.
TIP You may cook days ahead and keep refrigerated until use.
For Dressing
Using a blender or food processor, puree lemon juice, lemon zest, garlic, anchovy and capers.
Slowly add 1 cup extra-virgin olive oil until combined; then add salt and pepper to taste.
TIP This recipe may yield more dressing than you desire; store up to a week refrigerated in a clean sealed mason jar.
To Serve
Place the washed and dried spring greens in a bowl.
Add the beets, blood oranges and watermelon radishes to the greens.
Dress the greens and ingredients to your liking and lightly toss all the ingredients together until nicely coated.
Serve.
This article originally appeared in Marin Magazine's print edition under the headline: "Spring, Served".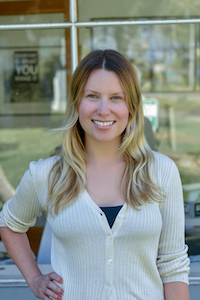 Kasia Pawlowska loves words. A native of Poland, Kasia moved to the States when she was seven. The San Francisco State University creative writing graduate went on to write for publications like the San Francisco Bay Guardian and KQED Arts among others prior to joining the Marin Magazine staff. Topics Kasia has covered include travel, trends, mushroom hunting, an award-winning series on social media addiction and loads of other random things. When she's not busy blogging or researching and writing articles, she's either at home writing postcards and reading or going to shows. Recently, Kasia has been trying to branch out and diversify, ie: use different emojis. Her quest for the perfect chip is never-ending.