Since February is American Heart Month, we decided to check in with local trainers of varying disciplines to get the scoop on their top workouts and meals for ultimate heart health.
Favorite heart-strengthening workout:
This is super adaptable for anyone. Choose any 5 moves and complete 1 minute at each station for 3 rounds including rest. Example: Burpees, Lunges, Sit-ups, Squats, Plank, Rest.
Favorite heart-healthy meal:
I do most of my cooking at home; however, when I want a heart-healthy treat I get the vegan Garden of Love Light pizza from Tony Tutto Pizza.
Class link/streaming info:
We have outdoor classes seven days a week, multiple times a day, which are also available as Zoom classes. tamcrossfit.com
Favorite heart-strengthening workout:
I'm a cyclist and own Pelo Fitness, so it's no surprise that my go-to healthy-heart workout is on a bike. But a 30 minute HIIT class or 4 hours on the road — love 'em both!
Favorite heart-healthy meal:
I eat fish several times a week, it's been my only meat for 25 years. The Kitchen Table always has an awesome fish of the day and I can walk there.
Class link/streaming info:
Pelo Fitness has classes outside and online seven days a week. pelofitness.com
Favorite heart-strengthening workout:
Well, I am biased towards intelligent and efficient movement, so I would have to say the Pilates Jumpboard/Reformer is the best for cardio and an optimized head-to-toe workout.
Favorite heart-healthy meal:
My days are jam-packed, so I go next door to Piazza D'Angelo for their Pan Seared Sole and Spinach for a late lunch or dinner to-go.
Class link/streaming info:
We are open and offer classes — privates, duets and trios — daily on our covered and heated decks under the redwoods in Downtown Mill Valley. fitwisepilates.com
Favorite heart-strengthening workout:
Hiking up Ring Mountain and Mount Burdell is great if you only have 30 minutes. This Power Yoga sequence will also get the blood flowing: Downdog, Plank, Mountain climbers, Chattaranga push ups, Forearm plank, Dolphin, Squats, and Chair with a twist.
Favorite heart-healthy meal:
Beet juice is great for heart health. I buy ingredients fresh from the Marin Farmers' Market on both Sundays and Thursdays. Use fresh raw beets, fresh blueberries and/or raspberries, kale or spinach, parsley and ginger.
Class link/streaming info:
I teach a virtual class on Sundays through Sukha Yoga, an in-person class on the tennis courts at Rolling Hills Club on Saturdays and am available for outdoor private sessions. kristenaddicks.com 
---
How to help:
Consider supporting one of these local nonprofits that urgently need support during the pandemic.
---
More from Marin: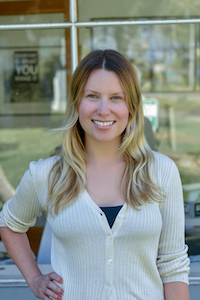 Kasia Pawlowska loves words. A native of Poland, Kasia moved to the States when she was seven. The San Francisco State University creative writing graduate went on to write for publications like the San Francisco Bay Guardian and KQED Arts among others prior to joining the Marin Magazine staff. Topics Kasia has covered include travel, trends, mushroom hunting, an award-winning series on social media addiction and loads of other random things. When she's not busy blogging or researching and writing articles, she's either at home writing postcards and reading or going to shows. Recently, Kasia has been trying to branch out and diversify, ie: use different emojis. Her quest for the perfect chip is never-ending.