Mary Crowley grew up in Chicago and started sailing on Lake Michigan when she was 4. Forty years ago, she founded two different companies in Sausalito: Ocean Voyages Incorporated, a global yacht chartering company, and Ocean Voyages Institute, a public charity aimed at preserving the maritime environment and maritime arts and sciences. Initially the nonprofit did lots of sailing education and training, but in the last 10 years its focus has shifted to plastics in the ocean. In 2009, Crowley co-sponsored and went on a voyage with scientists and concerned citizens to tackle the North Pacific Gyre, also known as the Great Pacific Garbage Patch. This year she made another expedition and collected 84,000 pounds of trash. She will be venturing out for two more cleanup trips in the coming months.
1) Was there a specific event that prompted you to start your cleaning efforts?
I was hearing from my friends on boats and seeing for myself the increase in plastics everywhere — it was disgusting. At the same time I was hearing cleanup is impossible, "there's too much that's too far away," and that's what really got me started. I love the ocean and want to have a healthy ocean for future generations. I know how to do things at sea and know that cleanup isn't impossible, it's doable, and it's an urgent time to do it now. Plastic is so deadly to reefs, and certainly to ocean life. 
2) Is there any idea of how big the gyre is or how much it's growing? 
People come up with figures by studying a different area, but I think it's really hard to do accurate predicting of what's going on. Some will go on a voyage across the gyre and say, "I didn't see that much." But at 8, 10, 15 knots you won't see much. Early on at a conference in Washington, D.C., legislators agreed that money shouldn't be spent on figuring out how much is there but spent on the cleanup instead.
3) What kind of technology are you using? 
A big part of the cleanup is an innovative device we've created. It's a GPS satellite tracker about the size of a bowling ball. We give them to vessels that go back and forth across the gyre area — be it people on family vacations, Greenpeace, or research vessels — and if they run across ghost nets (nets fishermen have lost or discarded, often nearly invisible in dim light) and derelict fishing gear they attach the device to the [object] and it lets us follow where the trash goes. Besides these we use satellite trackers and drones to find patterns in the area, as well as spotters up in the rig of the ship. 
4) Is there anything notable about the way trash groups in the gyre?
Trash in the ocean has different ways of accumulating — ocean currents tend to move a lot of similar things into the same area. I've been out in the gyre and seen thousands of the big white laundry detergent bottles spread out over five or six miles. It's probably taken years for this to happen. And then another area will have soft drink and beer cans. The same is somewhat true of the ghost nets. Where you'll find one, in the same five- or six-mile radius you're likely to find a lot of others.
5) What did you learn from your last expedition?
Based off the 25-day expedition we went on in June, we know what we're doing will work, and so we're going to go on a three-plus-month-long expedition in 2020, with three to four vessels instead of one, and we'll be able to bring in hundreds of tons. 
6) How did you physically remove the trash?
The vessel we went on is a sailing cargo ship, so it had lots of equipment on board that made it good for moving things on and off. It had a boom that could be used to pick up as much as four tons and also various pieces of tackle — straps that you could put under a net, and then could hook. There would be several pieces working together. The crew felt very excited and honored to be doing this kind of cleanup. 
7) How big was your crew on the expedition?
It was 13 total — 11 basic boat crew and two expert drone pilots.
8) When is the next voyage?
I have two coming up. A trip during October will be within the Hawaiian Islands; it's kind of an experiment. There is a tremendous amount of debris interisland in Hawaii. Some of the most populated beaches are on the Big Island and on Oahu. And the problem with whale entanglements is getting worse. So, we want to see how effective the cleanup can be among the islands and do it before the whales arrive, so we're helping that situation. And if the cleanup is effective then it's something we'll be doing once or twice a year. 
9) Is there a place where education efforts could be better used?
Education is important, but so is having options. When it comes to plastic recycling there's a lot of opportunities. In Central and South America they don't really have plastic recycling. Most of our plastic in California was being shipped to China, and now it's being shipped to Vietnam. There are three important parts of the puzzle — one, urgently, is removing the toxic plastic from the global ocean. Two is stopping the flow of plastics into the ocean. Three is having viable types of recycling and repurposing. There's a lot more going on in Europe.
10) Do you have any ideas about how plastic should be handled?
I've thought about how wonderful it would be to create some recycling areas in some of the Pacific Island groups, because there's so much [plastic] in the Pacific. For example, some of the nets we brought in would be so much more valuable if you can make the nylon nets into nice rugs and other materials. There's a lot of innovation, even making clothing out of plastic. And I'm studying that. Of course, it's not that nice having plastic next to you. But I'm open to learning about good things that are happening there. 
11) What did you do with the plastics you brought in?
About 4,000 pounds went to artists and could be made into sculptures, including one at the Marine Mammal Center. The rest was turned into steam [turn plastic into a gas and then burn] using hydrogen power, to provide energy for homes in Hawaii. None of it went to landfill, but we want to find even better uses. What I've learned is that the highest value is to repurpose the plastic so you're not creating more. Next is repurposing, whether you're creating insulation for houses, benches, etc. And the next is turning it into fuel or turning it into energy. There's a lot of innovation to be done. It's a shame because there are a lot of countries where good businesses could be established doing recycling.
12) Who do you think is leading the charge environmentally?
Young people are fantastic in terms of really understanding that we need to change our ways. Yes, people of all ages. The way young Greta [Thunberg] speaks out so strongly is totally amazing, and she's right. How a young person gets the nerve to speak out so directly is wonderful. I think her nerve is coming from her understanding of the problems we're going to face if we don't make changes. As much as I love the weather the way it is now, it is not normal. And here it's not so bad. But it breaks my heart to see the devastation caused by hurricanes and droughts.
13) What can people do to help?
The good news is that everybody can be part of the solution, everybody can be a part of changing the way we do things. I think it's great that Trader Joe's is going to use less plastic. In Europe they keep banning different types of throwaway plastics. Most of the things that save the planet, in terms of the ocean and plastics, are things that are healthier for us and make our lives nicer. Bringing your own to-go cup, bringing your own containers for takeout, using real cutlery for picnics. I'll eat with my fingers if confronted with a plastic fork — nothing wrong with that.
For those wishing to donate to ongoing cleanups:
Please feel free to mail a check to: Ocean Voyages Institute at 1709 Bridgeway Sausalito, CA 94965
Call the office with your credit card 415.332.4681
Or go on the website and click the donate button.
Volunteers are welcome to assist with a wide range of projects including: graphic arts, web design, fundraising, film productions and editing, PR and media, data/analysis, nautical expertise, people sailing across the Gyre, etc.
Contact [email protected] with questions or if you are looking to volunteer your skills.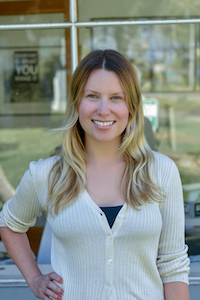 Kasia Pawlowska loves words. A native of Poland, Kasia moved to the States when she was seven. The San Francisco State University creative writing graduate went on to write for publications like the San Francisco Bay Guardian and KQED Arts among others prior to joining the Marin Magazine staff. Topics Kasia has covered include travel, trends, mushroom hunting, an award-winning series on social media addiction and loads of other random things. When she's not busy blogging or researching and writing articles, she's either at home writing postcards and reading or going to shows. Recently, Kasia has been trying to branch out and diversify, ie: use different emojis. Her quest for the perfect chip is never-ending.