Dan Noyes, the 15-time Emmy Award–winning chief investigative reporter for ABC 7 News KGO-TV San Francisco, is not afraid to get his hands dirty. Throughout his career Noyes has served as an anchor, a correspondent and a producer, traveling throughout the United States, Europe, Asia, Africa and Central America. Highlights of his travels include tracking a suspected Nazi war criminal to Germany, investigating the slaughter of near-extinct black rhinos in Zimbabwe, and exposing a Bay Area priest for molesting dozens of children. In addition to uncovering social injustice, Noyes spends time close to home with his wife, Judy, collaborating on projects such as a new real estate video business and the documentary Running for Jim, which benefits ALS research.
Q Where were you born?
A Takoma Park, Maryland.
Q Why Marin?
A When I moved here from New York City with my wife 17 years ago, I knew we had to live near the water. Marin offers that and so much more.
Q Why Tiburon?
A Walking my greyhounds along the water at sunset, kayaking with my boys, biking along Paradise Drive — great scenery, great people.
Q What are you working on these days?
A I'm always looking for the next big investigation. Right now I'm researching a questionable medical technique, a Bay Area Bernie Madoff, and government waste.
Q Have you ever shed a tear when you were reporting on something horrible — or come close?
A Probably six or seven times. You always try to remain somewhat detached to be able to report in an objective way, but I'm only human. People let me into their lives at very difficult times, sometimes when they're dealing with life-or-death issues.
Q How often do you think people are lying to you during an interview?
A Most people are truthful, but it's always entertaining when someone thinks they can lie on camera. Before I ask a question, I most often already know the answer. Their lie becomes part of the story.
Q What is the scariest location you've broadcast from?
A The war in El Salvador during the '80s for CNN — but I think I was too young then to really comprehend the danger. But the closest call came in San Francisco about 10 years ago in broad daylight driving in a news van, when someone shot out our windshield with a rifle.
Q What do you do in your free time?
A I'm a lifelong surfer. Ocean Beach and Fort Cronkhite are my regular spots, Bolinas sometimes.
Q Do you have kids?
A One boy just graduated from middle school; 6 feet 1 inches, loves basketball. The other is going into fifth grade; he's my tennis buddy.
Q What did summer mean to you as a kid?
A It meant fun with family on the Eastern Shore of Maryland, suntans, steamed crabs and Old Bay Seasoning. I held all the typical jobs on the boardwalk: beach boy renting umbrellas, the counter person at a pizza parlor, even maker of hand-tooled leather goods. I spent every spare moment in the ocean.
Q Favorite pair of shoes?
A Hiking boots.
Q What's your favorite drink, and where do you like to drink it?
A Morning coffee on the porch overlooking the bay.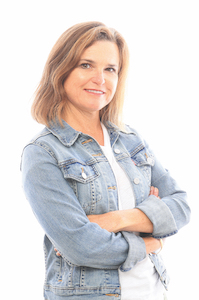 Mimi Towle has been the editor of Marin Magazine for over a decade. She lived with her family in Sycamore Park and Strawberry and thoroughly enjoyed raising two daughters in the mayhem of Marin's youth sports; soccer, swim, volleyball, ballet, hip hop, gymnastics and many many hours spent at Miwok Stables. Her community involvements include volunteering at her daughter's schools, coaching soccer and volleyball (glorified snack mom), being on the board of both Richardson Bay Audubon Center. Currently residing on a floating home in Sausalito, she enjoys all water activity, including learning how to steer a 6-person canoe for the Tamalpais Outrigger Canoe Club. Born and raised in Hawaii, her fondness for the islands has on occasion made its way into the pages of the magazine.