While fashion was important to Sylvia Kwan in her stint on CBS's Survivor, the producers ended up doing the final vetting. "Ninety percent of what I brought was rejected," she said. "I was left with: one pair of underwear, a pair of socks and one pair of shoes, a pair of shorts and a pair of long pants, a T-shirt and a long-sleeve shirt plus bathing suit and a hat." Apparently, they wanted the contestants to look authentically stranded. Left to her own devices, Kwan looks anything but "washed up on a deserted isle." She shares her fashion do's and don'ts.
Describe your personal style. I try to find things that are compatible with my architectural influences—the style of I. M. Pei and Richard Meier—sleek, modern and no fuss.
What are you wearing? I just had my hair colored and cut by Nina Husen of NH2 Salon in Novato. They're "Manhattan in Marin" as far as I'm concerned! My Henley top is by Free People; my poncho is a free trade item made of alpaca from Peru. I bought it from Baksheesh, a wonderful store that helps third world countries develop their micro-enterprises by paying fairly. The pants are from Banana Republic.
Who are your fashion influences? Anything Giorgio Armani—no, really, anything. I also love my personal shopper, Lea Perez at Macy's.
Where do you love to shop in Marin? My favorite places to shop in Marin are the small locally owned boutique shops. Think Catherine Jane and Margaret O'Leary in Mill Valley. San Anselmo also has a great downtown.
What is your best cheapo secret? Hunting for the best deal is one of my favorite pastimes. Sax Consignment Store in San Anselmo is where I frequently hunt for stylish bargains; Loehmann's in San Francisco and Filene's Basement on the East Coast are other favorites.
What's your fashion pet peeve? Anyone can look fashionable on any budget. You just have to find what works for you and your personal style. I don't like lazy fashion — where someone looks like they just got out of bed and forgot to change.
What is your view of Marin style? Marin style is casual and relaxed, but with an eye toward quality brands. Think Kobe beef hamburgers with a Stags' Leap Cabernet.
Where do you love to eat in Marin? I love to eat! Le Garage in Sausalito, a casual French bistro next to the water; Bungalow 44 in Mill Valley, an inviting place that makes you feel good just being there; Picco in Larkspur, which I would describe as Italian tapas — again, the design and atmosphere are as delectable as the food.
How do you spend your weekends? Outside! If you love the outdoors, living in Marin is paradise.
Where do you go to pamper yourself? Tea Garden Springs in Mill Valley is a really special place for me. I also like the Sanctuary Spa at the Bay Club, which is also my gym.
How would your friends describe you? Gregarious. Fun-loving. Full of energy— sometimes maybe a little too much energy if you ask the people around me! One of my oldest friends calls me the "Asian Oprah"!
What was the last book you read and why? Loving Frank by Nancy Horan. It's a novel based on the real-life love affair of architect Frank Lloyd Wright and Mamah Borthwick, one of his clients. This book knocked my socks off!
If your life were a movie, what would be your theme song? "Still Crazy After All These Years" by Paul Simon. Doesn't that sound like me?
What is your favorite reality show? Survivor, of course.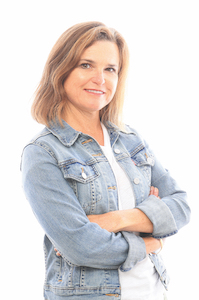 Mimi Towle has been the editor of Marin Magazine for over a decade. She lived with her family in Sycamore Park and Strawberry and thoroughly enjoyed raising two daughters in the mayhem of Marin's youth sports; soccer, swim, volleyball, ballet, hip hop, gymnastics and many many hours spent at Miwok Stables. Her community involvements include volunteering at her daughter's schools, coaching soccer and volleyball (glorified snack mom), being on the board of both Richardson Bay Audubon Center. Currently residing on a floating home in Sausalito, she enjoys all water activity, including learning how to steer a 6-person canoe for the Tamalpais Outrigger Canoe Club. Born and raised in Hawaii, her fondness for the islands has on occasion made its way into the pages of the magazine.