Instead of listing the million reasons you need to spoil your mom (or mother figure) this year, we'll keep this short and sweet: this Mother's Day gift guide is packed with items guaranteed to put a smile on her face. From gadgets and jewelry to stylish sneakers and clothes, there's something on this list that's sure to make her day.
Daybed Scented Candle, $36
Ditch the flowers and gift her this candle by Otherland, which is the cream of the crop. With scents that wrap you up like a warm hug and stunning packaging, it's at the top of our list.
The Duo, $74
If your mom loves to cook and browse Instagram, there is a good chance she has longed for these curated olive oils. Surprise her with this gift set featuring two of their most popular blends.
The Revival Box, $149
Partner content
Celebrate the special women in your life with the gift of self-care.
Locally made in Marin County and carefully selected, these products are an invitation to unwind and revitalize mind, body, and soul.
Free shipping nationwide.
Oui Tee, $99
She may have heard "no!" from you during the bulk of your youth, so why not turn the tables with this stylish shirt from Clare V.? It's bright, cheerful and bold.
Hard Kombucha Sampler Pack, $59.96
The perfect combo of good-for-you probiotics, real fruit and low sugar, JuneShine's hard kombucha is sustainably made with organic ingredients. Their flavors, especially the new Chili Mango, are bold and refreshing, making it the perfect gift for the mom that likes to kick back with something that is healthyish. Find select flavors locally at Whole Foods or Heinen's, or order from JuneShine's full flavor profile online.
Dot Print Leather AirPods Pro Case, $325
Quarterly Goal Planner, $28
Story Planter, $336-421
Does mom have a green thumb? Treat her to this modern planter, and she will have the perfect excuse to visit her favorite local plant store.
Handmade Bracelets, $17-39
View this post on Instagram
During the pandemic, Marin's Duke family got busy and launched a bracelet company called The Kissing Portal. As CEO, Annalyn (the mom) describes, "The bracelets provide a touchpoint through a 'portal' to keep you connected with loved ones. The idea came from my six-year-old son, Will, when he was at school, and wanted to stay connected." The Kissing Portal bracelets are handmade here in Marin with the highest-quality materials and tested through hours and hours and hours of biking, surfing, hiking, skiing, playing, hugging… and kissing!
The Sweatshort in Tie-Dyed Loopback Cotton Jersey, $165
It might be time to trade in the sweatpants… and The Great's uber-soft and stylish sweatshorts are perfect for Zoom, the garden or a lazy Sunday catching up. Grab her the matching top for bonus points.
Puzzle, $29.99
Are we sick of puzzles yet? Nah. With fun and unique designs, Lemonade Pursuits puzzles are a fresh take on the whole family's favorite quarantine activity. She will love a chance to bring everyone (safely) together.
1 Lb Weight, $49
They may look like a futuristic fashion accessory, but these Bala Bangles are actually low impact wrist and ankle weights. They are perfect to add to that daily stroll or yoga video.
Mom Yellow Gold Necklace, $550
Could this one be any sweeter? Perfect for a new or expecting mom, this necklace by Jennifer Meyer is a keepsake worth treasuring.
Always Pan Set, $145
Here is another Insta-famous gift that is sure to be a hit, and also improve the dinner game in the process. The Always Pan Set by Our Place has hundreds of 5-star reviews, and for a good reason. With several uses, it is nonstick, innovative and cute addition to the kitchen.
Glow Lotion, $58
An ageless gift, Goop's new Glow Lotion is a luxurious treat for the skin, allowing mom's inner glow to really shine.
Women's Arizona Big Buckle Sandal, $150
Refresh your mom's Birkenstock game with these bright white Arizona sandals. It's a classic, but the big buckle and bright white make this shoe really stand out.
HD Mini Projector M175, $299.95
Neck Wrap, $44
If you can't give mom a big hug this year, send her a warming neck wrap. It is comfort that will always be appreciated, and she will think of you every time she warms it up to relax.
Supersonic™ Hair Dryer Limited Edition Gift Set, $399
Air Force 1 Crater Faux Leather and Mesh Sneakers, $110
Up her sneaker game with these upcycled sneakers from Nike. They have cushion, bounce and major style.
Premium Cocktails On Demand, $437.99
If you really want to wow her over this year, present her with the gift that keeps on giving: the Bartesian. The Nespresso of cocktails, this sleek device will mix her favorite cocktails with the press of a button.
Gua Sha Ritual, $72
A wonderful self-care ritual, Gua Sha is a traditional Chinese healing method that improves circulation and promotes lymphatic drainage. Trust us, she'll love it and this kit has everything needed to get started.
Percy Sunglasses, $95
A classic shape that will suit any face, these Warby Parker sunglasses are the perfect gift to kick off Chicago's patio season.
Guajiro Hat Sikii, $154
Mom knows best, and that includes protecting your face from the sun. This stylish hat by Mama Tierra is the perfect gift to show her that you took her advice to heart, and want to up her SPF game too.
Ode Brew Ginder, $299
Does mom love her cup of joe? Take home brewing to the next level with this sleek and stylish Ode Brew Grinder by Fellow. It's a morning ritual that will make the first cup that much sweeter.
Sleep Therapy, $45
A beautiful gift of relaxation, the Chill/Night: Sleep Therapy combines French lavender, grapefruit and vetiver to provide comfort. It also includes an energy-charged quartz crystal to maximize its effect.
Face Masks, $30
She may be vaccinated (yay!), but that doesn't mean she should ditch the mask. Show her you care about her health and safety with Boden's bright and functional masks.
Lip Sleeping Mask, $22
A guilt-free treat, Laneige's Lip Sleeping Mask in Gummy Bear not only gives you pillow-soft lips but helps condition winter-dry skin. It's the perfect self-care gift mom will appreciate.
12oz Temperature Control Travel Mug, $179.95
This one will really wow her — Ember's mug can keep her coffee or tea at a consistent temperature, right from her phone. It's a fun gift she might never buy herself but will always appreciate.
If you buy something through our links, Make It Better Media Group may earn an affiliate commission.
---
How to Help
For more ways to support local businesses, go here.
---
For more on Marin:
---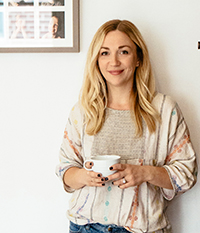 Macaire Douglas lives in the Chicago suburbs with her husband and two sons. She proudly supports Save Abandoned Babies Foundation, a Chicago-based nonprofit organization that works tirelessly to prevent the illegal abandonment of newborns nationwide. Since its inception in 2000, more than 3,600 newborns have been safely surrendered and adopted into loving homes.