Santa Clara
Candy-colored vintage cars, crisp rum, bold Spanish colonial architecture, a commercially viable Marxist icon, and of course, cigars — all hallmarks of a seemingly far-flung locale that rests several hundred miles off the coast of the United States. In the wake of the Cuban missile crisis and the 1963 travel restrictions imposed by President John F. Kennedy that followed, the Cuban nation has been often romanticized yet remained shrouded in mystery for most Americans until very recently. Cuba is a land of paradox. It's a developing country with a near-perfect literacy rate that's brimming with underpaid doctors who moonlight as cab drivers. Here, greasing palms for better treatment is merely handling things Cuban style, a lo Cubano, yet security cameras on streets are plentiful, and as of late August 2018, the U.S. State Department softened the travel advisory for Cuba, moving it from level 3 to 2, placing it with countries like France, Denmark, and the U.K., among others.
Trinidad
There was an influx of American tourism after President Barack Obama loosened business and travel restrictions in 2015, though visitor levels have significantly dropped off after President Donald Trump reversed them. But it is still possible to visit the country. Prospective travelers can register for a special license with the U.S. government if the reason for the trip fits a certain category — these include family visits, professional reasons, journalism, religious or cultural programs, and humanitarian projects. The broadest category that can currently be used to travel independently to Cuba is "support for the Cuban people." Visitors will need to abide by the regulations and participate in activities that are in the spirit of the category, such as dining in paladares (private restaurants) and staying in casas particulares, which are private family residences similar to bed-and-breakfasts. And about the rum and cigars? United States residents can still legally bring back as many as 100 Cuban cigars and one liter of Cuban rum.
"I'd always wanted to go to Cuba — it was a full-on bucket list destination for me," says Mill Valley–based photographer Jack Wolford. When an opportunity to join a group of travel photographers who were going to explore and document the country presented itself, it seemed like the chance of a lifetime. Wolford visited numerous locales, from bustling cities to bucolic countrysides, and even spent time with Alex Castro, Fidel's son. "Just being in his presence was pretty interesting. You get the sense of being with someone that 's been witness to some real history," Wolford says. "Alex is a photographer as well and has a couple of books published, one being a behind-the-scenes perspective of all the world leaders his dad met and spent time with. It was an amazing insight into global politics." Here Wolford shares some images from the trip.
Town Square, Mantanzas
One morning, eager to capture the rich colors and architecture of Old Havana, Wolford took to the streets but ended up spending the majority of his time talking to locals.
Second to Havana, Wolford's must-see tourist destination is the city of Trinidad. The group ventured to the outskirts of the city, where he met the owner of a house with the mural. The woman had permitted the artist to paint it there; "she was so proud that it was on her house."
Havana
While the old-fashioned cars are a huge part of the charm, outside of Havana, much of the transportation is horse-drawn.
"The rationing of food, the forms of transportation and the government-subsidized housing, for instance, feels like they set it apart from most places I've been to. Certain days of the week grocery stores were stocked and ration cards were given out. There would be long lines of people down the block waiting to get their fair share of supplies and food."
Tobacco Barn, outside city of Santa Clara
Looking to document the agriculture of the area, Wolford visited the countryside. Here he stumbled across a farm where rows of drying tobacco leaves covered every surface, from the floor to the tall ceilings of the barn. He was immediately welcomed by a friendly farmer who beckoned him to come in and "talk story," as they say in Hawaii, where Wolford's family hails from. Although living in Cuba may not be the typical "island life," there's no shortage of the aloha spirit here Wolford found.
Tobacco Farmer, outside city of Santa Clara
"I would say the most notable experience I had was the amazing openness and warmth everyone had. From the middle of the island to Old Havana to Santa Clara and Trinidad, every last person we came across was full of aloha."
Outside of Havana, the group stayed in casas particulares, private family residences that are very similar to traditional bed-and-breakfasts.
Mantanzas
"We sat down and had breakfast with the families, had dinner with them and were treated essentially as extended family members; it was absolutely amazing. Even after just two nights with some, it was really hard to say goodbye. I brought down clothes my daughter grew out of and one of the families had a little girl about two years younger than mine — it worked out perfectly. She was so stoked to have new clothes and the next morning she came out for breakfast before school wearing all her new clothes; it was so awesome
Sugarcane Farmer
Wolford speaks fondly of the people of Cuba and their genuine curiosity and kindness to tourists. "It has a special pride in its food, music and especially its self-reliance. Like a Cuban friend told me on the trip, 'Cubans have so little and do so much with it and Americans have so much and do so little with it.' " No matter how much or how little they may have, Wolford reported that everyone he encountered was well-dressed, well-groomed and well-mannered — from the cobblestone streets of Trinidad to the crystal-clear turquoise waters of Cienfuegos, a small fishing village on the southern coast of the island, everyone shared that resilience.
Cienfuegos
"I've traveled most all my life and never fell in love with a country like I did with Cuba. I've lived in Honduras, spent almost 10 years in the Philippines, traveled all throughout Southeast Asia, and I have my family ties to Hawaii — but Cuba did a number on me. Sitting drinking a mojito, overlooking the Malecón in the Hotel Nacional at sunset listening to live Cuban music after a day of driving around in a '50s Chevy is something everyone has to experience."
Waiting for the bus in Mantanzas
This article originally appeared in Marin Magazine's print edition with the headline "Cuba, No Filter".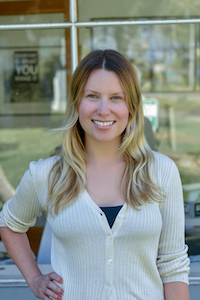 Kasia Pawlowska loves words. A native of Poland, Kasia moved to the States when she was seven. The San Francisco State University creative writing graduate went on to write for publications like the San Francisco Bay Guardian and KQED Arts among others prior to joining the Marin Magazine staff. Topics Kasia has covered include travel, trends, mushroom hunting, an award-winning series on social media addiction and loads of other random things. When she's not busy blogging or researching and writing articles, she's either at home writing postcards and reading or going to shows. Recently, Kasia has been trying to branch out and diversify, ie: use different emojis. Her quest for the perfect chip is never-ending.