Let's face it: in an average week of vacation, you only have 21 opportunities for epicurean bliss. And since breakfast and lunch might be skipped a few times, that really means about 10 chances, max, to find that meal of a lifetime. Ten or 15 years ago, when mainlanders returned from Hawai'i with their photos and water-cooler stories, food was rarely what they raved about. A perfect mai tai savored at sunset, perhaps; stellar entrées by celebrity chefs, not likely.
These days, though, reservations at the latest "it" spot can be a key part of the itinerary. With star chefs like Bev Gannon, Peter Merriman and Alan Wong proudly turning out their own distinct brands of island cuisine and other exciting cooks and eateries fast entering the spotlight, you may need help narrowing down the choices.
Without question, one of the first players in this transformation was Roy Yamaguchi, who introduced his signature Pacific Rim "Hawaiian fusion" cooking in the restaurant Roy's (now with six locations in the islands and 25 others worldwide). In the early 1990s, he and 11 other chefs decided to emphasize the islands' local bounty and various ethnic cooking styles by coining the term Hawai'i Regional Cuisine (HRC). "We really had two goals," says Alan Wong, who has two namesake restaurants in Hawai'i and one in Japan. "The first was to put Hawai'i on the culinary map; the second was to create an agricultural network—to share our resources."
Up to that point, most of Hawai'i's produce and meats were shipped in from the mainland; the chefs' new network brought island farmers and ranchers more customers, hence more incentive to produce larger crops. "It took a little while for the system to work," Wong recounts. "At first the market was flooded with lettuce and tomatoes. Eventually the farmers started asking chefs what they wanted."
A quick look in restaurant freezers and pantries provided the answers: farmers started growing leeks, artichokes, asparagus and corn. The new crop choices benefited not only restaurants but residents, and weekend farmers' markets began drawing shoppers by the thousands.
"Above all, for me it's important for our customers to 'taste' Hawai'i," says Wong. "And the fact that we are able to grow and harvest our crops and create our recipes using local ingredients is an important part of the experience."
Award-winning Napa chef Peter Pahk grew up on Oahu and started out on the prep lines in Waikiki institutions like Michel's at the Colony Surf, Rex's and Nick's Fish Market. A member of the sustainably minded nonprofit Chefs Collaborative, he often travels to the islands and even more often is asked where to eat on Oahu by friends and colleagues alike.
"I've got my short list," he says. "If they land in the morning (they should) head straight to Leonard's on Kapahulu and buy a dozen or so malasadas (traditional Portuguese doughnuts); for lunch or dinner, the Kapahulu Poi Shop will give you a great introduction to true Hawaiian food, like kalua pig, lau lau, lomi lomi salmon, beef stew, poi or rice. On the north shore, you gotta get shave ice at Matsamato and lunch at Giovanni's Shrimp Wagon." Pahk's longer list of greatest-restaurant hits keeps growing, starting with Ed Kenney's Town and Downtown restaurants, Alan Wong's and 3660 on the Rise. "It's great to see the abundance of fresh, locally grown options available now, compared to when I was a new chef in the islands," he says. "Today the challenge is coming up with a consistent source of meats—because of how isolated the islands are, it's hard to get a really good breed of cattle, pig or chicken on a consistent basis."
Sustainable meat production has long been a cherished cause for chef Peter Merriman, who was even able to introduce wild boar on menus thanks to a serendipitous turn of events. (He's also long dreamed of opening a restaurant in Sausalito). When his executive chef's father-in-law, foreman of a macadamia nut farm, noticed that grazing wild boars were rooting up his irrigation lines, the farm began to trap the wild pigs and bring them to the local slaughterhouse to be inspected by the USDA. At the time Hawai'i restaurants weren't allowed to serve wild boar, since most were caught and killed by local hunters and not properly inspected.
"Most chefs will opt to order a clean rack of chops, as working with whole animals is difficult," says Hess. (But) "we have been proud locavores since 1988; our knowledge of how to use the entire animal reflects that…We utilize the entire animal and waste nothing." That includes making homemade sausage and bacon cured with local lehua-flower honey, using the hooves for gelatin and the head for headcheese, and crafting a country pâté with meat scraps. One of the restaurant's most popular dishes is a grilled French toast appetizer with wild boar bacon in a coffee barbecue sauce; the caramelized Portuguese sweet bread and salty bacon make for a tasty blend.
Alongside these master chefs, a new crop of up-and-comers are launching eateries of their own. We've asked foodies from each island (see right column) to share their top picks to help you get the most from your Hawaiian vacation. Remember to make some reservations, and most important, remember that the sun sets between 6:30 and 7:30 p.m.
Inside Scoops
Local food mavens on where and what to eat
Island by island, we asked the "experts," to reveal their top picks.
Oahu
Melanie Kosaka is owner of First Daughter Mediaworks, creator of James Beard Award–winning TV series The Kitchen Sessions with Charlie Trotter, Hawai'i Cooks with Roy Yamaguchi and New American Cuisine as well as the websites shareyourtable.com and GetHealthyNowHawaii.com.
Where do you take visitors for an authentic Hawaiian meal? Helena's Hawaiian Food. It's the place to go for authentic Hawaiian; chefs Alan Wong, Roy Yamaguchi—(they) all eat at Helena's. Many of Hawai'i's top chefs come here for Helena's famous squid luau dish.
Your "yeah it's pricey but you gotta try it once" spot? Azure at the Royal Hawaiian. Talk about living in your own private Idaho. Dining oceanside in your private cabana eating uberfresh seafood prepared by Azure chef Jon Matsubara with the ocean literally a few barefoot steps away is amazing.
Your favorite table to watch the sunset? The original Roy's in Hawai'i Kai. Ask for one of the booths in the downstairs bar; you can order the full menu as you look out over Maunalua Bay and watch the sunset. Dinner at ground zero of the Hawai'i Regional Cuisine movement—what could be better?
Favorite barstool? Mai tai and Hawai'i vacation are synonymous. The outdoor Mai Tai Bar at the Royal Hawaiian is where the (drink) was first introduced in the islands; they still serve the original recipe, made with fresh squeezed pineapple and orange juices. Modern interpretations are also available, along with innovative cocktails like the chi—coconut, crushed fresh basil and pineapple, pineapple juice and organic vodka from Maui.
Most romantic table? La Mer restaurant at the Halekulani Hotel. Ask for the corner table with the double windows overlooking Diamond Head and Waikiki Beach. (It's) one of the few places in Hawai'i to require jackets for male guests; waiters are in white jackets—you get the picture.
Best family spot? It may be in an office complex between Waikiki and downtown Honolulu, but Hiroshi Eurasion Tapas offers incredible, highly refined East-West cuisine at family-friendly prices.
Your go-to to-go? A great grab-and-go lunch can be found at Diamond Head Market and Grill. Like having your grandmother pack your lunch. (The place stocks) lots of local favorites: musubi (rice balls with teriyaki meat or salmon), sushi rolls, salads and sandwiches fill the deli case.
The best brunch? Not really a brunch place in the classic sense, but Boots & Kimo's Homestyle Kitchen in Kailua is well worth the scenic drive over the Pali Highway. Their macadamia nut and coconut pancakes are legendary. Japanese tourists arrive by the busload for these pancakes. They are delicious and worth the wait.
Most inventive cocktail? Chi (see Royal Hawaiian Mai Tai Bar, above) is hands down my favorite cocktail.
Where to find hot malasadas? Classic choice is Leonard's Bakery on Kapahulu Avenue, close to Waikiki. This is my recommendation as I prefer a light and fluffy doughnut. Others prefer Champion Malasadas (in Honolulu) or Agnes Portuguese Bake Shop in Kailua. Their versions tend to be heavier, but both have a nice rich egg flavor.
Favorite shave ice? Shimazu Store, on North School Street in Honolulu. A master sommelier recommended this place because he liked the homemade syrups. Enough said.
Value-priced outdoor lunch spot? The Pavilion Cafe at the Honolulu Academy of Arts. Order the piadina sandwich. Gorgeous setting, relaxed atmosphere and world-class Asian art collection.
Maui
Carla Tracy writes about food and restaurants for the Maui News. "I must be having too much fun living on Maui to blog," she adds. "So you can only find me at my day job—mauinews.com; search for 'Carla Tracy' or the dining section. Also," she adds, "my opinion changes depending on who I'm dining with, the occasion, and my whim. These are not my set-in-stone favorites as I do not and cannot endorse any one restaurant."
Where do you take visitors for an authentic Hawaiian meal? Old Lahaina Luau sets the perfect stage, transporting you into the heart of Hawai'i with its oceanfront setting, thatched-roof village, lively Polynesian show and authentic buffet foods.
The "yeah it's pricey but you gotta try it once" spot? I don't think I've ever seen a "must-do on Maui" restaurant list with Mama's Fish House excluded. It's always there, right at the top. You have to try it at least once— no ifs, ands or buts. But I also adore Capische at Hotel Wailea and Gerard's at the Plantation Inn and Lahaina Grill both in Lahaina.
Your favorite table to watch the sunset? Who can resist the "two-tops" at Spago in the Four Seasons Resort Maui in Wailea? Couples sit on the same side of the table facing the views. It's romantic, and the seating arrangement makes it easy to hold hands and/or play footsie.
Favorite barstool? Duke's Beach House in Ka'anapali, when (musician) Henry Kapono is playing. And the Point at Merriman's in Kapalua has a bar that's situated at the tip of a black-lava finger of a peninsula that juts into the ocean.
Most romantic? The baked oysters appetizer at the Waterfront in Ma'alaea. I love the cushy banquettes (the second one from the window is my favorite) and the tuxedo-shirt clad service. It really makes you feel as if you are "out on a date."
Best family spot? The new Sharkey's in Kihei is pretty cool for keiki, with a mock-up of a ship for them to climb and all manner of games and food for the knee-high set.
Your go-to to-go? I live in central Maui with my husband, Mark Tracy (originally from Novato). I am a repeat customer at Ichiban Okazuya on Kaohu Street in Wailuku, and Mark enjoys vegetarian fare at Down to Earth in Kahului.
The best brunch? Wake up to one of Maui's best breakfast buffets at Fairmont Kea Lani Maui in Wailea. Or head to Ka'anapali Beach Hotel for an elaborate local spread with everything from kiawe-roasted lamb to house-made poi.
Most inventive cocktail? Everybody seems to be "muddling" these days. But Mala Ocean Tavern in Lahaina makes one of the meanest mojitos.
Where to find hot malasadas? Home Maid Bakery on Lower Main Street in Wailuku deep-fries them by the dozen if you call ahead.
Most hyped spot that is worth going to? Lahaina Grill really does live up to its outstanding and award-winning reputation.
Favorite sushi? Contemporary and cutting-edge sushi rocks at Sansei locations and Wow-Wee Maui's Kava Bar & Grill in Kahului.
Favorite shave ice? Tom's Mini Mart in Paukukalo hand-shaves it fine, with a scoop of vanilla ice cream on the bottom and fun flavors such as green tea and piña colada.
Value-priced outdoor lunch spot? Aloha Mixed Plate in Lahaina dishes up local-style lunches that are monstrous in size and easy on the pocketbook. Plus you can get an ocean view.
Value-priced outdoor dinner spot? The new 808 Bistro in Kihei boasts owners who used to work at the Four Seasons and Ruth's Chris and the courtyard is delightful. You get fine dining fare for a fraction of the cost.
The Big Island (Hawai'i)
Audrey Wilson is author of What the Big Island Likes to Eat ( Mutual Publishing, 2008). Her new book, Aunty Audrey's Big Island Eats, comes out this October. Wilson also owns the vacation rental AJ's Volcano Cottage and runs a catering company with her sons.
Authentic Hawaiian meal? The Big Island has some great luaus. Kona Village (Fridays), Mauna Kea Beach Hotel (Tuesdays), Fairmont Orchid (Tuesdays and Saturdays), Sheraton Keauhou Bay (Mondays), King Kamehameha's Kona Beach Hotel (Sunday, Tuesday, Wednesday, Thursday, Friday)…this should cover every day.
Pricey, but gotta go? Pahu'i at the Four Seasons Hualalai. The setting is superb; the walls open onto the expansive ocean views. Executive chef James Babian has created a farm-to-table menu showcasing the best of the Big Island.
Favorite table to watch the sunset? Reserve a table at the Canoe House at Mauna Lani Bay Resort, a longtime tourist and local favorite spot to (savor the) day's end. Or pick up a glass of wine at the Pavilion Wine Bar at the Mauna Kea and grab one of the roomy sculpted lounge chairs along the path to the water.
Favorite barstool? Choose any at Huggo's expansive open-air bar in Kailua Kona. Huggo's has been the go-to hangout since 1969. Oh, and then who can beat the round bar at Mauna Kea's Hau Tree?
Most romantic table? It takes some planning—as in 48 hours advance reservations—but is so worth it: reserve your own oceanfront gazebo at the Fairmont Orchid and enjoy chef Thepthikone Keosavang's three- or five-course dinner.
Best family spot? There is always a party at Roy's Waikoloa Bar & Grill; it is family-friendly and usually loud enough to absorb any rowdy keiki squeals.
Go-to to-go? For great seafood sandwiches, check out Honokahau Boat Harbor Restaurant in Kona.
Best brunch? Daniel Thiebaut in Kamuela. Or the Sunday brunch at the Kona Village or Mauna Kea Beach Resort.
Inventive cocktail? OK, we are back to the Four Seasons for a lychee martini at the Beach Tree bar. To enhance the experience, opt for an overstuffed sofa facing the ocean.
Hot malasada? Tex Drive-In in Honokaa.
Kaua'i
Anyone who knows visitor information maven Edie Hafdahl knows that when it comes to local dining, she knows her stuff.
Where do you take visitors for an authentic Hawaiian meal? Smith's Lu'au, located on Kaua'i's east side. Also, Lu'au Kalamaku, located at Kilohana Plantation (a state-of-the-art luau pavilion where the meal and show are in a beautiful garden setting.) Then there's Hanalei Juice and Taro, run by the Haraguchi family for three generations. Poi is made fresh daily from the family taro farm across the street. Try the pork lau lau plate; it comes with lomi lomi salmon, poi (or rice), taro mac salad and taro mochi.
Your favorite table to watch the sunset? Summer: Kaua'i Grill at the St. Regis (Princeville). The view without the sunset is amazing, with Bali Hai in the background; add the sunset and wow! In winter: the Beach House (Poipu). When the sun starts to set, it's like a mass exodus from the restaurant as everyone leaves their table to watch the sun go down.
Favorite barstool? Wintertime: the Point, at the Sheraton Kaua'i Resort. Summertime: the lobby bar at the St. Regis. I hope I don't appear to be favoring the St. Regis. It's just that where they are located at Princeville is the perfect setting.
Most romantic table? The ambience at Tidepools at the Grand Hyatt Kaua'i Resort and Spa just speaks romance! Ask for the table at the end of one of the walkways, situated all by itself, not another table around within 20 yards—great spot to pop the question.
Best family spot? The Bullshed Restaurant, located on the east side. Great food, great view, great prices, right on the water.
Your go-to to-go? Plate lunches are the local favorite. Mark's Place, in the industrial area in Puhi, is my place to go. A diverse menu that offers healthy foods as well.
The best brunch? Ilima Terrace at the Grand Hyatt Kaua'i or the Naupaka Terrance at Kaua'i Beach Resort.
Most inventive cocktail? The Killer Bee Caipirinha at the Beach House includes fresh Kaua'i honeycomb right in the glass and is mixed with Leblon Cachaça (rum).
Also, Kalapaki Grill at the Kaua'i Marriott Resort on Kalapaki Beach offers the Signature Kalapaki Krush cocktail, a refreshing float made with Midori, ice cream, coconut syrup, pineapple, mango purée and Chambord.
Where to find hot malasadas? Kaua'i Bakery, in Kukui Grove Shopping Center.
Favorite shave ice? Jo Jo's, in Waimea town. One time I waited in line for 45 minutes; it was worth it.
Value-priced outdoor lunch spot? J.J.'s Broiler at Anchor Cove, Lihu'e. Great selections, good prices.
A lowdown on the kau-kau (food)
What's on that Luau buffet? Hawaiian cuisine is a literal chop suey (mixture) of cultural influences including Chinese, Filipino, Hawaiian, Japanese, Korean, Portuguese, Puerto Rican, Samoan, Thai, Vietnamese and others. While most dishes are recognizable, here's a translation for few traditional favorites.
Lau lau (rhymes with now-now) Traditionally steamed butterfish (or chicken or pork) wrapped in a ti leaf. Don't eat the wrapping.
Poke (po-key) While there are hundreds of types, poke is basically cubed raw fish mixed with spices, served as an appetizer or side dish. Most luaus will serve ahi (tuna) or salmon.
Kalua pork Traditional Kalua pork is cooked for hours in an imu, a subterranean oven of hot stones, but many chefs just add spices (Hawaiian salt, liquid smoke) to roasted pork.
Lomi Lomi salmon A basic ceviche made with salmon, tomatoes, onions and salt.
Poi (rhymes with roy) is mashed taro root with a texture like mashed potatoes, served as a bland starch side with spicier food. Go native and eat it with your fingers (pointer and middle).
Chicken long rice Chinese long rice noodles cooked with chicken, spices and soy sauce.
Haupia (how-pee-ah) A coconut pudding, usually cut into squares.
Kulolo (Koo-low-low) A dense, very moist taro made with coconut.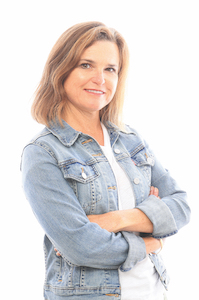 Mimi Towle has been the editor of Marin Magazine for over a decade. She lived with her family in Sycamore Park and Strawberry and thoroughly enjoyed raising two daughters in the mayhem of Marin's youth sports; soccer, swim, volleyball, ballet, hip hop, gymnastics and many many hours spent at Miwok Stables. Her community involvements include volunteering at her daughter's schools, coaching soccer and volleyball (glorified snack mom), being on the board of both Richardson Bay Audubon Center. Currently residing on a floating home in Sausalito, she enjoys all water activity, including learning how to steer a 6-person canoe for the Tamalpais Outrigger Canoe Club. Born and raised in Hawaii, her fondness for the islands has on occasion made its way into the pages of the magazine.