Discover some hidden — and quirky — gems on your journey from the Bay Area to Lake Tahoe.
After enduring June gloom, we're all ready for some much-needed summer sunshine — and Lake Tahoe is calling. Why not make the drive from home to the lake even more adventurous with a quick side trip to check out a few places you've never tried or had no idea even existed?
Sacramento
While most of us love In-N-Out Burger on the drive to Tahoe, sometimes you need a break from fast food. If that's the case, try Almighty Food Co., which serves up ultra 'clean' fare. Everything it serves on its seasonally driven menus is locally sourced, non-GMO and sustainable — and there's not one drop of gluten in the house. Nestled in El Dorado Hills, the fine-casual establishment has indoor booths, an outdoor patio and a grab-n-go section, plus it offers a plethora of vegetarian and vegan options to boot.
If the kids are asking "are we there yet?" for the ten-thousandth time, it might be time to make a stop to let them get their wiggles out. McKinley Park Playground is about as cute and fun as it gets, with its extensive and whimsical play structures, meandering paths, rock climbing wall, sandbox, quad pod spinner and obstacle course. There's plenty of picnicking spots too.
Placerville
A hardware store on the list? This one happens to be the oldest hardware store west of the Mississippi. It originally opened in 1852 at the height of the gold rush era, and served as the destination for get-rich hopefuls to buy panning supplies in booming Placerville. Still housed in its original brick building, it's now filled not only with historic significance, but also quirky souvenirs, gifts and household goods along with oodles of tools and fix-it-yourself gadgets. The staff has a reputation for being friendly and knowledgeable, which is always a good thing.
Your kids, and maybe even you, will go 'bonkers' wandering through this vast toy and candy emporium filled with just about every sugar confection known to humankind — including a selection of vintage candy brands — along with plenty of modern and nostalgic toys, puzzles and games ranging in size and price. It just reintroduced served-up ice cream due to popular demand and in time for summer.
Davis
There are upwards of 20 variants of gardens to visit at this vast arboretum operated by the campus, including California native gardens, an Australian habitat and one section dedicated to hummingbirds. Nearby is the campus' Equestrian Center where you can get up close and personal with a four-legged friend or two. Insider tip: make sure to stroll through the Ruth Risdon Storer Garden, known for its perennials that offer pops of color year-round.
If you're in need of a Mexican food fix on the drive, Guads is the place to go. Voted the "best taco joint" by UC Davis' students, this relative newcomer to the food scene in Davis has quickly gained popularity for its tacos and burritos and beers-on-tap from local breweries. There's also an unlimited chips and salsa bar.
Auburn
My family and I can't pass this place right off I-80, located a stone's throw from Ikeda's, without making a joke about its odd name. Recently we decided to stop there for breakfast. And we discovered that the "awful" part is nothing but, that it's downrightout delicious. How can you fault a restaurant for offering nearly a dozen different variations on eggs benedict as well as bacon flights? The only drawback is the potential creep out factor of the shelved Raggedy Ann and Andy dolls in the place, but if that doesn't bother you, it's worth a stop at this family-owned outpost which is only open for breakfast and lunch. Insider tip: ask to be seated at the "fishing table" upstairs for a game of I-spy.
Open since 1959, this classic bowling alley has everything expected: a full set of bowling lanes, plenty of arcade games, several pool tables and a full-service grill—all of which have been recently remodeled and modernized. Even better: there's an electric car charging station nearby, which comes in handy since Auburn is pretty much the last stop on I-80 before heading up into mountainous terrain. Bonus: Foothills is offering free bowling for kids all summer long.
---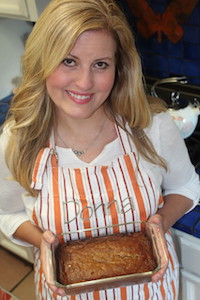 A freelance writer in Marin who writes about family, kids and parenting, Glass is the mother to one son, one dog and a hamster named Miss Geri. When she's not writing, trekking up steep hills in Marin or driving her kid to sports practice, she and her family spend time in their tiny cabin in Lake Tahoe. She avidly supports the California Academy of Sciences, a world class science museum and research institution, and the Institute on Aging which provides much needed services to Bay Area seniors and disabled adults. Glass is obsessed with baking the perfect loaf of banana bread, something she makes so often she no longer needs to look at a recipe card.