NO ONE STANDS outside on the deck during the ferry ride to the island. A few passengers brave the whipping rain and pop out briefly to take photos, but they quickly reappear inside, rubbing their hands together and shaking off the cold. It's quiet on board until an unusual sight appears next to the port: a pumpkin — red and black, spotted, the size of a modest hut. We then set foot on Naoshima.
NAOSHIMA
​
ART
Located in Japan's Seto Inland Sea, Naoshima is a small island, only accessible by ferry, with about 3,000 full-time residents and around 400,000 visitors a year. They come, from all over the world, for the art, and the 5.5 square miles of the island is loaded with it. The aforementioned pumpkin is the work of Japanese avant-garde artist Yayoi Kusama. Museums pepper the landscape, and the Tadao Ando–designed Chichu Art Museum stands out the most. Built into a cliffside, it has natural light entering between slats of concrete in the subterranean hallways. Ando's concrete is a thing of wonder, somehow at once brutalist and not intimidating. Inside this futuristic bunker, vast, cavernous spaces contain permanent works by contemporary masters James Turrell and Walter De Maria. Taking photos of anything — even the gift shop — is very tempting but strictly prohibited; still, a quick Instagram search reveals illicit snaps by less obedient types.
MUSEUMS
But Ando's design work also appears elsewhere on the island, with less rigid photography rules. Benesse House, which is both a hotel and a museum, is one, and it happens to be where we're staying. Following the concept of "coexistence among nature, architecture, and art," the museum and its buildings feature art not only inside galleries but throughout the guest rooms and outdoor spaces. The four guest areas — Museum, Oval, Park, and Beach — contain varying numbers of rooms plus a restaurant, cafe, spa and shop that are open to the public.
SEE
To access our room in the Oval, we must board yet another vehicle. "You push Up or Down, just like an elevator," explains Emi, one of Benesse House's staff members. The oversize, boxy Lego-like vehicle whirs softly as it moves down the hill, arriving several minutes later. We board and try to act cool for a few seconds, but as the panoramic view begins to reveal itself during the slow ascent, Emi smiles and gives a knowing nod. We read this cue and the photo frenzy begins. Like a couple of pent-up cats, we start running up to the windows, snapping pictures of the surrounding islands, bays, distant bridges and the shrinking museum below. Takeaway: next time, sit back and enjoy the ride.
Emi leads us through a glass tunnel to the Oval, a — you guessed it — oval-shaped structure. It's hollow with a rockfilled reflecting pool in the middle; surrounding walls are a mottled turquoise and there is no ceiling, just a gaping ovalshaped void. The overwhelming vibe is so sci-fi that during our stay I feel more than once like I'm in the movie Contact. Entrances to the six guest rooms are located around the reflection pool, as is the door to the lounge, where, unlike in all other parts of Benesse House, only Oval guests are allowed, except for some weekend nights when visitors can come enjoy drinks. Our room is spacious even by American standards, with floor-to-ceiling windows, artwork by Richard Long on the walls, and no electronic devices in sight. Our key is also simple: not a card but a physical key on a chain attached to a carved wooden block. In fact, the most advanced piece of technology in the entire space is the toilet, which per Japanese standards is a bidet, a Toto Washlet with multiple modes and settings. By the end of our journey I grow accustomed to this throne and bitterly accept its stateside counterpart on my return.
DINE
We dine on site both morning and evening. For dinner we wander down an illuminated path to the Terrace Restaurant, which serves French cuisine; breakfast, at the Museum Restaurant Issen, features seasonal ingredients from the nearby Setouchi region with two menu options: Japanese or Western. Throughout this trip I choose Japanese (and am glad, after seeing other diners' slabs of plain white toast and lumpy scrambled eggs); the meal arrives with a detailed color drawing explaining almost every one of the 10-or-so items in detail: "Organic rice that was made at Sado island (Niigata prefecture), tofu of our own making (the best way to bring out the sesame flavor), steamed Chawan mushi egg custard." Even with English translations, I am still mostly at a loss about what I am about to consume; there is fish that looks and smells like salmon, and a bowl with small pieces of what I assume is kimchi. I eat it all and it's absolutely delicious. I would be remiss not to mention that I ingested this heavenly mystery food with a Warhol painting behind me, but these things are taken for granted when you've spent some time on Naoshima.
TOKYO
EAT
"It just says 'miso,' " I say to my boyfriend, looking at my phone uncertainly. After checking in to our hotel in Tokyo's Shinjuku ward, we had wandered out into the night searching for food, hoping for something more authentic than snacks from the 7-11. In an alleyway, pictures of ramen in the window of a tiny unmarked restaurant lure us in. Or so we thought. Before I have the chance to fully step inside the man cooking behind the counter runs up, waving his hands and gesturing to a machine outside. "Oh, we have to order here," says Ron, my boyfriend. Hungry and desperate, we settle on two of the most attractive choices — "noodle" and "miso." We insert 700 yen (about $6.40) each and the machine spits out two small tickets; we enter the restaurant and hand them to the man. This time he grabs them, bows, gestures with a smile to a corner table and begins cooking. The space is the size of a child's bedroom: four stools at the counter and two small tables. The only other diners are middle-aged salarymen — Japanese white-collar workers — quietly sipping beer and slurping ramen. Within minutes, noodle and miso arrive, as glorious as they appear in the photos. The broth has a distinct umami flavor and the texture of the noodles is spot on.
In the morning we set out to see the sights of the city. Exiting Shibuya Station, we traverse the famous Shibuya Crossing, frequently featured in time-lapse shots the world over, wherein as many as 2,500 people dart in all directions across the street in about 30 seconds, never colliding, embodying the marvelous controlled chaos that is Tokyo. We meander through the busy shopping district, noting the Taco Bell that serves corn but not beans and the Japanese Starbucks with its equivalent of a pumpkin spice latte — the strawberry-scented springtime sakura latte — before venturing to Daikanyama.
SHOP
With its proliferation of trendy upscale boutiques, specialty shops and cool cafes, Daikanyama has gained a reputation as Tokyo's hip neighborhood; it's often compared to Brooklyn in write-ups. At its center is T-Site, a sprawling dual-level, multi-building Tsutaya Bookstore encompassing just about every genre imaginable in multiple languages, plus a cafe. Here we meet my friend Tomo, who works nearby at AKTR, an activewear brand. She helps us order off a handwritten Japanese menu for dinner: sushi, hot pot, a pea shoot salad, and an assortment of other foods we have a hard time finishing before our Westerner friends Peri and Theo arrive.
MITAKESAN/HAKONE
​
RELAX
Much like the Bay Area, Tokyo offers plenty of easy excursions. For those not willing to commit to Mount Fuji, Mount Mitake — Mitakesan in Japanese — and Hakone provide altitudinous adventure just two hours away. The cab drops us at the Mitake Tozan Railway, a funicular line between Takimoto and Mount Mitake. Unlike our prior hotel funicular, a cozy six-seater, this one is a full-size bus version, with multicolor exterior and an inside ceiling strewn with cartoon images of flying squirrels.
In six minutes we are at Mitakesan Station, and we walk to our ryokan in the mild rain. Ryokans are traditional Japanese inns, some dating to the eighth century A.D; ours, Komadori Sanso, opened in 1776 and is built of wood in the style of Japanese mountain lodges. The simple yet well-appointed rooms have electric hot water kettles, toothbrushes and paste, kimonos, lounge areas near the balcony and elegant tatami mats. Even the simplest hotel in Japan typically provides its version of bare essentials, which include a toothbrush and paste and usually a loofah of sorts.
HOT SPRINGS
Known for its onsens — hot-spring bathhouses — Hakone is a popular destination for work-worn residents of Tokyo. From the train we take the bus up the mountain to the minimalist yet luxe, modern Nest Inn Hakone. Because onsens were once a meeting place for often heavily tattooed members of the Yakuza crime syndicate, tattoos are now widely prohibited in onsens. Peering into the ladies' onsen and finding no one in sight, I break my obedient streak and take a dip. The sulfuric hot springs make my body buoyant and I float in the expansive pool alone, gazing through the windows at the cloud-cloaked mountains in the distance. We've reached the end of our trip and it all feels too sudden. In the morning before breakfast I slip out again for a secret solo bath, and then we are on our way home.
---
If You Go – Travel Tips
Get moving. The Japan Rail Pass is a discounted fare ticket that is only available to travelers visiting Japan from foreign countries for sightseeing. You must pay for the pass and receive an exchange order before arriving to Japan. Upon your arrival you can exchange the order for a pass at an airport kiosk. jrpass.com
Get connected. Rent a pocket Wifi and stay connected during your trip. The pager-sized device costs about $10 a day and can be picked up and returned at the airport. jrailpass.com
Be free. Staying somewhere for only one night before heading off to your next destination? Take a load off and use the hands-free travel service. For a very reasonable rate, luggage will be safely forwarded to your next hotel, sparing you the hassle and headache of storage. global-yamato.com
Stay funded. While credit cards are accepted at most stores, it's nice to have cash on hand. 7-11 stores can be found everywhere and are a great place to pull out cash, buy stamps, and stock up on drinks and snacks.
Stay dry. Even though toilet dryers are commonplace their hand counterparts are not. Bring a handkerchief to dry off after washing them.
Get paid. If you're doing some shopping ask about the tax counter. You will get reimbursed for tax you paid in stores after showing your passport and receipt.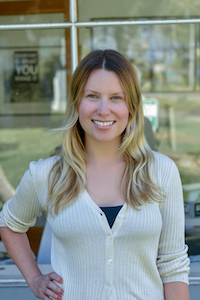 Kasia Pawlowska loves words. A native of Poland, Kasia moved to the States when she was seven. The San Francisco State University creative writing graduate went on to write for publications like the San Francisco Bay Guardian and KQED Arts among others prior to joining the Marin Magazine staff. Topics Kasia has covered include travel, trends, mushroom hunting, an award-winning series on social media addiction and loads of other random things. When she's not busy blogging or researching and writing articles, she's either at home writing postcards and reading or going to shows. Recently, Kasia has been trying to branch out and diversify, ie: use different emojis. Her quest for the perfect chip is never-ending.