21-year-old Novato-native Arden Jones grew up with plenty of instruments around the house. He took guitar and piano lessons for years, and plays those in addition to upright bass, mandolin and ukulele. Jones uploaded tracks to SoundCloud in high school, but it wasn't until he put "Parallel Parking" on TikTok at the end of 2020 that things took off — and eventually netted him 14 million Spotify listeners. Though he's currently based in L.A., Jones will be coming back to the Bay to perform at Fox Theater in Oakland on November 8, opening for Chelsea Cutler and Ayokay.
1. When did you first develop a love for music?
I developed a love for music before I can even remember. There were certain songs I heard at a young age that I would have my parents play over and over again in the car as we drove to school because I loved them so much. Songs like "Short Skirt and A Long Jacket" by Cake or Jason Mraz's "I'm Yours." I didn't really know what I loved so much about the songs other than the way they made me feel.
2. What kind of role did your school/upbringing play a role in shaping your talent?
My family was always musical and we constantly made and listened to music, just as a hobby. There was always music playing as I grew up — whether it was at home hanging out, listening to my dad's jazz playlist as we did homework, or on road trips listening to Prince or Michael Jackson, or later, going to rap concerts, like J. Cole or Anderson Paak, with my sisters in high school. I went to the Marin School of the Arts at Novato High and so even though I didn't go through the music program there (I studied film), I was always around musicians and people who appreciated music. I made music in my room throughout high school, and my senior year capstone project at Novato High was a 10 song project I released on SoundCloud under the name Age.
3. Was there a moment that cemented this as your path?
I remember a phone call with my manager, Mike Kosak, in January of 2021. I was speaking to several labels and it looked like I would sign with one of them soon (I signed with Atlantic Records a few months later). Mike told me honestly that it might be hard to balance college with all the music we wanted to release in the coming year. I never looked back.
4. How did you first get noticed?
At first it was just my friends and family who liked the music I was making. I was getting good feedback and I felt pretty confident, but you never know what will happen if you put your songs out there. After my freshman year of college, I decided to release songs regularly on Instagram and TikTok, which is how my manager discovered me. Mike got me into studios with some great producers and we started building an artist project as Arden Jones.
5. Tell us a little bit about the age tape series.
Age was my nickname (It came from A.J., which is what I was called in high school). The age tapes were an idea that my manager and I had because I make a lot of music and we wanted to release it all in a matter of a year. It's a different approach — musicians usually release an EP and then an album, at a slower pace. The tapes feel like a great way to release all my music because three songs is not too much to digest in a month — one featured song with two others we believe my followers will also like. Everybody waiting on the music knows exactly when the next tape will drop — on the first Thursday of every month for all of 2022.
6. Moment where you've felt you "made it"?
The fact that I'm going on this incredible national tour with Chelsea Cutler and Ayokay in October and November is one of those moments. There have been many this year, but there is also a long way to go. Honestly, I feel so lucky to be making music every day…that's kind of when you know you've made it.
7. Favorite show you've played and why.
My favorite show was probably at the Rickshaw Stop in San Francisco last spring. It was part of my first tour and all my hometown friends and family were there to support me. I got to perform for old friends, and even my grandma was there — I gave her a shout out and she loved that and was waving to everyone from the back of the room.
8. Are you real?
Ha—ha. That's kind of a deep question. Yes, I think so. (At least I try to be).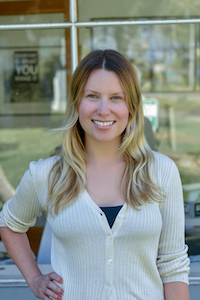 Kasia Pawlowska loves words. A native of Poland, Kasia moved to the States when she was seven. The San Francisco State University creative writing graduate went on to write for publications like the San Francisco Bay Guardian and KQED Arts among others prior to joining the Marin Magazine staff. Topics Kasia has covered include travel, trends, mushroom hunting, an award-winning series on social media addiction and loads of other random things. When she's not busy blogging or researching and writing articles, she's either at home writing postcards and reading or going to shows. Recently, Kasia has been trying to branch out and diversify, ie: use different emojis. Her quest for the perfect chip is never-ending.